Posted On 2020-08-07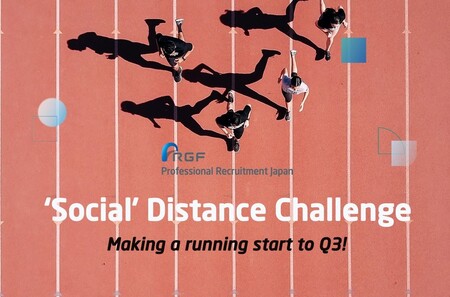 As July approached and we were entering our fourth consecutive month of remote work, a lot of us were really starting to miss regular human connection.
Given that RGF Professional Recruitment Japan is a very team-based and close-knit company, we wanted to find a way to stay engaged in a safe way.
Enter the 'Social' Distance Challenge, a fun competition to see who could cover the most distance over a 7-day period. Participants had to track their running or walking distance over the course of a particularly rainy, hot week in July.
There were three awards - one each for the winning individual, team, and division.
As a company, we covered 2,695.73 km (1674.59 miles), equivalent to running from Aomori to Okinawa!
The winning individual was Wakana Yoshida of the Operations team, who covered an impressive 176.3 km in one week. We sat down with her to find out more about how she was able to attain this feat and her overall experience of the challenge.
RGF: How did you do it?
Wakana: I basically just walked from my house to the office and back, which is already over 9 km one way. So, in total it was 20 km, including regular walks throughout the day, which made my daily total between 20 to 25 km.
Luckily, I also live close to Linh [Marketing team] and Ariana [Chemical team], who were also in the top 10 of the challenge. In the morning, we'd just meet at 7AM in Shimokitazawa and walk all the way to work together. Halfway, we would stop at a coffee shop in Nakameguro and get a soy latte. In general, I would just walk everywhere during the challenge, instead of taking the train. It's a lot safer and keeps me active.
RGF: What made you want to go all in on the challenge?
Wakana: When you guys announced the challenge, Ben [Managing Director] told me that I needed to participate. I asked him how far the runners in the company would be running every day, and he said around 10 km. So, I figured that if I walked both to and from work, I would already win.
It wasn't tough for me, I didn't have to motivate myself since I had a purpose. Listening to music on the way also made the walk feel effortless.
RGF: What did you do on the weekend to keep up your distance?
Wakana: On Friday, Josh [Supply Chain B2B team] told me that he was planning on doing the Yamathon by himself over the weekend, which is 40 km. And that made me realize that people were really going to try hard on the weekend. So, on Saturday, Linh and I decided to walk to Koenji from Shimokitazawa. That was about 28 km in total.
On Sunday, I forgot to charge my Apple Watch and thought I wouldn't be able to get any steps in. But where there's a will, there's a way: Linh and I went on a late walk and finished right before the clock hit midnight! We walked to Don Quijote in Nakameguro, which was about 4km one way, just to buy popcorn kernels and then came back. I love making popcorn at home!
RGF: Would you do it again?
Wakana: Yes, I wouldn't mind! I walk a lot in general so it wasn't too hard. I really enjoyed it!
RGF: How do you normally work out?
Wakana: I usually do yoga, and when it's sunny I just bike everywhere. I don't take the trains if I don't need to.
RGF: Finally, what shoes are you planning to buy?
Wakana: I have never bought expensive shoes in my life, so I'm nervous! I have to pick a good pair. I don't have any idea yet. Ben suggested Adidas, and Jon [Senior Manager, Sales and Marketing] suggested Nike.
Here is the breakdown of some of the key results of our 'Social' Distance Challenge:
The winning team was Human Resources (B2C), which covered an average of 55.32 km per person while Operations won the division prize, with a 37.58 km average distance per person.
Top 10 individuals:
#1 Wakana Yoshida – 176KM
#2 George Lees – 146km
#3 Benjamin Cordier – 133km
#4 Anna Wildman – 128km
#5 Linh Dang – 126km
#6 Weichih Shen – 110km
#7 Nobuyoshi Yanagi – 101km
#8 Brian Martin – 97.5 km
#9 Ariana Mason – 86.8km
#10 Tony Islam – 71.7 km
Congrats to all the winners and thank you to all who participated.
We are very excited to do this again in the near future, hopefully on a larger scale!
We have a lot of confidential job openings with excellent foreign companies and Japanese global companies! Our recruitment consultants will introduce you to excellent jobs that match your requirements.
Working at a global company has many advantages, not only for those who want to work globally and those who want to make use of their language skills, but also for people who strive to Unleash their Potential seek their own potential and have a healthy work-life balance.
RGF Professional Recruitment Japan supports the recruitment hiring activities of many of the top domestic and foreign capital companies in Japan. Various excellent companies including foreign and Japanese global companies located in Japan. Therefore, as a result, we can introduce the best career options for each person.to suite all types of career profile.
If you want to work in a global environment or globally, want to work in a place where you can perform more, or want toto a higher level and expand your career options in the future, please contact us. Our experienced consultants will do their best to support your career growth.