掲載日 2020-05-20
If you've applied to numerous jobs but have failed to secure a single job interview, it's probably time to revise your resume.
When creating resumes, you should always keep the reader in mind.
Who will read your resume?
Recruiters

Hiring managers

HR professionals

Recently, ATS (Applicant tracking systems)
They receive hundreds of applications a week and will evaluate an applicant's potential based on a single item: the resume you submitted.
We can't state this enough: that is how immensely important your resume is. It plays a huge role when securing a job, which is why we always place such a big emphasis on how crucial it is to have a resume that not only represents you in the best possible light, but is also able to quickly grab your reader's attention.
Although resumes are only one to two pages long, the information needed by the readers is scattered all throughout the different parts of your resume: your professional history, core competencies, educational history, etc. Hiring professionals need to find the information that would help them determine your potential to fill a job vacancy. If they can't find those key points easily, this could put you at a disadvantage or may even cost you a job interview.
How can you write a standout resume that can beat other candidates and impress hiring professionals?
1. You shouldn't have a generic one-size-fits-all resume
Your resume should be different from your CV
When applying for jobs, some people use one and the same resume or CV. This should be avoided as much as possible especially if you're changing careers or are applying for jobs across different industries or functions.
Since recruiters, hiring managers, and HR professionals scan hundreds of resumes a week, they can immediately spot a generic resume that was not tailored specifically to their job vacancy. In fact, 54% of resumes are rejected because they weren't tailored to the job vacancy and 63% of hiring professionals want a tailored resume from job seekers.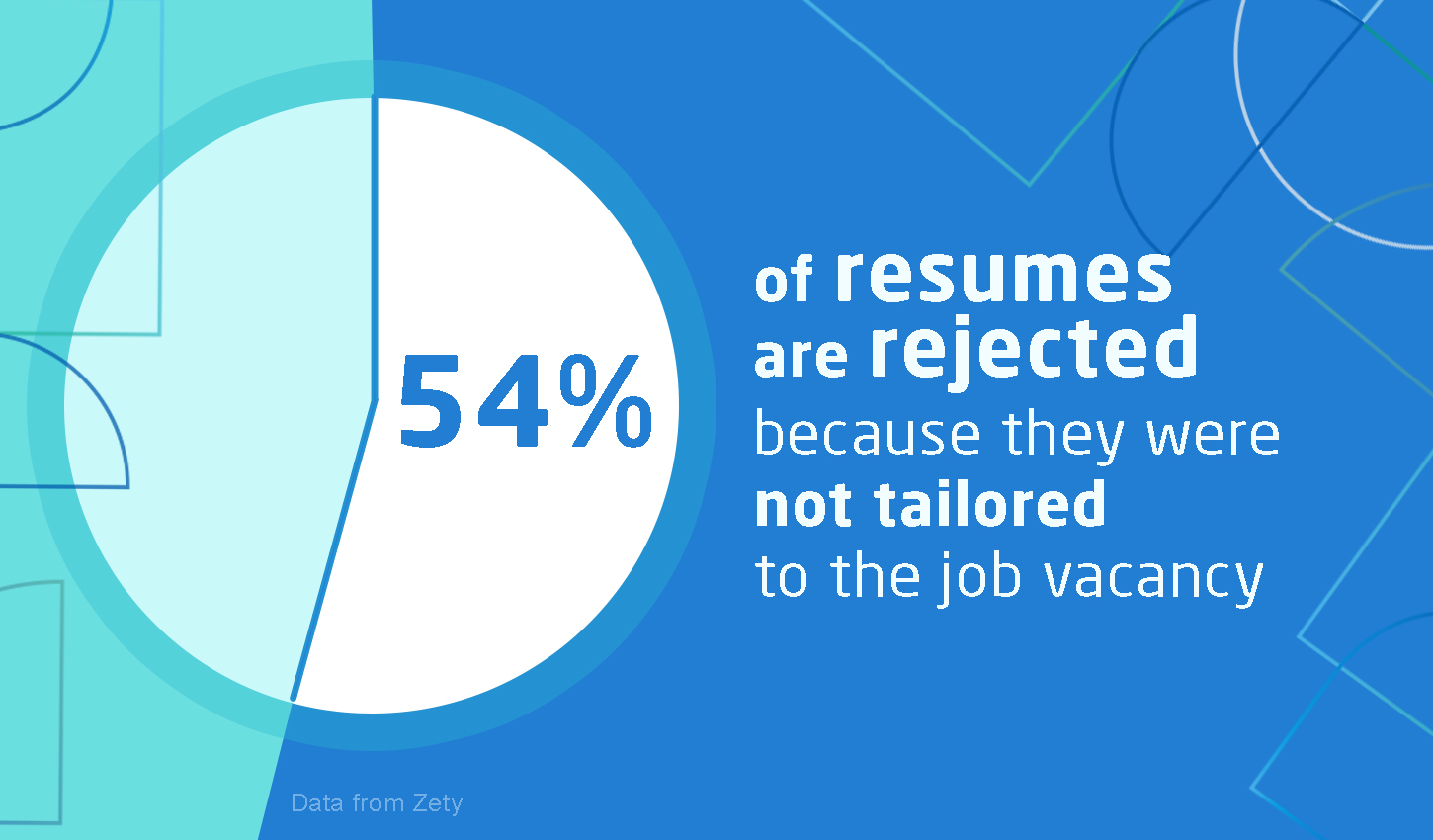 If you are in competition with candidates who have a resume that ticks more boxes from the job description because they tailored their resume, the chances of you getting through the shortlist and securing a job interview would be slimmer if you used a generic one-size-fits-all resume.
1 Detailed CV vs. Multiple tailored resumes
Although the definition of CV (curriculum vitae) varies from region to region, you should have a separate CV that includes every single detail of your employment (history and achievements), education, scholarships, awards, conferences, keynote speeches, volunteer work, hobbies, skills, references, blogs, social media milestones, etc. This detailed CV will not be sent to companies (unless they specifically requested it) when you're applying for jobs but would only serve as the comprehensive foundation of your resume: the one single document you will be referring to when creating tailored resumes for different companies, industries or functions.
Conversely, you should have multiple tailored resumes that have well-chosen and select information from your CV. Once you have created your comprehensive CV, understand your job change goals before tailoring your resume. Do you intend on staying in the same industry or changing to a different one? Do you intend on applying to a few companies? Are you changing functions or intending to move up the career ladder? Once you have your objectives, you can now pick and curate the information, duties, responsibilities, and achievements that are relevant to the jobs you will be applying for.
You may choose to tailor your resumes based on the: Job vacancies you are prioritizing
・Job Vacancies you are priorilizing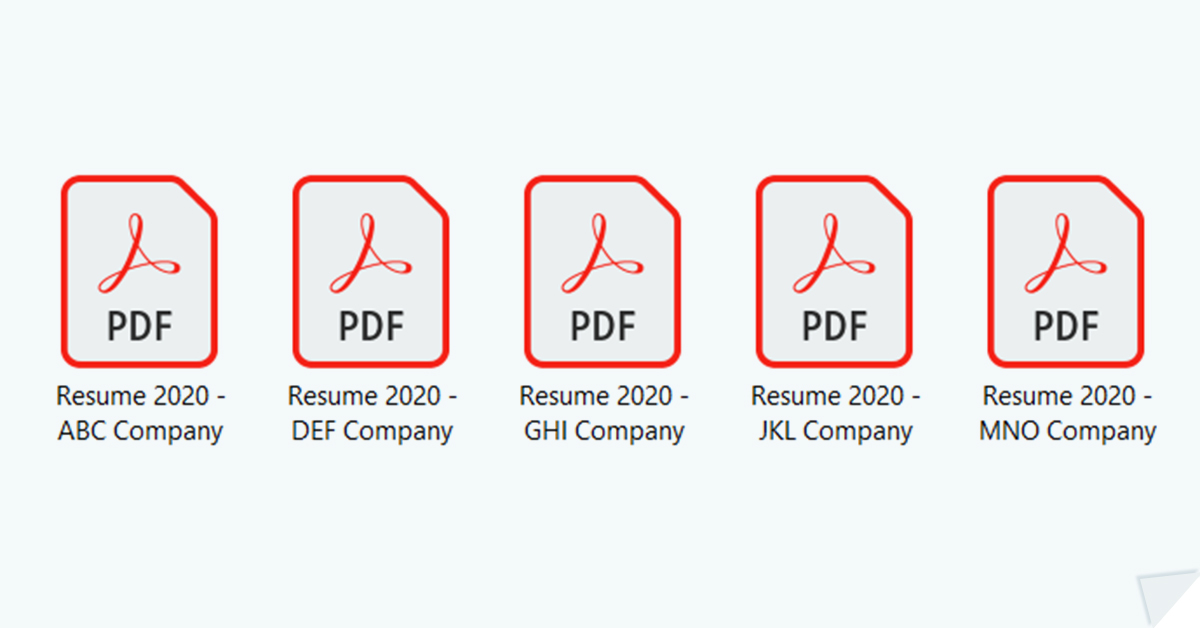 If you would like to focus on applying to only 5 select positions from 5 select companies, then tailor each resume to those. Choose only the information relevant to the company and the role you're applying for. If you really want that job and your qualifications make you eligible to be considered for the position, this will make all the difference.
・Functions or roles you're interested in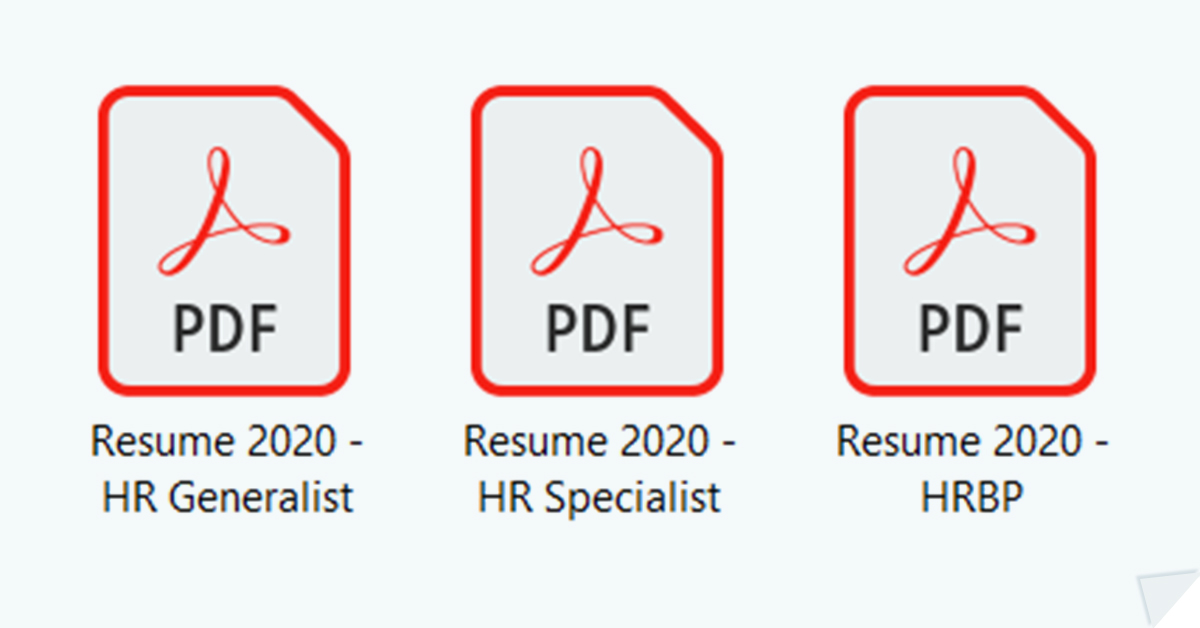 If you are currently an HR Generalist who is interested in three roles: HR Specialist, HR Generalist, or HRBP roles, you should have three resumes, one tailored to each function. Choose only the information relevant to the role you're applying for. By creating a tailored template based on function or role, you may be able to reuse this across different companies that have the same vacant position
・Industries you're interested in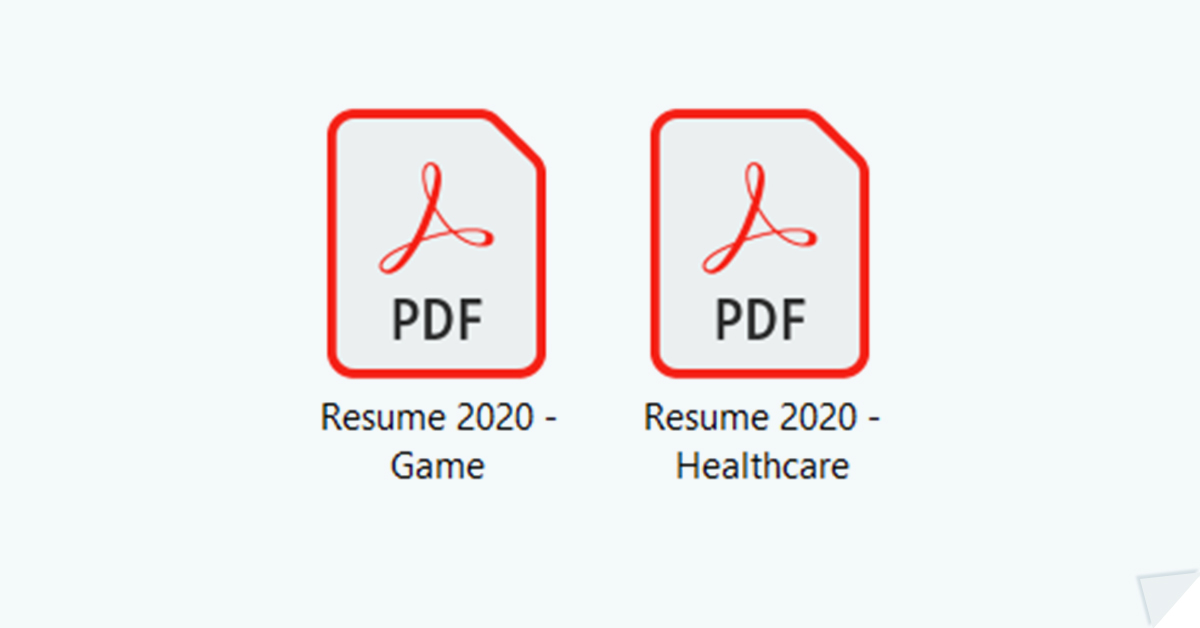 If your function is Sales and would like to focus on the Healthcare or Game industry, then you should have two separate resumes that are tailored to each industry. This is best used when you are applying for one role across different industries.
Ensure that the curated information is limited to strictly 2 pages long and is arranged in a standard format that helps both the reader find information faster and also lets ATS bots read your resume without errors. At the end of this process, you should have created multiple tailored resume templates and at least 2 customized resumes, which you can use to apply to different roles from varying industries or companies.
2. Incorporate the job description into your resume
If you're applying online, the initial reviewer of your resume could be an ATS, which has been coded to evaluate your resume based on the job description. The higher your resume matches the job description, the higher the chances of getting through that initial stage.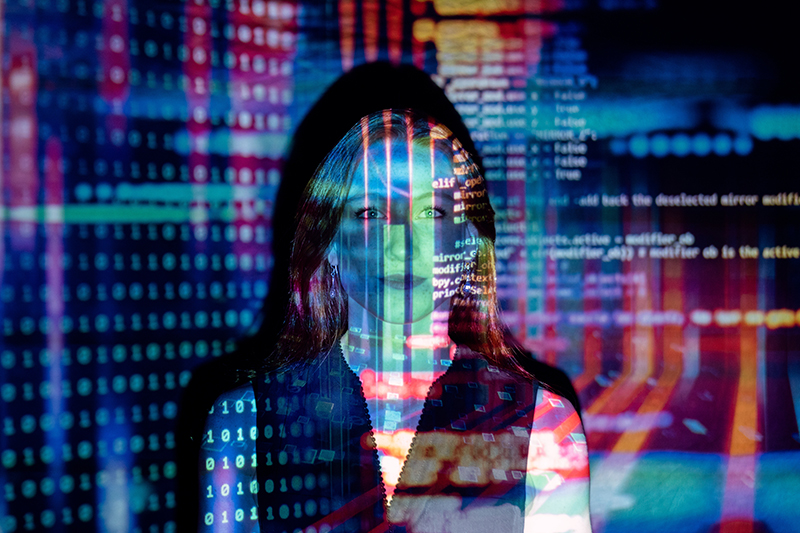 So, before sending your resume, make sure that you have thoroughly read the job description. Once done, identify which requirements (skills and experience) written on the job description you possess and make sure that you explicitly mention these on the "Professional Summary" and "Key Skills" section of your resume. You may also select keywords that apply to you and include that on your "Professional Experience". Don't forget to include your achievements in those areas, too, and the best way to explain achievements is to quantify, quantify, quantify!
As an example, if this is the job description: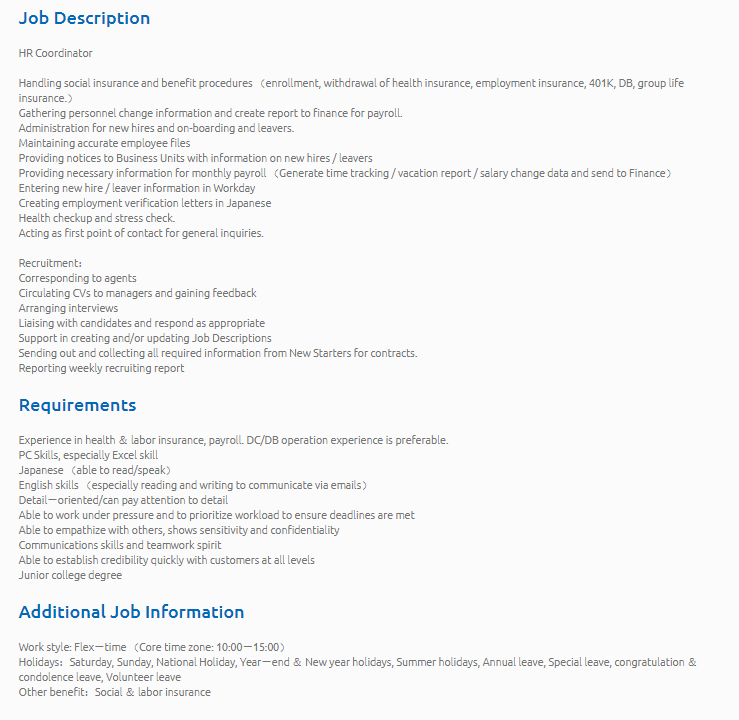 You would want to specify and highlight this on your professional experience:
How long your experience is in health & labor insurance, payroll

How long your experience is in recruitment

Your certified English proficiency

The volume of payroll you have previously handled

The volume of onboarding you have previously processed

Estimated volume of CVs reviewed in a given time

What kinds of positions you've reviewed in a given time

How many interviews you've previously set-up

Your excel proficiency and how you've applied that in your previous jobs
3. Sticking to an easy-to-read standard format can still make your resume stand out
Unless you are applying for creative roles that require you to demonstrate your ability to think outside of the box, stick to standard formatting with minimal colors as this helps the resume readers easily find all the information they need to evaluate your resume. Further, avoid heavy blocks of text by utilizing bullet points as much as you can. We have created some resume samples and a resume template to help guide you as you polish your resume.
Which is easier to read and looks more professional? Which resume allows you to spot information easily?

Recruiters prefer the resume on the left because of the following:
The bulleted information is easier to read, letting hiring professionals find information quicker
All the information starts on the left, making it easier to scan.
It doesn't have any spelling errors, which makes it look more professional
You should also divide your resume into several standard sections that are easily recognized by both hiring professionals and ATS bots:
Name and contact information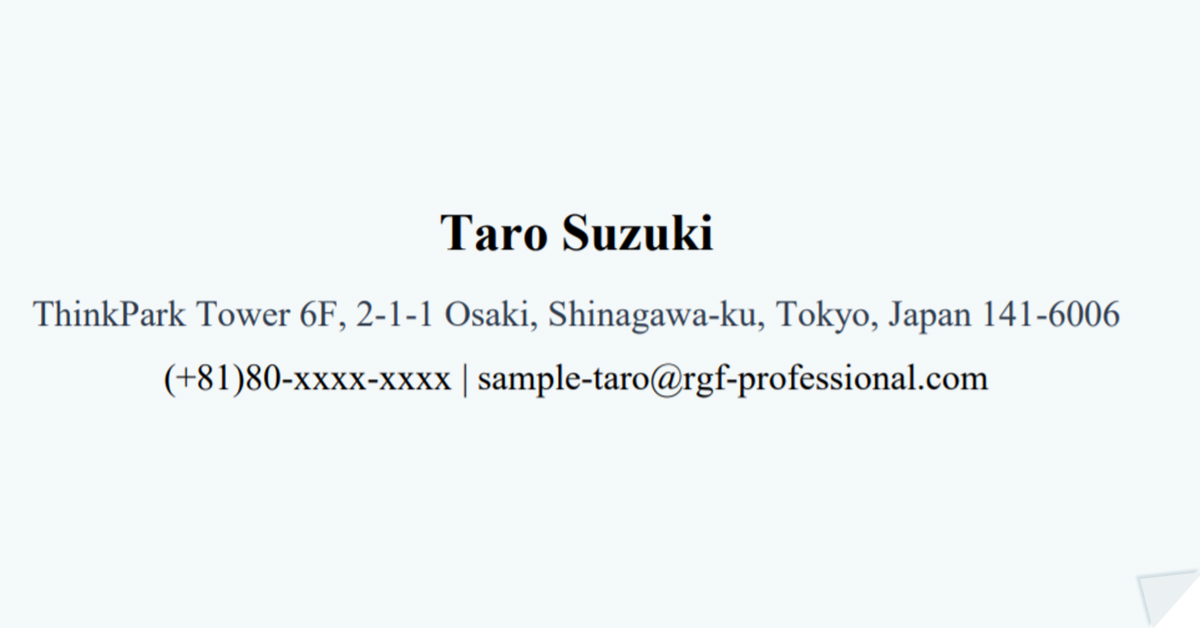 Ensure that you include the country code if you have an international number and that you are using a personal yet professional email, not your company email address. You may also include other details such as your Skype ID and your website or blog if you have one.
Professional summary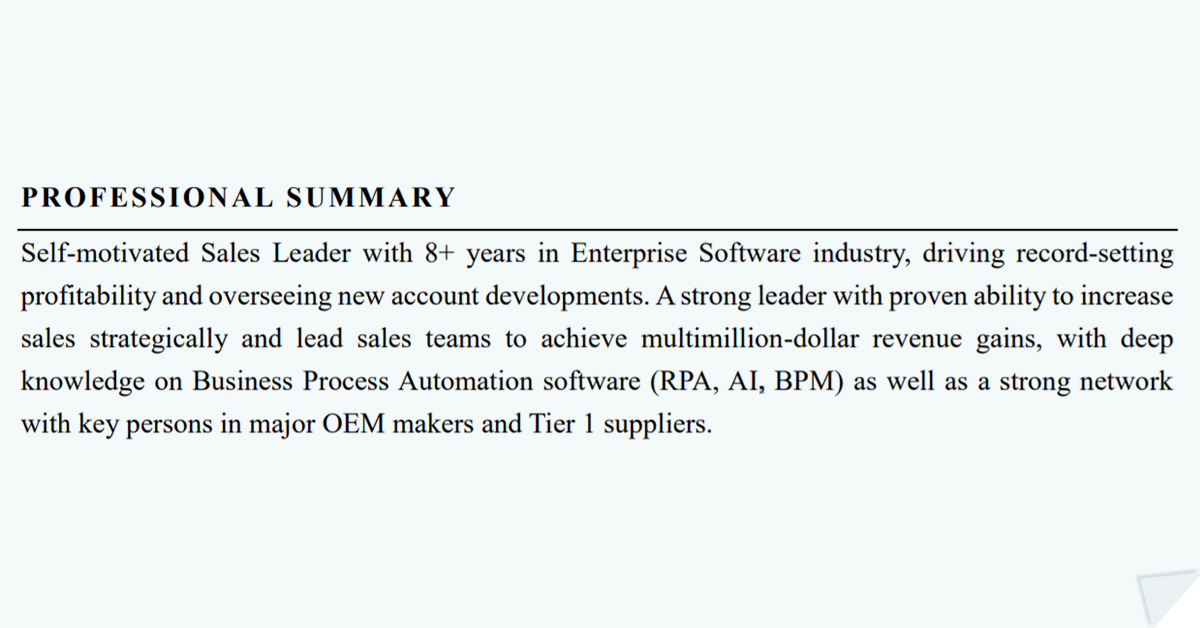 Although it is the first part of a resume, you should reserve writing this last since you would still need to iron out certain details from the other sections of your resume. In general, you should be selling yourself here – take it as your written elevator pitch. You won't be able to sell yourself well unless you have all the information you need.
Include as many marketable points as you can but make sure to limit it to a maximum of 3 sentences with 75 words:
Your biggest achievement(s)

Quantified achievements – as much as possible

Your top industries, skills, and functions

The length of your experience

How many people you've managed – if applicable
Since this is the first thing hiring professionals will see, make sure you grab their attention with quantifiable achievements! Ask a family member, friend, or peer to honestly review your professional summary and continue to revise until you have a compelling summary that could impress recruiters and hiring managers.
Key skills / core competencies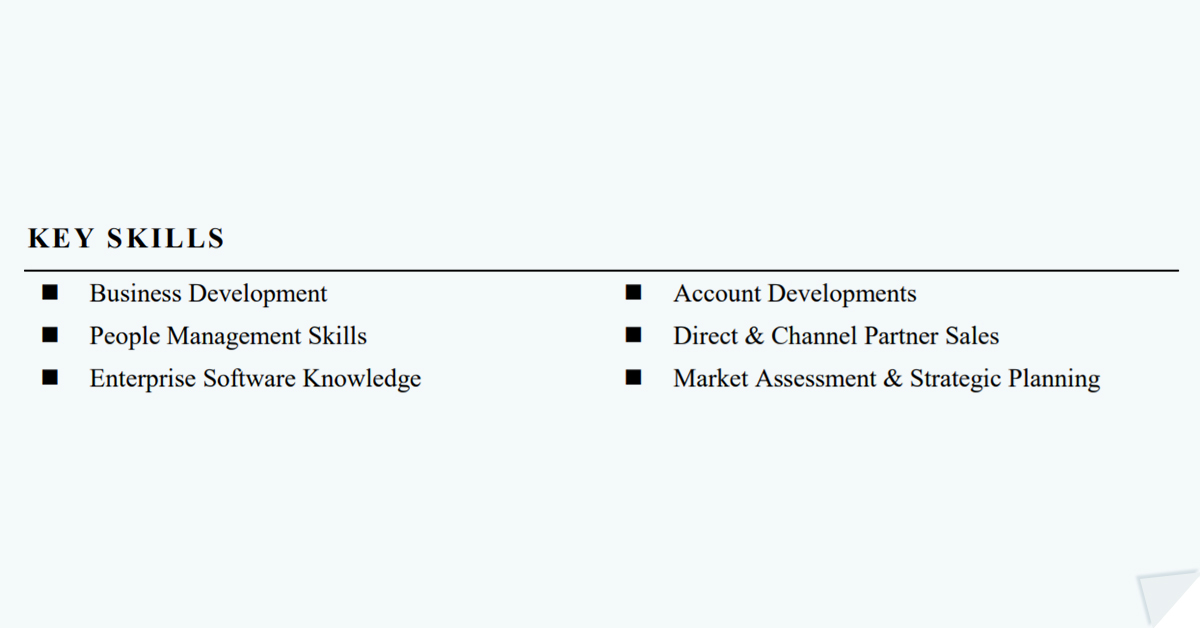 Not sure which skills you should enumerate and include? Check the job description and find similarities between your actual skill sets (hard skills and soft skills) and the required skills. Prioritize the ones indicated in the job description. You may also include other skills that may be relevant to the job but were not specifically mentioned in the job description. If you're applying for a highly technical job, make sure you're spelling correctly and are using the right technical jargon.
Languages and qualifications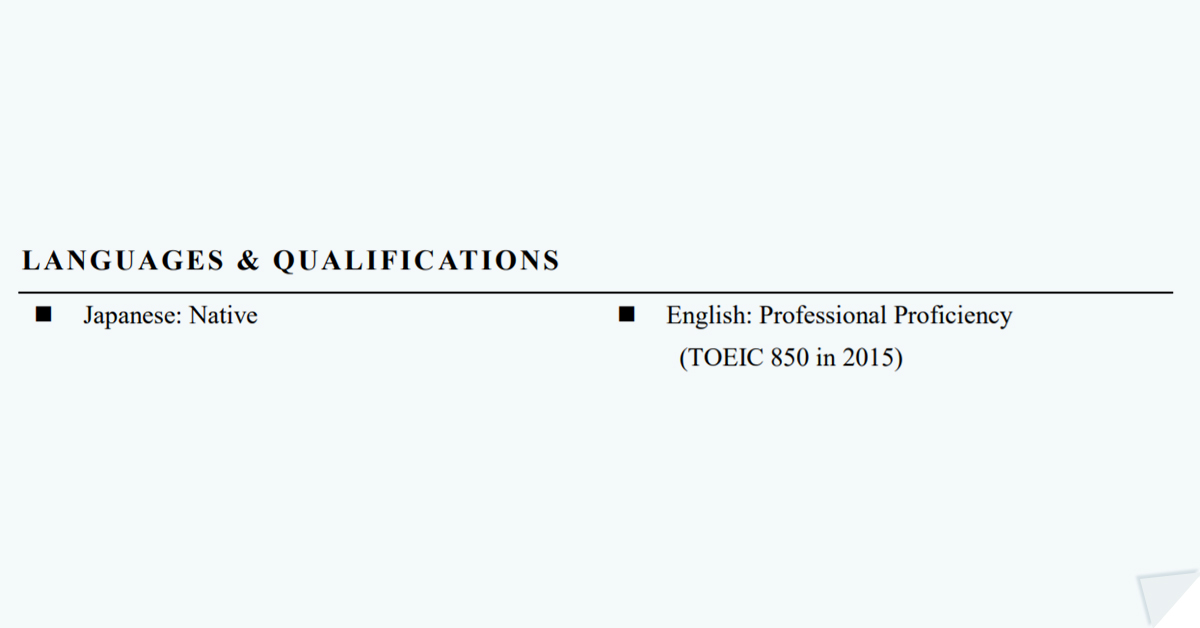 In this section, include all the languages that you know but make sure that you can actually speak these languages. Most companies prefer to see certified language levels from official institutions such as JLPT, TOEIC, IELTS, DALF, DAF, etc.
However, you may also use this official metric from the U.S. Department of State for reference:
Beginner: Elementary proficiency

Intermediate / Conversational: Limited working proficiency

Business: Minimum professional working proficiency

Advanced business: Full professional working proficiency

Native/bilingual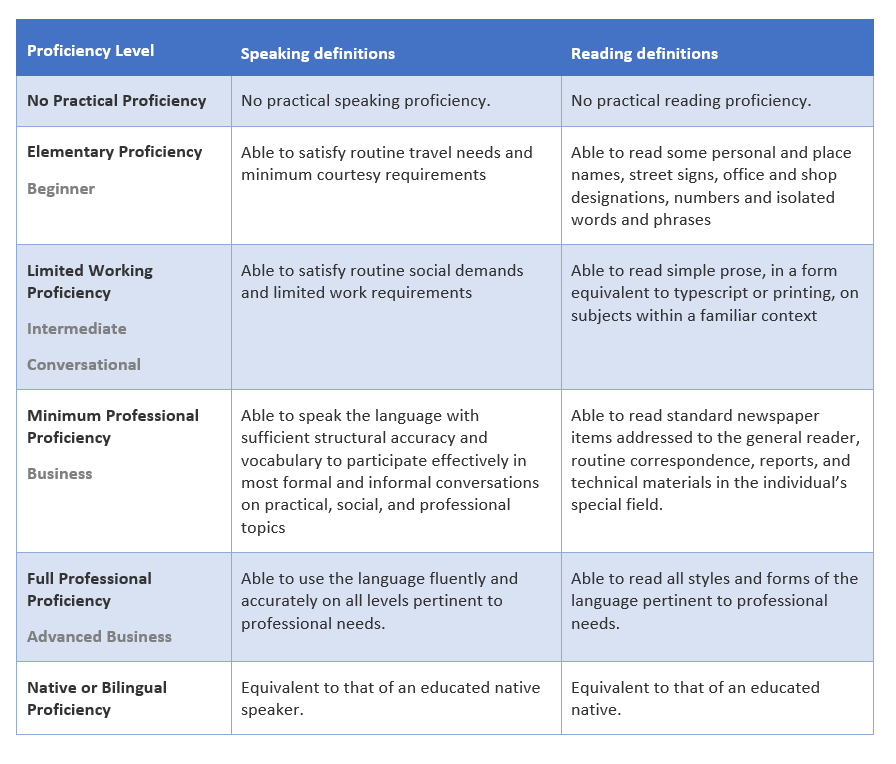 In this section, you should also include your technical certifications such as any Google certifications, IT certifications, online course certification, etc.
Professional experience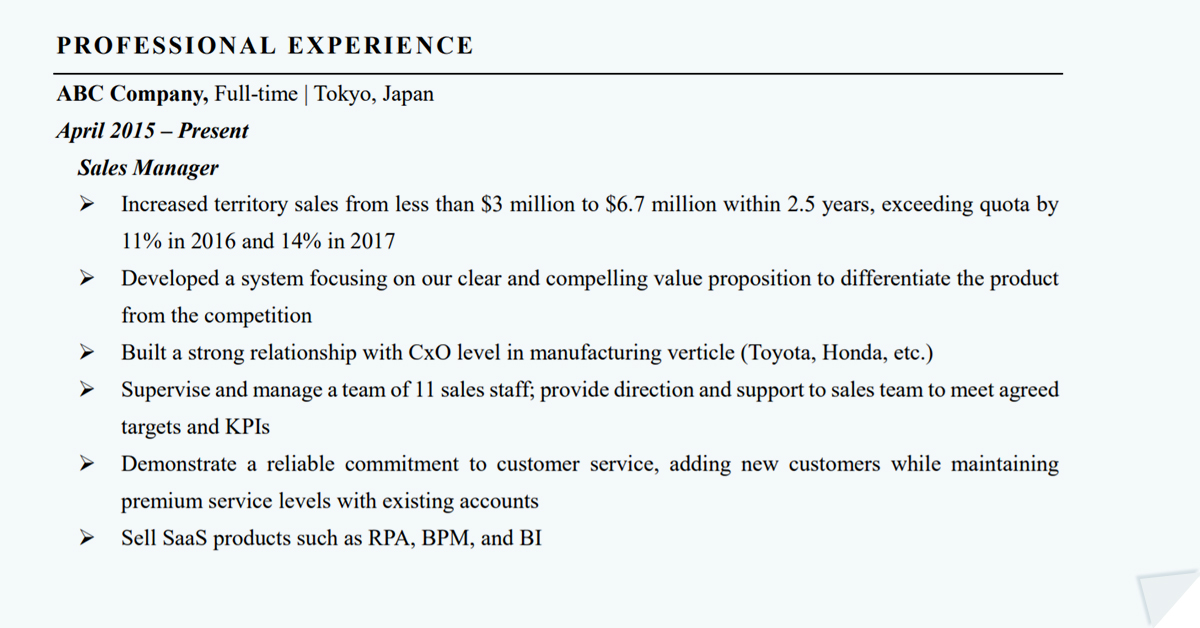 The commonly used resume format is reverse chronological, which lists down your employment from most recent to the very first. Reverse chronological resumes are most suitable for professionals who would like to highlight their upward career progression and minimal job changes. However, if you have rich experience in multiple industries or functions or if you don't have a continuous work history, you might want to use a functional format. This format focuses on highlighting a variety of skills as well as roles, portraying a professional that is highly adaptable and multidisciplinary.
Education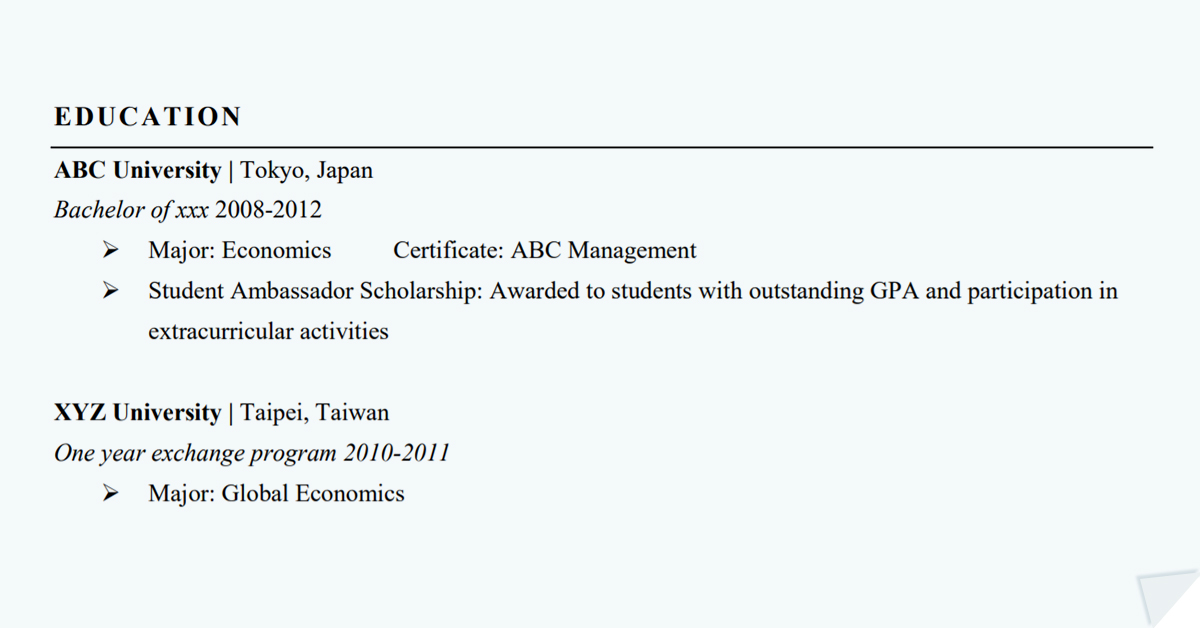 Unless specifically requested by the company, limit your educational history to your college or university degree and higher. Do not include your high school, elementary school, and pre-school as these pieces of information have a negligible impact on your initial evaluation. However, do mention your high school or elementary school if you have studied abroad as this reinforces your international experience, which is an advantage if you're applying for a position at multinational companies.
Interests & hobbies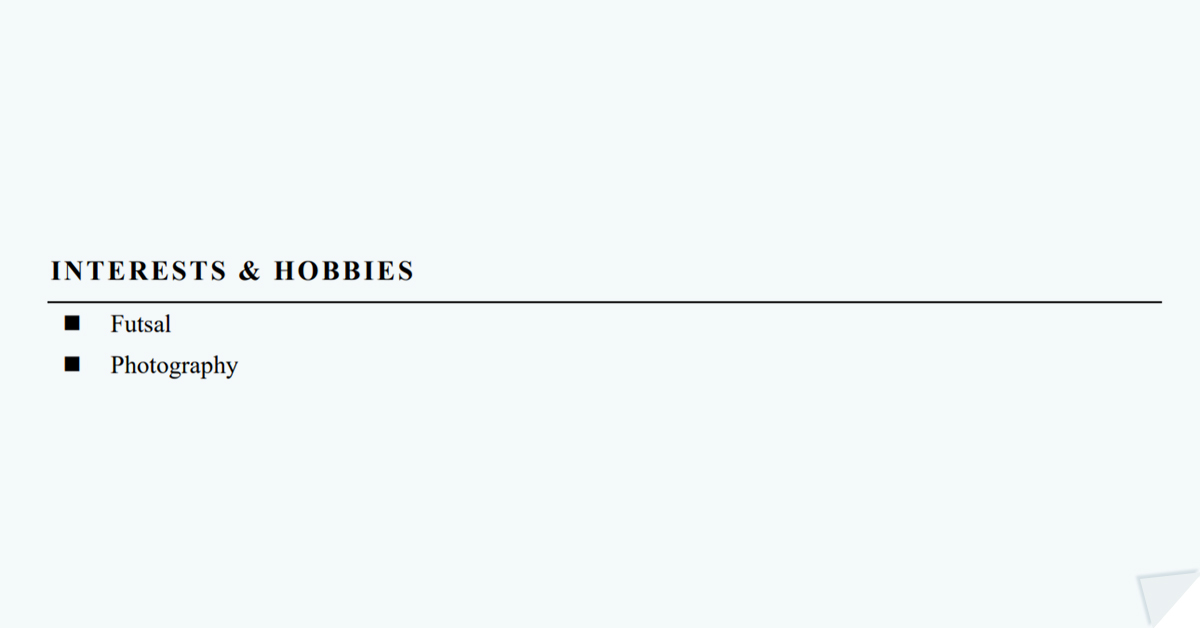 In this section, you may include interests, hobbies, volunteer work, etc. Highlight items that you think would have an impact on the evaluation process. If you're applying for a job in the game industry and you are passionate about games, then include that in your interests. If you have a collection of toy model cars and you are applying for a position at an automobile company, mention that as well. If you love blogging and are applying for a marketing position, that information is valuable.
The value of time and effort
Tailoring your resumes may take some effort and time but creating something of value always requires these two elements. Since your resume is the most valuable link separating you from a great job, spending some time to polish your resumes would likely bring more opportunities for you.
有名外資系企業や日系グローバル企業の非公開求人多数!リクルートメントコンサルタントがあなたにマッチした優良求人をご紹介します。
グローバル企業で働くことは、グローバルに働きたい人や語学力を生かして働きたい人だけでなく、自分の可能性やワークライフバランスを求める多くの方にとって、多くのメリットがあります。
RGFプロフェッショナルリクルートメントジャパンでは、外資系・日系グローバル企業の案件を中心に、国内外のさまざまな優良企業の採用活動を支援しています。そのため、それぞれの方が求める最適なキャリアの選択肢をご紹介可能です。
「グローバルに働いてみたい」「より自分が輝ける場所で働きたい」「自分の選択肢を広げたい」といった方は、一度ご相談ください。業界経験豊富なコンサルタントが、みなさまのキャリアを全力でサポートいたします。