Posted On 2019-02-20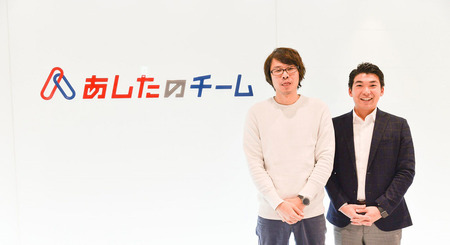 Interviewer: Mitsuki Kato
Created by RGF Professional Recruitment Japan Marketing Team
Within the HR Tech market, ASHITA-TEAM Co., Ltd. is garnering attention in the area of performance evaluation. In the previous article we spoke with their managing director and CTO Kouichi Hayashida about HR Tech and ASHITA-TEAM Co., Ltd. For this article, we conducted interviews with two current employees.
The previous article can be found here.
First, we would like to ask some questions to Mr. Takeo Kimi, a manager in the cloud department at the Creative Group. It seems like you had experience in a variety of companies before joining ASHITA-TEAM. What was the reason you decided to join this company?
During the interview process, the HR department responded quickly, and that startup-like charm appealed to me. The current chairman, at that time the president, set up the interviews right away, and from the interviews I sensed the quality of the people in management. That was a key reason.
Your previous job was also related to the HR industry. Have you always had an interest in the HR industry?
Actually, that was not really the case. Just like this job, I took my previous job before that company went public, and if I had to give a reason why, I would say that I was attracted by the idea of a company in the phase before it goes public. Working toward going public, during that startup period I felt that I really wanted to demonstrate my own abilities.
Did you have any interest in businesses related to performance evaluation systems?
It is not really the case that I was interested in performance evaluation systems themselves from the start, so it would probably be more accurate to say that I became interested in them after joining the company.
In my career up to this point, I never really felt like I was evaluated accurately, and to be honest, I did not have much interest in performance evaluations.
Has anything surprised you since joining the company?
Let's see. The market scale is very large, and ASHITA-TEAM itself is growing, so I feel like this will be an important industry moving forward.
As a manager, what type of work do you mainly do now?
We are striving to be a flat organization, so being a manager does not mean I do any special work, but around me there are a lot of engineers who are recent graduates, so there is a lot of teaching taking place. I am a manager, but when it comes to positions we want to stay as flat as possible.
So you are working to create a flat organization?
The phrase "self-propelled organization" might be just as applicable. We want to have a company whose organization allows each part to focus on its own work.
What career plans do you have for the future?
I have experienced companies I was working for that were listed in my 20s and 30s.I think those experiences made me. Therefore I would like to be a part of a company going public again, even in my 40s.
What special significance do you think there is in working at a company during the phase just before it goes public?
At a company in the development stage, as a full stack engineer you can experience almost everything, and that is very interesting. I believe that people hardly have this kind of exciting experience. Only people who are working for high potential startups can experience it. That is why I like to work for a company in this phase.
Also, I think it is very exciting when the growth of a company and your own personal growth align. You really get a strong sense of how the work you do contributes to the growth of the company. At a large company with many engineers, even if you produce good results, it might be more difficult to experience that feeling, but at a company in the phase that ASHITA-TEAM is in, you can really feel that directly.
Thank you very much!
Next, we would like to ask some questions to Chelsey, who works as a designer in the design department at the Creative Group. Could you briefly introduce yourself?
I am from the Netherlands, and I have been working as a designer since I was 17. When I came to Japan as a foreign exchange student in 2014, I had strong feelings about wanting to live here, so I tried to find a job in Japan. I joined ASHITA-TEAM right when the design department was first established.
Have you always liked Japan?
There are a lot of things about Japan such as its history, culture, music, games, and fashion that I personally enjoy as hobbies or am interested in. When I listen to Japanese music, I really feel that Japanese is a beautiful language. Of course, when I compare Japan with other countries, there are some aspects I wish were a little different, but there are so many great things in Japan, so I really want to live here.
Why did you decide to join ASHITA-TEAM?
During my interview process I spoke with Mr. Hayashida, who is managing director and CTO, and he said that ASHITA-TEAM wanted to become more of a global company in the future, and that as a foreigner I could help with that. Also, since the design department was just being started, I would be able to take on a lot of challenges, and that seemed really interesting. On top of that, since the company's product was a performance evaluation system, I thought it would probably be possible to maintain a good work life balance (haha.)
What is it like working with the Creative Group? I heard that you can now choose to work remotely and have flex time.
We can work remotely once a week, and also take advantage of flex time. As for working remotely, since I was a freelance worker for a long time, I am able to concentrate no matter where I am, so I work remotely a lot. It seems like people who are not able to focus at home do their work in shared offices or in group spaces.
Actually, about a week after I joined the company, our HR team asked me what it was like to work in other countries. Then, a few weeks later, the Creative Group's working system changed, and they started offering things like the option to work remotely. I felt like it happened so fast! If there is a good idea, then the company is able to act on it right away.
We would like to hear a little bit more about your job search. For other foreigners looking for work in Japan like you were, do you have any special advice or words of warning?
I think getting help from a recruiting company such as RGF Professional Recruitment Japan like I did is well worth it. The reason is that a lot of things work differently in Japan than they do in other countries.
For example, a Japanese company with a single office in Singapore is considered a global company, but most people in other countries would not consider a company to be very global if it did not have an office in the US and Europe. Also, even if the word "global" is used, if the main office does not have a single foreigner working there for example, then I feel like it is not really an international environment.
If a person wants to work in an international environment, then they should ask a recruiter a lot of questions about the specific company.
Thank you very much!
In the "2018 Growth Strategy" that the Japanese government put out the other day, they said that by 2023 they want there to be 20 unicorns or startups that go public, so you can really feel how the excitement for startups is accelerating rapidly in Japan.
For both Japanese companies and foreign companies, there are more companies than ever like ASHITA-TEAM that are experiencing rapid growth or are working to become more global. Just like Mr. Kimi said, companies in this phase provide that dynamic feeling of satisfaction that you cannot experience elsewhere.
If anybody out there is interested in companies in this growth phase like ASHITA-TEAM, then please contact us. We are happy to support and provide you a lot of opportunities. We look forward to seeing you soon!
Client Information
ASHITA-TEAM Co., Ltd.
Website: https://www.ashita-team.com/
We have a lot of confidential job openings with excellent foreign companies and Japanese global companies! Our recruitment consultants will introduce you to excellent jobs that match your requirements.
Working at a global company has many advantages, not only for those who want to work globally and those who want to make use of their language skills, but also for people who strive to Unleash their Potential seek their own potential and have a healthy work-life balance.
RGF Professional Recruitment Japan supports the recruitment hiring activities of many of the top domestic and foreign capital companies in Japan. Various excellent companies including foreign and Japanese global companies located in Japan. Therefore, as a result, we can introduce the best career options for each person.to suite all types of career profile.
If you want to work in a global environment or globally, want to work in a place where you can perform more, or want toto a higher level and expand your career options in the future, please contact us. Our experienced consultants will do their best to support your career growth.