Posted On 2020-10-10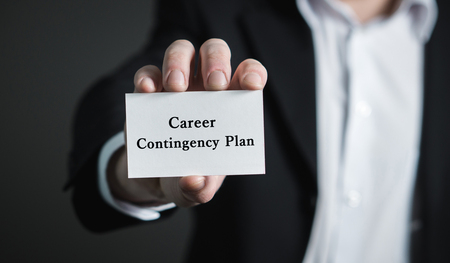 If anything this year has taught us, it's the fact that everything can change in an instant, and your career is no exception. No matter how good you are in your domain, you can never be sure of the lifespan of your job. One thing we can do, however, is prepare ourselves for the worst, because how you respond to uncertainty will reveal your character and give you a competitive edge over others.
As you move throughout your career, one very crucial aspect of being prepared is having a career contingency plan.
What is a career contingency plan?
A career contingency plan is a backup plan for your career in case your positive assumptions about the security and stability of your current career don't hold. This is the kind of planning you make for unexpected events that can possibly occur in your career, such as company downsizing, retrenchment, furlough, or redundancies.
The importance of contingency planning
A legitimate strategy requires adaptability to achieve success. Having a plan B is the very first step to adaptability. Everyone has a plan A, but what will truly make an impact on your career is whether you have a plan B or even plan C in place when something doesn't work out.
A contingency plan helps you react to unprecedented situations quickly yet effectively. If you are someone who is mid-career or senior level, you may think that you have acquired enough expertise and knowledge to stay anchored in your career path. However, with growth comes risks, and anyone can make mistakes, no matter how senior you are. So ultimately, to put it in a simpler way, a career contingency plan is your survival kit to fight through the unforeseen.
5 steps of contingency planning
Step 1: Identify
Because a contingency plan deals with the unanticipated, you need to think outside of the box when identifying the risks. Ask yourself these 3 questions, and try to dig deep to get all possible answers:
What could possibly happen to your career?
What will you do in response?
What can you do in advance to prepare?
Step 2: Prioritize
There are risks that are within your control but there are also ones that are not. Make a list of those you should prioritize, categorized by their possible impacts and their likelihood. Those that are the most likely to happen and can have the most impact should rank on top, and vice versa.
Step 3: Plan
After deciding which risks you would want to tackle first, you need to actually write down a contingency plan. This is the step where you have to be realistic, keeping in mind these 3 criteria:
The problems that ought to be dealt with before others
How long it should take to deal with each problem
How each solution aligns with your needs
Work your way down from the risks ranked at the top of your list. You can also create a timeline for how these scenarios might unfold in the real world. Make sure that the plan is as detailed and easy-to-understand as possible to avoid any misunderstanding you might have in the future.
Step 4: Execute
If your career contingency plan includes you taking actions to prepare for future incidences, you should execute them as soon as possible. If the plan involves other parties such as your coworkers or family, inform them in advance so that when unprecedented changes occur, they are fully aware of their role in your plan.
Step 5: Review
A career contingency plan is meant to be flexible as its nature is to deal with the unprecedented, for instance, the situation could change drastically or the risks could be much greater. In order to maintain the practicality of your contingency plan, you should revisit it every few months and make adjustments whenever needed.
Tips for effective career contingency planning
Source: Startup Stock Photos, Pexels
Stay up-to-date
The job market and recruitment methods are always changing. At any given moment, even though you are still employed, actively staying informed about your employment market is already a great starting point. When you have an up-to-date understanding of the situation, you'll have fewer chances of being caught off-guard.
You should also keep your resume current with all your achievements included. Don't think about tailoring this particular one for a specific position, but consider keeping it as extensive as possible so that you can use it for any situation.
Invest in your personal brand
You should never lose sight of your personal brand. Always look for ways to build your professional network. Join groups that are relevant to your career to meet like-minded people. Polish your online presence by not only updating your profile on Linkedin, but also staying engaged with your connections. Stay in touch with your recruiters and fill them in on your current situation.
Overall, you should set up a network of opportunities even when you're not actively looking for a job so when a problem arises, you don't have to frantically build everything from scratch.
Think about the skills you want to have or improve
With every step of your career, there should be growth. So when you are creating a career contingency plan, make sure you are using the skills you desire as the backbone of your career path. Your next jobs should either give you these skills, or provide you with an environment to apply these skills to a new domain. Think about your ideal job 5, 10, and even 15 years down the line, identify any skill gaps you may have, and start working on them now.
Consider having a side-hustle
A side hustle isn't just for people who want to quit their 9-5, but it's also a form of career insurance in case your 9-5 quits you first. Realistically speaking, your finances are at a much higher stake if you only have one source of income. What will happen if you lose that one income stream? Having a side hustle helps diversify your income and protect your financial well-being to keep you afloat when the unexpected happens.
Think about the non-financial aspect of your career contingency plan
Yes, money is important, but a career offers us a lot more than that. So many aspects of our lives structure around it - our purpose, our identity, and our sense of community – to name a few. Assess how important these factors are to you, in relation to your job, and incorporate them into your contingency plan as well.
A career contingency plan should take you to a career that best fits the life you would like to lead. It should be about achieving job security, not just for those who might lose their jobs, but also for those who seek a way to a better future through greater job satisfaction.
Stay calm and remember that it's an ongoing process
Contingency planning can be stressful, because it forces us to think about the uncertainty that we tend to avoid. But in order to secure your career, you need to keep a positive outlook when it comes to both your career and your life. Spend time to really understand your mental, emotional, and social needs before making any big changes. Investing time in your future plans is one of the greatest gifts you can give to yourself.
At the end of the day, the purpose of having a career contingency plan is so that you can guarantee your happiness. Your happiness is paramount and so you should do everything within your power to strive for it.
As the Chinese proverb says, "The best time to plant a tree was 20 years ago. The second best is now." The key to a successful career is not to wait for the contingencies to occur, but to take actions way before they do. Don't just hold out doing something that does not align with what you desire. A career contingency plan is one of the very key steps that will take you to your dream career path.
We have a lot of confidential job openings with excellent foreign companies and Japanese global companies! Our recruitment consultants will introduce you to excellent jobs that match your requirements.
Working at a global company has many advantages, not only for those who want to work globally and those who want to make use of their language skills, but also for people who strive to Unleash their Potential seek their own potential and have a healthy work-life balance.
RGF Professional Recruitment Japan supports the recruitment hiring activities of many of the top domestic and foreign capital companies in Japan. Various excellent companies including foreign and Japanese global companies located in Japan. Therefore, as a result, we can introduce the best career options for each person.to suite all types of career profile.
If you want to work in a global environment or globally, want to work in a place where you can perform more, or want toto a higher level and expand your career options in the future, please contact us. Our experienced consultants will do their best to support your career growth.