Posted On 2019-03-27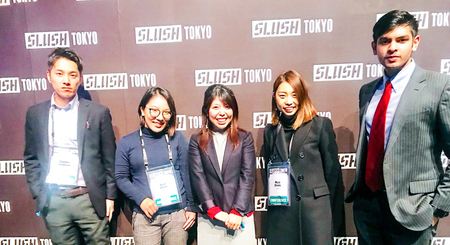 What is Slush Tokyo?
Slush is one of the biggest startup platforms in the world that connects startups and investors. Slush originally started in Finland with the purpose of building a business ecosystem where a new generation of entrepreneurs everywhere in the world can thrive. Since 2015, it has been holding events in various places, and this year is the fifth time here in Tokyo.
There were a lot of presentations, talks, sessions organized, and a startup booth from all over the world. Last year, Slush Tokyo 2018 welcomed around 6,000 attendees, 600 startups, and 200 investors from all around the world. Recruit Holdings, our parent company, was a sponsor of this event!
Our Digital team, specializing in web engineering, also joined this event. It was such a great opportunity to learn more about what is happening in this cutting-edge industry, and to get to know people who were working in the field. Today, I hope I can give you a little glimpse of what we got to experience during the event!
Female-founded Venture Capital Firms
I found the talk by Pocket Sun from SoGal Ventures very interesting. SoGal Ventures was the first women-led millennial venture capital firm, investing in seed stage companies, with a focus on gender equality. During the talk, Pocket Sun talked about how unbalanced the startup-investor community was.
These days, despite the fact that more and more startups are being led by women entrepreneurs, only a few investors are women. Women make up less than 10% of the decision-makers in venture capital firms, making it remain a male-dominated world. As a result, female startups are having a harder time raising money from investors, compared to male startups. Male startups tend to get money more easily from investors, who are also men. Pocket Sun wanted to build SoGal to change this unbalanced situation and encourage the female startup community.
Pitching Contest
One of the highlights of Slush Tokyo 2019 was the pitching contest for startups. The startups selected by each country had the chance to introduce their services and products to investors and judges. On the first day, they were narrowed down to 50, followed by a semi-final round on the second day. The final pitch of 4 startups was organized at the very end of the event. The winner of Slush Tokyo pitching contest was Clarity K.K.. This was also the first time that a Japanese startup won at Slush. The founder, Satomi Furuya, talked about the reason why she founded the company, and what she wanted to achieve.
Clarity K.K. is a company that provides a matchmaking platform for people to get information of different companies and their work culture, with honest reviews of these companies. With information of more than 4,000 companies, Clarity K.K. tries to solve the problems for business women who are struggling to find work-life balance in Japan, or those who want to return to the realm of work after having kids.
Thanks to their service, women can easily find companies that can provide them the benefits or system they want, such as flex time, maternity leave, nursery school, and so on. After the pitch by Ms. Furuya, investors and judges asked questions on financial issues, the company's leverage compared to their competitors and other questions.
Throughout the event, I could feel the presence of women in the tech industry getting a lot stronger. Even though it is still a challenge for women in Japan to pursue their career and take care of their family at the same time, there are startups working to better the situation, and investors willing to support companies founded by women.
Slush Tokyo 2019 was such a great opportunities for me to see the booming of the startup community in Japan. It was also very encouraging and inspiring to see the changes that are being made.
RGF PR Japan's Digital team is thrilled to support startup companies in Japan to help them flourish and we are happy to answer any questions when it comes to hiring!
We have a lot of confidential job openings with excellent foreign companies and Japanese global companies! Our recruitment consultants will introduce you to excellent jobs that match your requirements.
Working at a global company has many advantages, not only for those who want to work globally and those who want to make use of their language skills, but also for people who strive to Unleash their Potential seek their own potential and have a healthy work-life balance.
RGF Professional Recruitment Japan supports the recruitment hiring activities of many of the top domestic and foreign capital companies in Japan. Various excellent companies including foreign and Japanese global companies located in Japan. Therefore, as a result, we can introduce the best career options for each person.to suite all types of career profile.
If you want to work in a global environment or globally, want to work in a place where you can perform more, or want toto a higher level and expand your career options in the future, please contact us. Our experienced consultants will do their best to support your career growth.