Updated On 2023-04-12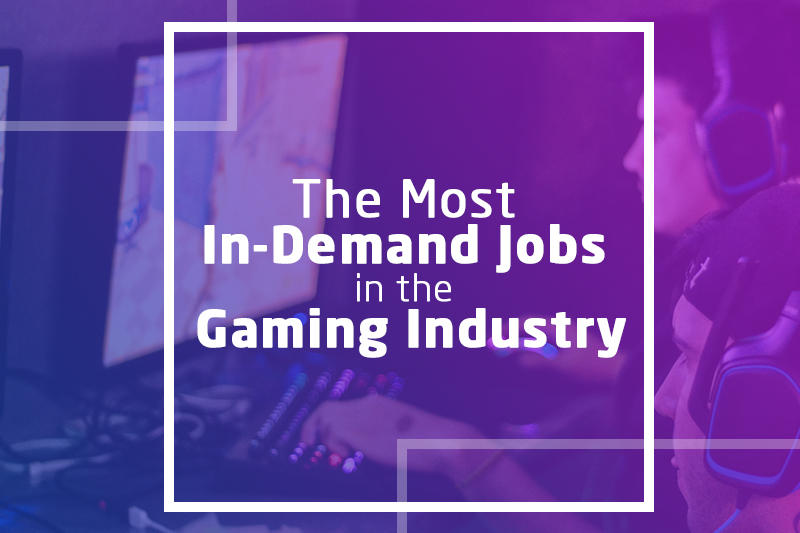 The Gaming Industry
Currently valued at $160 billion, the gaming industry is in the midst of a revolutionary transition, which has the potential to accelerate the industry's already impressive growth, positively affecting more than 2.7 billion gamers worldwide. Now is such an exciting time to be part of the gaming industry with brands racing against each other in an attempt to not only capture more and more of the ever-growing global user base but also gain dominant market share from the quick adoption of emerging innovations.
To meet the increasing demand and widening opportunities brought by these technological changes within the industry, Japanese gaming companies have continued to hire top talent in a fiercely competitive yet rewarding market. Hidetaro Konno, Associate Director of RGF Professional Recruitment Japan, explains that the gaming industry is driven by one fundamental objective: creatively entertaining people through groundbreaking use of technology. On top of that, he discusses that novel ideas translated into beautifully designed and flawlessly executed work has become the core of highly successful and globally-renowned games.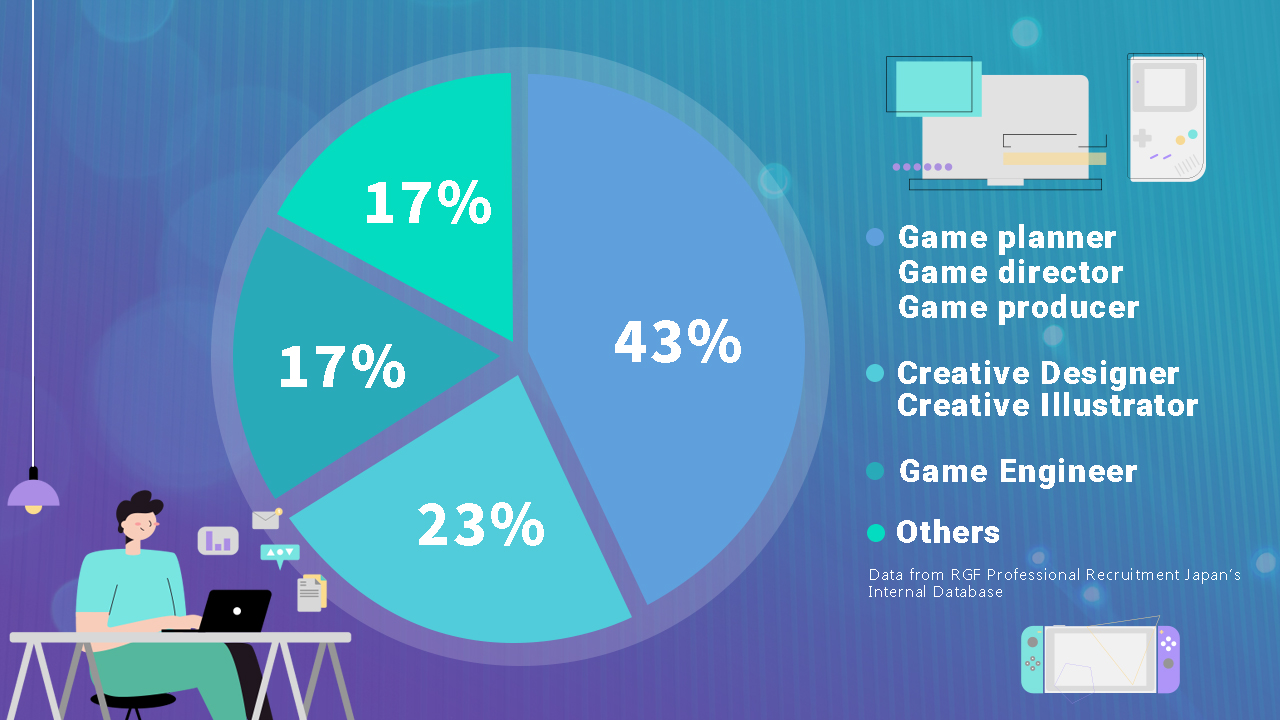 It's not surprising then that since 2018, these are the most in-demand positions within the game & entertainment industry in Tokyo, Japan:
Game Planner/Director/Producer 43%
Creative Designer/Illustrator 23%
Game Engineer 17%
Others 17%
The 3 most in-demand positions in the game and entertainment industry
RGF Professional Recruitment Japan's Game & Entertainment team has been actively connecting numerous companies to professionals seeking roles such as infrastructure engineer, server-side engineer, client-side engineer, UI/UX designer, 2D/3DCG designer, illustrator, project manager, product manager, planner, director, producer, QA, CS, localizer, etc. However, these are the 3 most in-demand positions handled by the game and entertainment team:
1. Game Planner / Director / Producer
Salary range:
3 million to 20 million depending on experience and qualifications (you may consult with a recruitment consultant for more details about salary benchmarks)
Language ability required:
Japanese proficiency is an asset
Since you will be communicating and working with Japanese professionals, knowing the language would be an advantage. Most roles require JLPT N3 and above but some roles do not need Japanese proficiency. At the end of the day, your work history and passion weighs more than your language ability. By speaking with our recruiters specializing in the gaming industry, they will be able to provide you proper advice on your qualifications and how you can move your career forward.
Spanish and/or English proficiency is an asset
English is the medium used to communicate globally while Spanish is one of the most widely spoken languages in the world, giving rise to increasing interest in capturing that specific market segment.
What you need to know before the job interview:
Hidetaro points out that if you are interested in these positions, it's important to understand your strengths so you could identify whether you are most suited for a role that focuses on making an intangible unique idea into a tangible product capable of enlivening gamers around the world (0 to 1) or another role that helps catapult these games into successful business ventures (1 to 100).
He also emphasizes the need to build trust between you and a potential employer. Given the current circumstances where employees around the world work remotely, the significance of building trust during job interviews becomes more and more dramatic. By sharing the following during your interview, you not only build trust but you may also increase your chances of landing the job:
Your previous accomplishments
The results of your past accomplishments
Concrete examples of how you can contribute to the company (e.g. prepare to answer "If I could take over _______, these are the 3 things I will do/change to improve it" and then explain why)
Your passion for the industry or the company (e.g. Hidetaro advises that if you have some game merch and you're interviewing with the maker of that game, showcase these merchandise on your video call background during a remote interview)
2. Creative Designer / Illustrator
Salary range:
3 million to 15 million depending on experience and qualifications (you may consult with a recruitment consultant for more details about salary benchmarks)
In-demand technical skills:
General: Adobe Photoshop, Adobe Illustrator
3DCG: Maya, Unity, 3DMax
Wireframe: Sketch, Figma, Adobe XD, InVision
Front-end programming: HTML, CSS, JavaScript
Language ability required:
Japanese proficiency is not required but may be an asset
What you need to know before the job interview:
Although some companies prefer candidates with an art degree, your portfolio still speaks volumes more about your ability and potential to thrive in the new role.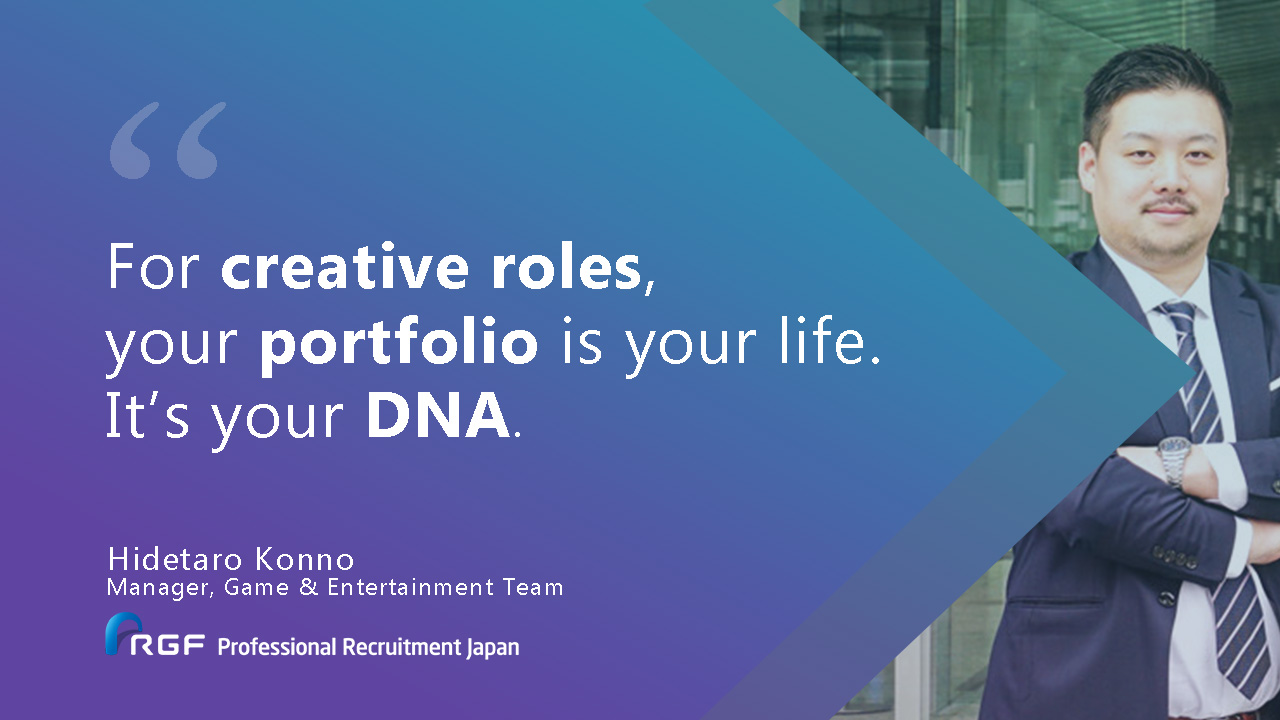 Your portfolio represents you and it plays such a central role for you to land the job. This is why the Game & Entertainment Team's recruitment consultants work with a highly connected portfolio specialist to help job seekers improve their portfolios. If you're building or polishing your portfolio, Hidetaro Konno or our Game & Entertainment recruitment consultants could give you feedback straight from this specialist within 5 business days.
However, one important tip that some designers and creative professionals forget is the advantage of tailoring your portfolio to the job vacancy you're applying for. The two biggest distinctions between creative jobs are specialist and generalist roles.
Specialist Role

Generalist Role

Often needed by domestic conglomerates or multinational companies
Highly specialized but less familiarity with other disciplines
Harder to change careers
Higher salary because of demand and supply
Has a more cohesive portfolio

Often needed by startups and unicorns
Multidisciplinary, familiar with multiple aspects of the design process
Able to easily change careers
With good communication skills, becoming a manager is a potential career path
Has a wide-ranging portfolio that covers multiple aspects of design and creative output
To be time-efficient when tailoring portfolios, choose to have at least two tailored portfolios: one for specialist roles and one for generalist roles as this can grant you higher chances of being interviewed. Unfortunately, some companies may advertise that they need a specialist on the job title; however, upon closer evaluation of the job description, they actually need a generalist or vice versa. To ensure that you're sending the right portfolio, always check the job description but bring both to your interview.
Additionally, sometimes choosing between a specialist role or a generalist role may be quite challenging for some. Take advantage of the connection you have built with a recruiter. By speaking with your chosen recruitment consultant about your professional goals, strengths, and weaknesses, you open the opportunity to discuss which roles are most suitable for you and how you can concretely get to the next level of your career.
3. Game Engineer
Salary range:
3 million to 20 million depending on experience and qualifications (you may consult with a recruitment consultant for more details about salary benchmarks)
Language ability required:
Japanese proficiency is not required but may be an asset
In-demand technical skills:
Front-side engineer:
C# and Unity for the mobile game industry
C++ for the consumer industry
Server-side engineer:
PHP
What you need to know before the job interview:
Since these roles are highly technical, Hidetaro advises that you should expect that some companies will test your ability through on-the-spot programming and other aptitude tests.
Prepare to answer the following questions as well:
What was your biggest coding mistake and how did you fix it?
This assesses your role, responsibility, problem-solving skills, and accountability
What are the language limitations of C++, C#, PHP?
This demonstrates the depth of your knowledge.
What are some good and bad points of C++, C#, PHP? (Also cite some examples)
This further demonstrates your knowledge of the coding language(s) and the limitations of each language.
We have a lot of confidential job openings with excellent foreign companies and Japanese global companies! Our recruitment consultants will introduce you to excellent jobs that match your requirements.
Working at a global company has many advantages, not only for those who want to work globally and those who want to make use of their language skills, but also for people who strive to Unleash their Potential seek their own potential and have a healthy work-life balance.
RGF Professional Recruitment Japan supports the recruitment hiring activities of many of the top domestic and foreign capital companies in Japan. Various excellent companies including foreign and Japanese global companies located in Japan. Therefore, as a result, we can introduce the best career options for each person.to suite all types of career profile.
If you want to work in a global environment or globally, want to work in a place where you can perform more, or want toto a higher level and expand your career options in the future, please contact us. Our experienced consultants will do their best to support your career growth.