Posted On 2022-11-04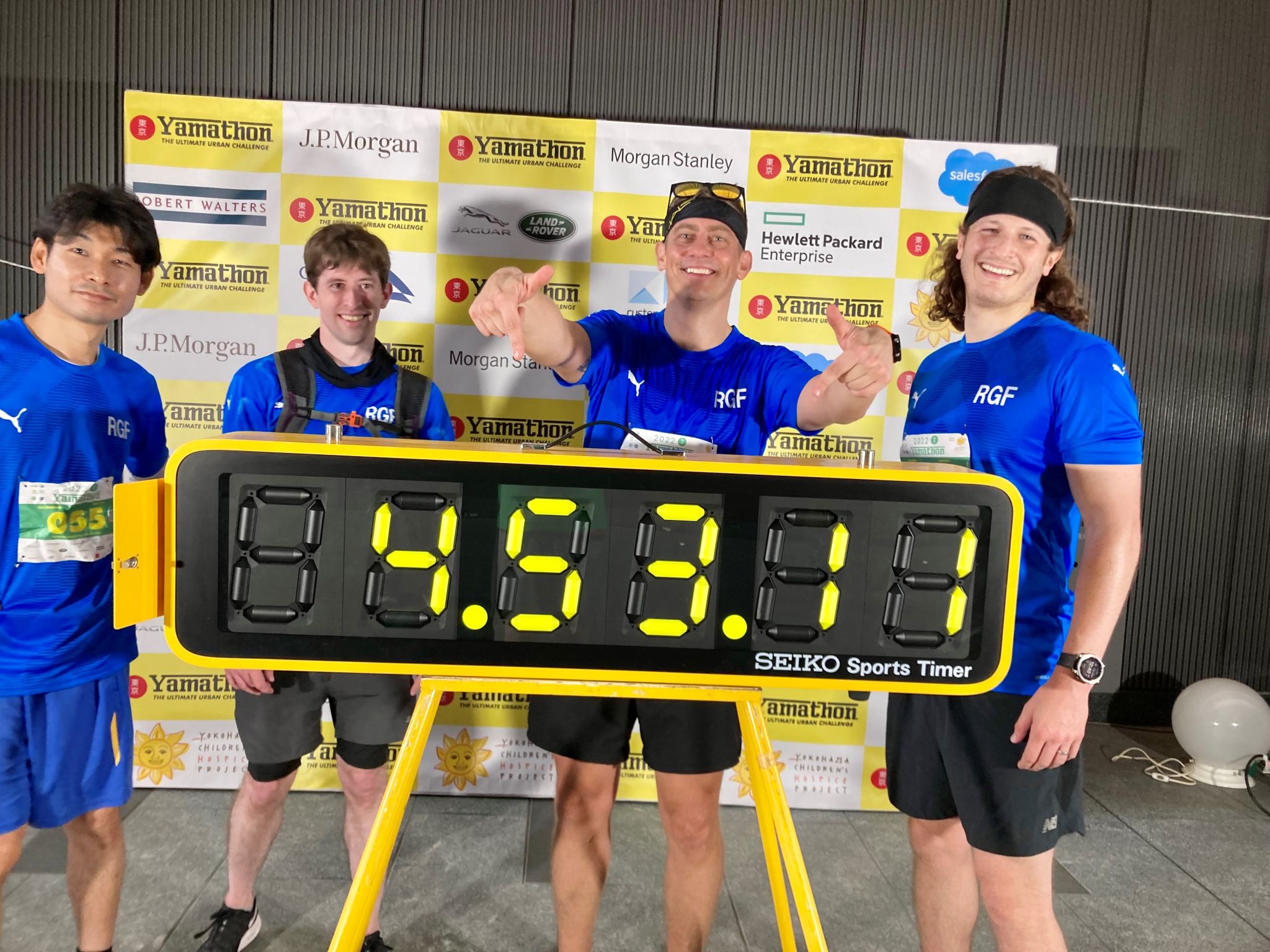 The Yamathon is a marathon that follows the route of Tokyo's Yamanote line. Held once per year, it is an event in which teams can choose to run a "full loop" or a "half loop" around the popular train line.
This year, RGF Professional's "Run Great & Fast" team - consisting of Benjamin Cordier, Brian Martin, Takafumi Suzuki, and Joshua Schroeder - completed the full loop in record time with plenty of laughs and cramps along the way.
135 volunteers supported this event, and 100% of the event proceeds are donated to the Yokohama Children's Hospice Project; a certified NPO to support children with serious illnesses and their families to enjoy relaxing time together. 1,155 runners across 325 teams supported the cause this year.
This was the first proper Yamathon since 2019. Last year, Yamathon participants were able to complete the race independently, but this was the first time in three years for participants to be able to run through the starting gate with crowds cheering as they took off.
Seeing the different energies from each team was particularly exciting. Some were there to push for new personal records. Others were there to enjoy a walk with friends through Tokyo. Either way, the excitement in the crisp morning air was palpable.
As a part of one of the earliest heats for this year's Yamathon, "Run Great & Fast" was at the start line bright and early at 7:00am. After a bit of stretching and a pep talk, "Run Great & Fast" was ready to go and started the race with a quick pace to break from the rest of the pack and run the counterclockwise route of the Yamanote line.
The most interesting parts of this event must be seeing new parts of Tokyo and understanding Tokyo as you never have before. Within no time, the RGF team ran from Tokyo to Ueno. Everyone was feeling great, and it seemed like significant progress was already made.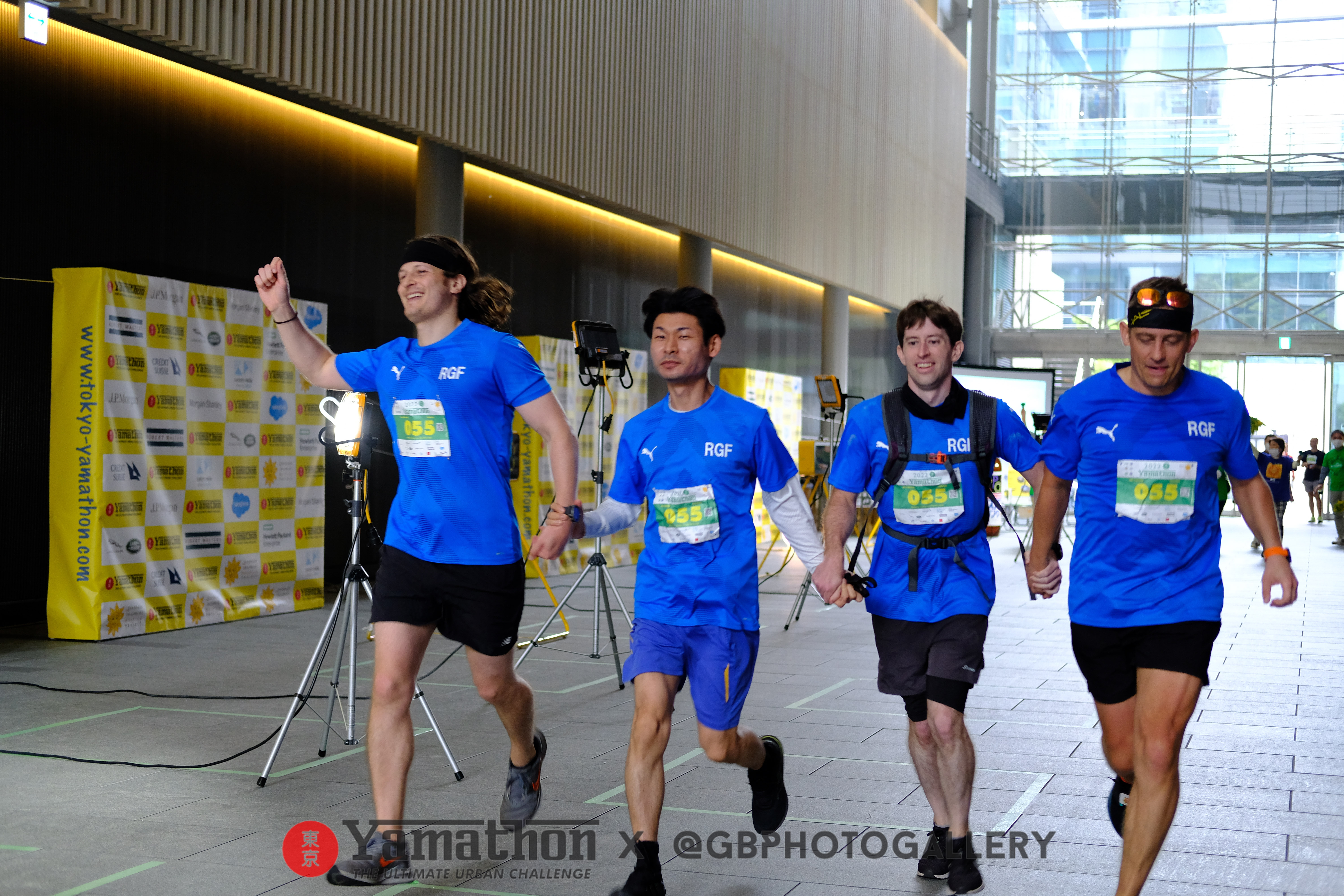 At the halfway point, Mejiro, the team was starting to feel sore legs and the pace slowed down a bit, but the news that Team RGF were the first team to complete the "half loop" re-energized everyone to power on.
Seeing other teams running the opposite way became a common sight as the team approached Shinjuku. In this race that has no official course, meeting teams that are running along the same path is a fun discovery, and each runner was excited to cheer on their colleagues running the opposite direction around the loop.
Author's side note: The ability to complete an on-target high-five with a stranger running in the opposite direction with an appropriate amount of force is a skill that no one can train for. This made each successful high-five a very satisfying experience.
The weather was perfect throughout the race – cool and mostly cloudy. This allowed the teams to push as hard as possible while maintaining a steady and healthy pace. The fall weather this year really is ideal for a marathon run.
"Run Great & Fast" set a goal to complete the full loop under five hours. The team was able to to cross the finish line hand-in-hand at 4:53:11.
This time put the team within the Top 3 out of 179 teams to complete the full loop on race day.
Whether you are new to Tokyo or have lived here for many years, the Yamathon should be at the top of everyone's to-do list. Each participant should feel very proud to participate in an event that has such a real and positive impact towards families going through difficult times. However, being able to enjoy a day around Tokyo (literally), discovering new parts of this city, and exercising with friends are more great reasons to participate in this event each year.
A Top 3 finish is something to be very proud of, but the RGF Professional team is already training to Unleash Potential for a stronger finish in next year's race.
We have a lot of confidential job openings with excellent foreign companies and Japanese global companies! Our recruitment consultants will introduce you to excellent jobs that match your requirements.
Working at a global company has many advantages, not only for those who want to work globally and those who want to make use of their language skills, but also for people who strive to Unleash their Potential seek their own potential and have a healthy work-life balance.
RGF Professional Recruitment Japan supports the recruitment hiring activities of many of the top domestic and foreign capital companies in Japan. Various excellent companies including foreign and Japanese global companies located in Japan. Therefore, as a result, we can introduce the best career options for each person.to suite all types of career profile.
If you want to work in a global environment or globally, want to work in a place where you can perform more, or want toto a higher level and expand your career options in the future, please contact us. Our experienced consultants will do their best to support your career growth.