Posted On 2020-01-31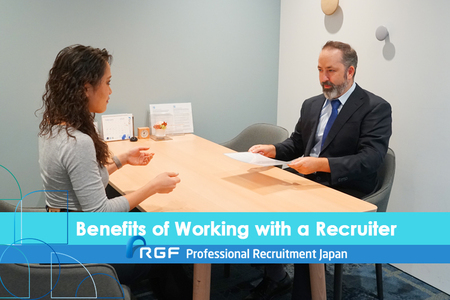 Have you ever been in a situation where you applied to dozens of job vacancies yet unfortunately, failed to secure a single preliminary interview? Or were you ever overwhelmed by the number of available opportunities in the market that you ended up applying to all of them, securing multiple interviews but were left with no job offers?
Perhaps it's time to change your job search strategy to one that includes the assistance and guidance of a recruitment consultant.
Here are the main benefits of working with a recruiter:
1. Access to Exclusive Off-market Information
Candidates like you need as much information as possible to secure the most suitable job that would fit your professional and personal goals. Although various types of information are readily available online, recruiters have something more valuable to offer: exclusive and off-market information.
A Recruiter's Network:
Recruiters dedicate their time building strong relationships with key people within their industry and this network becomes one of their most valuable assets. The time spent cultivating those relationships also brings with it access to exclusive company and industry knowledge that is typically not readily available through a quick online search.
In fact, they are one of the first people to know about vital news affecting their industry and are up-to-date with the most recent job openings, newly established companies, as well as emerging company powerhouses within their field of expertise.
Their vast contacts allow them to immediately identify the right hiring manager from a long list of HR personnel. Also, expect that recruiters would be able to immediately spot your suitability for the job since recruiters would go above and beyond to understand the company as well as what it would take to succeed in the newly vacant role.
Feedback:
One part of the job application process that is often overlooked is the power of constructive feedback. To avoid failing one job interview after another, it would be advantageous to equip yourself with useful feedback from your interviewer and tips that apply specifically to you.
However, the problem is that it's rather difficult to get this feedback from your interviewers and it is quite uncommon to find interviewers who would share this information instantly.
Fortunately, recruiters are proactive about acquiring this feedback. They're able to provide you proper advice directly from the interviewers so each succeeding job interview would be smoother than the last.
2. Knowledge of Your Actual Market Value and Your Competition
When you're seeking to land an in-demand job at a coveted company, expect that you will have to compete with other candidates who may well be as qualified or more qualified than you. This is why knowing your current market value and how you compare to other job seekers is hugely beneficial information especially if you'd like to get a good job offer from your dream company.
Your Standing:
Since recruiters speak with both candidates and clients on a daily basis, they are recipients of information that can help pinpoint your standing in a competitive job market. They have access to information such as:
Average and market-competitive compensation
Expected salary increases based on situational factors
Professional experience and skills required to earn an increase in compensation
Hiring trends and employment trends
In-demand skills that will elevate your standing
When speaking to recruiters, you could take advantage of that time to also ask questions that would help you get a deeper understanding of industry benchmarks and therefore, your standing within the talent spectrum.
Improving Your Standing:
During your interview with a recruiter, you will find that they will often ask you plenty of questions. These questions help recruiters to not only understand you and your qualifications but to also identify blind spots (qualifications, skills, experience, etc.) so they could support and guide you throughout the entire job search.
Sometimes candidates are unaware of certain skills or qualifications that they're missing to secure the job they want. There are also some candidates who are unaware of how much they can command. Recruiters can help bridge this gap through proper advice.
Once you've identified these blind spots and combined that with current industry knowledge and benchmarks, you will know what it will take to achieve your professional goals – and hopefully get that dream job!
3. Accurate Representation to the Right Hiring Manager
You see a job vacancy but you can't quite get your foot in the door despite your qualifications and experience. A recruiter can help expedite that process for you.
The Right Hiring Manager
Some companies have specific hiring managers dedicated to certain positions. If you're sending your resume to the wrong person, there's a high possibility that it will be left unread. With your recruiter's vast network and deep connections within the industry, they are able to identify and approach the right hiring manager for you – instantly.
Since they know the hiring manager, they know the market, they know the job, they know the company, and they know what the hiring manager wants… you will always be at an advantage compared to other job seekers. Because of the market information that recruiters have, they can present you to the right hiring managers in a way that would get them interested to know more about you and what you can offer to their company.
An Accurate Picture of You
As mentioned above, recruiters will be asking you a lot of questions because they would want to paint an accurate picture of you to the hiring manager.
Remember that although recruiters would try their best to present you in the best light, the quality of representation will also depend on the quality of information that you will share with them. This is why recruiters encourage job seekers like you to be honest with them about your current situation, your career goals and how you envision your career in the next 5-10 years.
Based on the information you share, recruiters will give you recommended jobs and some additional advice to help you find the best job for you.
We have a lot of confidential job openings with excellent foreign companies and Japanese global companies! Our recruitment consultants will introduce you to excellent jobs that match your requirements.
Working at a global company has many advantages, not only for those who want to work globally and those who want to make use of their language skills, but also for people who strive to Unleash their Potential seek their own potential and have a healthy work-life balance.
RGF Professional Recruitment Japan supports the recruitment hiring activities of many of the top domestic and foreign capital companies in Japan. Various excellent companies including foreign and Japanese global companies located in Japan. Therefore, as a result, we can introduce the best career options for each person.to suite all types of career profile.
If you want to work in a global environment or globally, want to work in a place where you can perform more, or want toto a higher level and expand your career options in the future, please contact us. Our experienced consultants will do their best to support your career growth.