Posted On 2020-03-04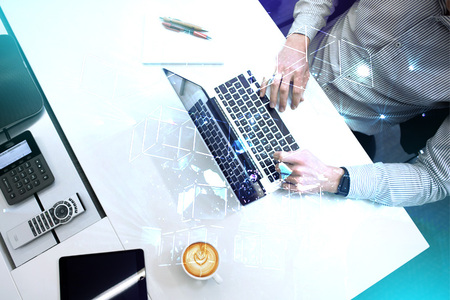 Finding the perfect job is everyone's dream and because of the Internet, we're provided the chance to explore countless opportunities. More and more information is made available online for us to absorb. When you're curious about something, a simple online search is all it would take to satisfy your curiosity. Now, it's so much easier to look up companies and get more information about a job vacancy than ever before. Truly, this must work to our advantage, right? The answer is yes and no. In reality, this easy access to information actually works as a double-edged sword.
Here are some reasons why the Internet is making it harder for you to get a better job and how you get on the candidate shortlist despite that:
1. There's just too much information out there!
It's certainly no surprise for you to know that the Internet hosts so much information and unfortunately, misinformation, too.
Nowadays, it's getting more and more difficult to find the answers you really need because companies are investing tons and tons of money on branding and on beating algorithms that bring us the information. A simple online search will give you so much information but are you sure you're actually getting accurate facts?
If you don't know where to look, the right keywords to use, and if you're also the type who just doesn't have the time to go beyond the top 10 search results, then the Internet is definitely not helping you get a better job.
2. Increased connectivity means increased competition
The Internet doesn't just give us information, it also increases connectivity, making the world a smaller place.
It's true that there are tons and tons of websites out there that help us connect directly with a company's HR Team. There's LinkedIn, Glassdoor, and even a company's website, just to name a few.
However, it's not just you that has access to those sites and it's not just you who's using it to land the ultimate dream job. It's now easier than ever to send your resume to any company but you should always remember that it's not just easy for you — it's easy for everyone, too! Clearly, competition is now fiercer than ever.
Just imagine how many applications these companies receive every day! If your resume looks exactly the same as everyone else's and if you are not doing anything to stand out from all the other applicants, then the Internet is definitely not helping you get a better job.
3. Humans aren't doing the initial screening of your resume
Due to the surge of applications, companies are increasingly streamlining their hiring process by incorporating new tech that would make their system more productive and efficient. Now, bots and AI are used by companies worldwide to ease the high volume of applications, helping HR personnel screen candidates faster compared to before.
This new tech is beneficial to most companies. However, it might not have the same effect for you. Bots and AI have been programmed to accurately select a few candidates that pass the criteria set by the company. Unfortunately, these criteria could bypass your application because you failed to include a particular skill or qualification on your resume (even if you do possess it or even if you have the equivalent experience).
If you don't know how to beat the bots and the AI algorithm because you don't know what the company's criteria are, then the Internet is definitely not helping you get a better job.
How do you stand out and get on the candidate shortlist to get a better job?
1. Understand that your resume is the key that will open doors of opportunities for you.
No surprise there. Yet surprisingly you may still be:
Sending out generic resumes that aren't even customized to the job that you're applying for
Sending out resumes that don't specifically mention your achievements, both qualified and quantified
Sending out resumes that aren't structured correctly or aren't bot and AI friendly
Sending out resumes that haven't been spell-checked or grammar-checked
Sending out resumes that use the exact same keywords as what's on the job description — although some say this works, bots and AI can now tell that you're trying to rig the system
Knowing that there's just so much competition out there AND that bots/AI may be screening your resume, you will need to work a little bit harder to secure that initial interview.
Review your resume and ask a close friend to review it, too. Then work on improving it by checking out resume samples and resume templates WITHIN YOUR INDUSTRY or better yet, job function. But never copy verbatim because people are probably doing the exact same thing. Work on differentiating yourself from your competition so that you'll stand out in the eyes of both the HR team and the bots/AI.
2. To fast track the process for you, connections matter!
Competition is fiercer than ever. Now, the challenge doesn't lie in identifying where you should submit your resume — fortunately, the Internet can provide you all the avenues for that. The challenge now is whether or not the person who received your resume actually reads it!
Because companies receive tons of applications a day, HR is used to scanning resumes. However, what you really need is to identify the right person (often, it's the hiring manager) and for them to read your resume.
That's where the power of connections and their vote of confidence comes in. There's no better way to get the hiring manager to actually read your resume than through an endorsement from someone they know.
So if you have friends and relatives who know the hiring manager of the company you're interested in, take action! Although honestly, this is a rather rare circumstance but don't fret, there are professionals who speak with hiring managers on a day-to-day basis. They're recruiters and they can help bridge this gap.
Through the recruiter's experience and vast professional network, they know who to approach for a specific job opportunity. You'll skip the bots/AI, you'll skip the resume scanning team. It's straight to the decision-makers. Not only that, they are known in the industry for their talent to identify good candidates that can match a job vacancy. Their reputation and vote of confidence will immediately get the hiring manager interested in your job application. Rest assured, if a recruiter sends your resume to a hiring manager, they will read it.
3. Get your information from the right source!
With all the information that's out there, getting your information from the right source makes all the difference.
A company's website would provide you so much information right off the bat. It will clearly define its mission, vision, and values, which are often overlooked but will prove to be very important to employees in the long run.
Yet unfortunately, a company's website doesn't really illustrate its actual company culture. Instead, it portrays a filtered view of the company.
People, on the other hand, will give you a glimpse into the real company culture, which will play a huge role in your motivation to stay in that company. Once again, if you have friends or relatives that work for a company you're interested in, leverage these connections and ask them as many questions as needed to determine if you would be a good fit for the company. If not, ask your recruiter of choice. Be honest with them and they will be honest with you. These recruiters know so much unfiltered and accurate information about the company and the job. They also speak directly with the hiring manager, giving them insider insights on what it will take for you to be given a job offer and what you'll need to transition successfully into your new job. You're sure to get the unfiltered answers you need as long as you ask the right questions.
It will be worth it!
Overcoming these challenges may be easier said than done. Securing your dream job won't be easy but always remember that nothing good in life comes easy.
You will have to work hard to perfect that resume, use your connections to secure that initial interview, and get as much information as possible about the company and the job. At the end of the day, it will all be worth it.
We have a lot of confidential job openings with excellent foreign companies and Japanese global companies! Our recruitment consultants will introduce you to excellent jobs that match your requirements.
Working at a global company has many advantages, not only for those who want to work globally and those who want to make use of their language skills, but also for people who strive to Unleash their Potential seek their own potential and have a healthy work-life balance.
RGF Professional Recruitment Japan supports the recruitment hiring activities of many of the top domestic and foreign capital companies in Japan. Various excellent companies including foreign and Japanese global companies located in Japan. Therefore, as a result, we can introduce the best career options for each person.to suite all types of career profile.
If you want to work in a global environment or globally, want to work in a place where you can perform more, or want toto a higher level and expand your career options in the future, please contact us. Our experienced consultants will do their best to support your career growth.