Posted On 2018-09-14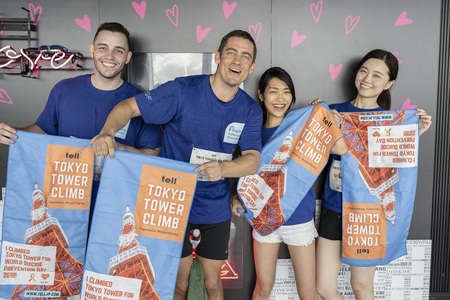 This past Sunday September 9th, Manley-Rudolph Barnard, Ben Cordier, Akari Yoshida and Sabrina Wang from the Contract Division at RGF Professional Recruitment Japan took part in the TELL Tokyo Tower Climb.
"The RGF Hot Steppers" competed in the Corporate Cup with 15 other teams.
The objective of the competition to raise money for a good cause and also have a bit of health competition by racing up the Tokyo Tower.
The tower run is a grand total of 600 steps to the top.
The Tell Tokyo Tower Climb is an event that takes place the day before World Suicide Prevention Day (September 10th).
The Tell Lifeline is a English helpline that helps people suffering from mental health and helps remove stigmas around mental health. This year the event raised $19,658 dollars in donations which was 98% of the target set by TELL.
The funds you will be used to help run the TELL Lifeline and to expand our hours of operation. This will help to support more vulnerable people across the country.
This is a great event that stands for a great cause which RGF Professional Recruitment was happy to be a part of and will continue to be a part of next year.