Posted On 2018-10-23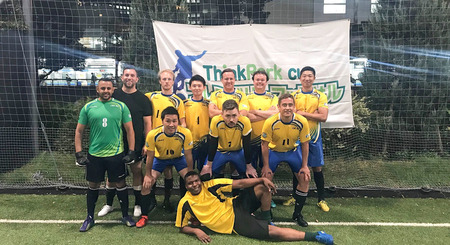 When Arsene Wenger became the Manager of Nagoya Grampus Eight in January 1995, the J.League was only two years old.
In terms of popularity, the competition was still riding the crest of a wave that was to last for another couple of years. There were big stars like Zico, Dunga, Toto Schillaci, and Gary Linker that were beginning to draw the crowds and television cameras, helping to cultivate a new national passion that was to reach a dramatic crescendo with the 2002 World Cup.
On October 12th 2018, however, as RGF Professional FC took to the field to make their debut in the ultra-competitive Osaki ThinkPark Cup, Japanese football was once again finally exposed to a new wave of international stars that some have already spoken of as the 'Golden Generation.'
With both the domestic leagues and ThinkPark Cup dominated largely by domestic players, there were audible gasps from the local fans as RGF Professional lined up for their first game against Sumitomo Heavy Industries United.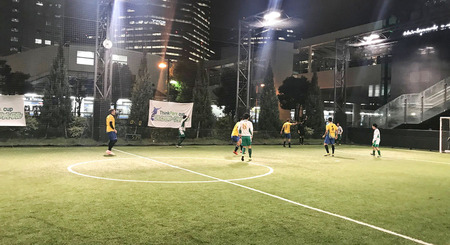 With a squad comprising of European, Asian, North American, and African athletes, RGF immediately demonstrated their direct and continental style by scoring in the opening minute.
Well-drilled and tactically aware, a pulsating game was confidently finished off by the tournament favourites after a powerful finish by superstar striker Vitalis Menya.
The passing of the team was crisp and one-touch, whilst the intelligent runs and telepathic movement on show increased the expectation heaped upon the boys in yellow, and they quickly raced into a 4-0 lead against a highly technical Nippon West Ham in the following match.
In what well may be considered his testimonial game however, Scarborough Town legend Jonathon Naylor proved the old adage that whilst form is temporary, class is permanent, rifling an unstoppable left-footed volley into the top corner in trademark fashion. After a short delay to replace a ripped net, Nippon West Ham regrouped to score two goals in the last minute.
However, after the stellar display of the veteran RGF striker, there was only one real winner in this game, and that was football itself.
Moving into the final and most crucial match to decide the group champions – against a young Puma side - RGF took a well-deserved 1-0 lead into the break after a classic drive from overall top-scorer Kohei Sano.
In this game alone, the tirelessly hardworking forward displayed all of the characteristics that earned him the tournament's Golden Geta – tricky feet, a powerful shot, and a willingness to take his man on at every available opportunity.
However, in struggling to cope with the unfortunate combination of Puma long-ball tactics and soft refereeing, a scrappy goal and debatable penalty ultimately condemned the RGF warriors to an early exit.
Yet under the tutelage of Player/Manager Ben Cordier, big things are now expected of RGF Professional.
With a plethora of high level games and tournaments already scheduled, the intensity of performance is only expected to increase. With Arsene Wenger now once again available 23 years after his initial stint managing in Japan, could he be convinced to come back as Technical Director of Football at RGF? Unlikely. But do we need him? Absolutely not.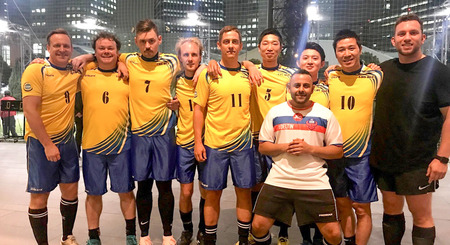 If you want to work for a company in which you see the direct impact of your hard work in incentives and rewards, apply to work for us today!
We have a lot of confidential job openings with excellent foreign companies and Japanese global companies! Our recruitment consultants will introduce you to excellent jobs that match your requirements.
Working at a global company has many advantages, not only for those who want to work globally and those who want to make use of their language skills, but also for people who strive to Unleash their Potential seek their own potential and have a healthy work-life balance.
RGF Professional Recruitment Japan supports the recruitment hiring activities of many of the top domestic and foreign capital companies in Japan. Various excellent companies including foreign and Japanese global companies located in Japan. Therefore, as a result, we can introduce the best career options for each person.to suite all types of career profile.
If you want to work in a global environment or globally, want to work in a place where you can perform more, or want toto a higher level and expand your career options in the future, please contact us. Our experienced consultants will do their best to support your career growth.