Posted On 2018-11-16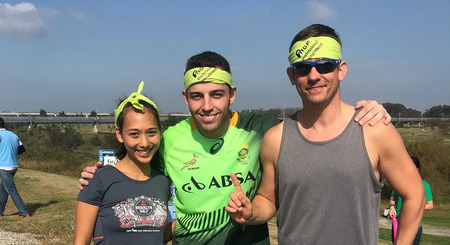 Who knew a November race would result in a farmer's tan and summer-level sweat?
The day started with an hour and a half train ride out to Kawagoe in Saitama prefecture. Kawagoe is known as "little Edo" and has a lot of historical significance, so I was excited to get out there and see it for myself.
Once I got to Minami-Furuya station around 10:15 am, I met up with Ben Cordier (Director of contract division) and Manley Barnard (contract division consultant). We waited as the other half-marathoners trickled in (there were 8 of us in total), and we got 2 cabs to take us to the start line a few kilometers away.
The purpose of the 2018 KIWL (Knights of White Lycra) Go-Go race is to raise money for Mirai no Mori, an organization that creates outdoor programs for abused, neglected, and orphaned children in Japan. The money raised would allow a certain amount of children to attend the Mirai no Mori summer camp in 2019.
Just when we got to the starting area, we saw two ultra-marathoners approaching. This was the 34 kilometer (21 mile) marker for them. I could not imagine how tired they must have been at that point— and they still had 21 kilometers to go!
But they looked genki and totally fine. They fueled up on Snickers, onigiri, and water (provided by the organizers) and were back on their way a few minutes later. Sasuga!
Us half-marathoners dropped off our bags, ate some last-minute snacks, and took a few selfies. One of the volunteers was named Manfred, so of course Manley and Manfred had to take a man-to-man selfie together.
We took off around 11:15 am. It was a crystal clear, sunny day with not a cloud in the sky.
We started off along the Arakawa River, and pretty much followed it the entire 21 kilometers.
The first five kilometers flew by. I'm used to measuring my runs in miles, so the 1 kilometer markers (provided by Ben & Manley) felt like nothing compared to my usual 1 mile markers.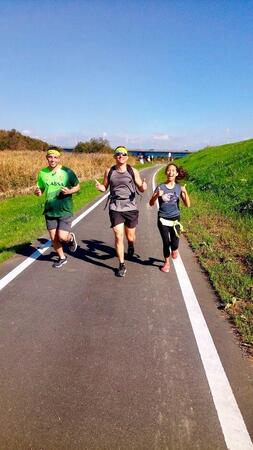 The heat started to get to us around kilometer 9, and we stopped for a water break.
We stopped for a few more water breaks before reaching km 15, where we found a covered seating area to take a quick break. We fueled up on more water and snickers. We stretched, rested a bit, and were back on the road a few minutes later to tackle the last quarter of the race.
The course didn't have a lot of turns or change of scenery, but I didn't have any complaints because the surroundings were beautiful. Greenery everywhere, traditional houses, rice patties, and farms… I was at peace.
We also saw cyclists, a few runners, plenty of factories, lots of flying crickets, and massive caterpillars.
When we crossed the bridge to the other side of the river a few kilometers away from the finish, we ran into some of the 55-kilometer runners. We cheered them on, and I was astonished— they looked totally fine. You would have never known they had 52 kilometers on their legs.
There were some volunteers cheering us on about a kilometer away from the finish, which was a nice boost for us since we were all a bit dehydrated and tired from the distance and harsh sun.
We turned right into Aina Water Park and saw the finish line about a hundred yards away. We got excited— we were almost done!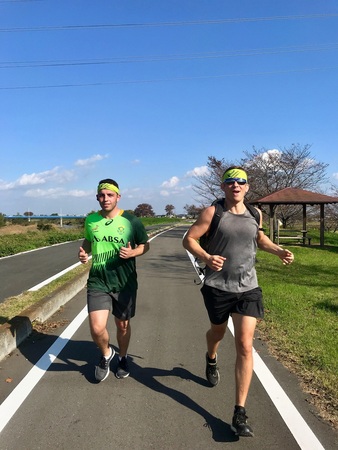 Just before crossing the finish line, we grabbed each other's hands and crossed as one.
Otsukaresamadeshita!! At the finish there were already a few ultra-runners there, sitting and resting after being on their feet for 6+ hours. I was thoroughly inspired and impressed.
Siew Wee (of the supply chain division) was also at the finish line, volunteering and giving out food/drinks to the finishers. I fueled up on water, onigiri, and soup, all provided by KIWL. That ume onigiri really hit the spot— it was just the right amount of carbs and salt.
The rest of the runners came running in and we all sat and chatted until the Mirai No Mori children came to meet us at the park. They were all between ages 6-12. They introduced themselves, we all took some photos, and they led us to their home about 15 minutes away.
Once we got to the children's care home, we played some games together. One of the games required a lot of sitting down and standing back up, which I know must have been less than ideal for the ultra-marathoners for their already sore legs.
Nevertheless, we all had so much fun playing with the children. One of them gave a speech in English, and a few of the runners also gave some words of love and gratitude.
Prior to meeting us, the children had each been paired with one of the runners by the draw of a hat, for whom they prepared a finisher's certificate and individually decorated thank you note. My match also happened to be named Anna! What a lovely coincidence.
Medals are nice, but honestly this was way more special than any medal I've been given at the end of a race.
Around 4:30, it was time to say goodbye to the children.
We all boarded our shuttle bus to the onsen, where we would have some time to relax and unwind after a day of running and playing. We were dropped off at Kachofugetsu Spa. The onsen had several different baths to choose from, both indoor and outdoor.
I opted for the outdoor baths, which were lovely. Truly a uniquely Japanese experience. I and a few others met at the bar for a beer before catching a cab to take us back to Kawagoe Station. The rest of the runners stayed for dinner at the spa, which has a restaurant that serves up some delicious Japanese food.
All in all, it was a fantastic day filled with love, a bit of pain, and great memories.
It's so great to be able to come together as a community and see firsthand where your money is going. We raised a total of ¥614,400, which will allow 6 care children to attend the Mirai No Mori summer camp of 2019.
Big shout-out to Ben Cordier for rounding up the RGF troops for the race this year! I can't wait to see how much the participation grows next year. It is truly a special experience that I hope more people will be able to take part in.
If you want to work for a company in which you see the direct impact of your hard work in incentives and rewards, apply to work for us today!
We have a lot of confidential job openings with excellent foreign companies and Japanese global companies! Our recruitment consultants will introduce you to excellent jobs that match your requirements.
Working at a global company has many advantages, not only for those who want to work globally and those who want to make use of their language skills, but also for people who strive to Unleash their Potential seek their own potential and have a healthy work-life balance.
RGF Professional Recruitment Japan supports the recruitment hiring activities of many of the top domestic and foreign capital companies in Japan. Various excellent companies including foreign and Japanese global companies located in Japan. Therefore, as a result, we can introduce the best career options for each person.to suite all types of career profile.
If you want to work in a global environment or globally, want to work in a place where you can perform more, or want toto a higher level and expand your career options in the future, please contact us. Our experienced consultants will do their best to support your career growth.