Posted On 2019-06-27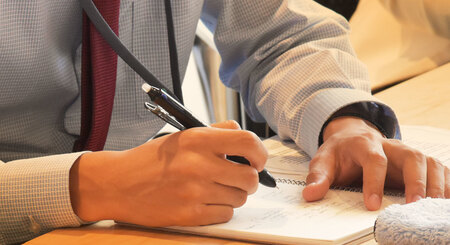 Learning English is difficult but putting it into use and speaking the language is even more challenging, especially if you're already busy with work and other projects. Speaking English is always an ongoing process of learning and applying the language in your daily life.
This is why if you're merely studying English grammar using traditional methods or sticking with outdated avenues to learn new words, you are never going to improve.
Since we have so many resources available with the touch of a finger, it would be helpful to know which ones would yield the best result in the least amount of time.
Here are 5 actionable tips to make sure that your Business English level skyrockets within the next few months despite your busy schedule.
1. Capitalize on Your Motivation
Have you ever lost your momentum while studying English? Finding the right motivation is the most important step to progress in anything, not just learning English.
Whether you are fueled by the dream of working abroad or working for an international company, list all of these down. Constantly remind yourself about that goal when you feel like you're losing your pace.
If you're struggling to keep that drive to learn, consider acquiring a Business English Certificate or enrolling in a Certificate Program in your field that is taught exclusively in English.
Cambridge Business Certificates
This language proficiency test will allow you to focus on learning English because you have an immediate goal in mind: to pass the exam.
This university in Tokyo offers a wide range of Certificate Programs in English that would allow you to expand your knowledge in various industries like Human Resources, Information Technology, Sales and many more.
You will not only learn business English, but you will also learn more about the industry you're passionate about.
2. Consistency is Key
You've got your motivation set. Now you need to build good learning habits and incorporate as much English as possible into your daily life.
Once you've gotten into the habit of integrating English easily into your week, then you are on your way to business English proficiency in no time.
Today Habit Tracker
Install activity trackers like Habitify, Today or Productive on your phone in order to track habits on the go. These mobile applications let you form habits by:
Providing a means to custom label all the habits you're keeping track of
Scheduling the habits and notifying you when they are due
Letting you assess your progress so you can evaluate which habits you need to work on and what percentage of your habits you've completed
3. Learn Effectively
You have just downloaded the habit tracker best suited for you, but what language learning activities should you track?
What would be the most effective ways for you to attain your goals in business English fluency?
Learn at least five PHRASES a day
Did you notice how I emphasized on the word "phrases"? Don't learn words, learn phrases. This way, you'd be able to immediately contextualize how and when to use them in real life.
Linguee is just the right tool to look for new words as well as avoid mispronouncing or misusing a word.
Linguee | Smart Online Dictionary
When you encounter or find a new word, you can listen to how it's pronounced and also find a long list of possible phrases associated with it. This will help you properly combine the new word with multiple other words from your word bank.
It would, thus, make you a stronger English speaker that is a step closer to mastering English grammar and business English conversation.
Collect all of these new phrases and practice them all throughout the week so you don't forget them.
Quizlet is an online tool that helps you remember and retain newly learned English phrases.
You can create your own list of words to memorize or even borrow from thousands of existing lists created by other Quizlet users.
A quick search would generate more than 500 business English sets.
After creating your list, you can choose between multiple learning methods like flashcards, writing, spelling, quick quizzes, and two fun games: Match and Gravity.
You can create as many quizzes as you want and even categorize them into folders.
What's best is Quizlet also has an app that you can download on your phone and use on the go.
Quizlet Cards
Quizlet Vocabulary List
Speak with an online teacher and a language exchange partner at least once a week
Speaking with an online teacher once a week would definitely help boost your confidence level and your ability to converse using the language.
During your lessons, do some role playing by practicing common business conversations at work, incorporate your phrases of the week into the classes, and slowly make your way into discussing challenging business news articles when you feel more comfortable with the language.
You may also opt to find a language exchange partner, which simulates conversations closer to those in real life.
iTalki and Verbling are some great websites that provide you a wide array of English teachers and language exchange partners from all over the world.
4. Be Productive in Your Downtime
When you're busy on the weekday, it is very tempting to sit back and relax on weekends or during your lunch breaks. However, there are plenty of ways to have fun while learning English.
Watch insightful Youtube videos with English closed captions
Youtube hosts millions of videos on just about anything that you can think of. Since there are a ton of videos on that platform, it won't come as a surprise to you if you find it taxing to sieve out videos that offer high value to English learners.
TED Talk by Marianna Pascal: Learning a language? Speak it like you're playing a video game
We've collated a list of helpful channels that aim to do just that. Don't forget to turn on the closed caption button if available so you can read along as needed.
Beginner
• Espresso English
• mmmEnglish
• Crown Academy English
• The Teacher Vanessa
Intermediate
• Boston English Centre
• Business English Pod
Advanced
• Business Insider
• Bloomberg
• TED
• Vox
• Investment Archive
• CNBC
• Kurzgesagt
Watch comedy series with English subtitles
There is no better way to mix studying and relaxing than to watch humorous TV series that will get you hooked from the very first episode and will have you laughing your heart out.
For beginners, we recommend that you watch the shows with Japanese subtitles so you can read along as they exchange dialogues. As for intermediate to advanced learners, challenge yourself by using only English subtitles, or better yet, no subtitles at all.
We would also suggest having a pen and paper in hand so you can take notes and list down unfamiliar idioms and expressions, which you can add to your online deck of flashcards on Quizlet.
Here are some TV series you can start with:
Silicon Valley

Parks and Recreation

Ugly Betty

Will and Grace

30 Rock

Big Bang Theory
Listen to business-heavy podcasts
Do you sometimes find yourself doing nothing while commuting to work? Just think about how many hours of your week you spend commuting and how many hours that would be for an entire month – let alone a year!
Imagine if you could also make use of that time wisely by simply listening. Podcasts are a great way to passively learn English.
It trains you to sharpen your listening and comprehension skills as it exposes you to more practical expressions used by English speaking professionals. Listen to it while you're driving to work or while you're on the train.
It's simple and easy but often neglected. Don't be one of those people.
Take advantage of these free podcasts that discuss relevant issues in the business world:
Talks at Google

TED Talks Daily

Business Daily (BBC)

Global News Podcast (CNN)

The Business Blast Podcast
Read English books using the Kindle App
The Kindle App has numerous e-books that cover an extensive variety of topics.
Combined with a Kindle E-Reader, it is the most effective way to read books for English learners because of its integrated Word Wise System.
Word Wise automatically defines difficult vocabulary for English learners like you and also includes the pronunciation of the word when you long press on it.
That will clearly save you so much time from looking up every complex word you read on your e-book.
All Kindle App users are also given the ease of simply long pressing on any word and its dictionary meaning will appear within seconds. Additionally, as long as these users are connected to the internet, translations in another language are also available.
5. Learn English at Work
If you still don't have enough time, why don't you learn English while working? Nothing is better than truly immersing yourself in an environment that utilizes English on a constant basis. Converse with your colleagues in English, write emails in English, answer calls in English… the list can keep going.
RGF Professional Recruitment Japan prides itself on connecting Japanese and international companies with bilingual speakers in Japan. Let RGF help you find the perfect job that would match your ambitions, your English level, and your professional qualifications.
We have a lot of confidential job openings with excellent foreign companies and Japanese global companies! Our recruitment consultants will introduce you to excellent jobs that match your requirements.
Working at a global company has many advantages, not only for those who want to work globally and those who want to make use of their language skills, but also for people who strive to Unleash their Potential seek their own potential and have a healthy work-life balance.
RGF Professional Recruitment Japan supports the recruitment hiring activities of many of the top domestic and foreign capital companies in Japan. Various excellent companies including foreign and Japanese global companies located in Japan. Therefore, as a result, we can introduce the best career options for each person.to suite all types of career profile.
If you want to work in a global environment or globally, want to work in a place where you can perform more, or want toto a higher level and expand your career options in the future, please contact us. Our experienced consultants will do their best to support your career growth.