Posted On 2019-08-12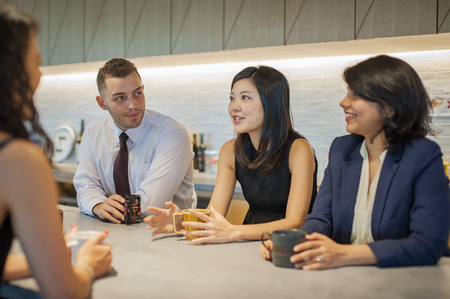 We are a very diverse company with more than 35 nationalities working in the office, we would like to share our consultant's story.
This time Kana, one of managers in Sales & Marketing Division gave us her story.
Please check it out!
My Career before RGF
Since I was interested in travel and foreign countries, when I was in university, I decided to travel around the world and study abroad in the UK and Hong Kong.
After graduating, I landed a job at Rakuten where I was in charge of corporate sales in the field of business travels. Back then, thinking about how to improve online reservations for rural accommodations became part of my daily life.
I found my job deeply enjoyable and fulfilling because of my interest in traveling.
However, I decided to change my job and work at RGF to become a part of a more global environment where I could strengthen my career even further.
What I Currently Do At RGF
It has been four years since I first joined RGF as a researcher.
Throughout that time, I was able to drive results by working with companies from a variety of fields such as web service, software, PR, and entertainment.
In June 2018, I established a new media team, specializing in PR, entertainment, and service industries. I am currently a manager of this team, which is composed of five members.

About RGF
About half of my coworkers are foreign nationals, coming from 35 different countries, so that it is a very global workplace. If a certain goal is achieved, the whole company or a team can go for what we call an "incentive trip". This collaborative and engaging culture has brought many of us closer and in fact, we get along really well both in and out of the office.
In our office, there is a bar counter and a pool table where every Friday evening, we have a party that allows us to interact with colleagues from other teams and departments.
We also have various company events, such as hanami (cherry blossoms viewing), Summer BBQ, Halloween, and a year-end Christmas party. These events make it easier for new joiners to get used to a new environment.
Why I Recommend RGF to New Graduates
Four years ago, I started RGF with no experience in recruitment. With very limited knowledge, I was helped by my team members who patiently taught me everything I needed to succeed.
RGF is currently looking for new graduates and we have a training program that helps you to grow, even if you are a complete beginner. Our training program mainly focuses on effective practical strategies, therefore, in the first three months, trainees are expected to apply what they have learned.
I think it is a very suitable environment for those who want to learn and grow quickly. Our performance-based culture, regardless of gender, nationality, or background, allows you to take on new challenges as much as you want, as long as you strive hard and yield results. This is why you would never get bored at RGF!
When I joined RGF four years ago, there were only 20 members, but today, we have around 170 members and the company continues to grow.
To be honest, I could not even imagine myself becoming a team manager, helping my team as I am doing today. I am grateful for RGF for giving me the opportunities to have all the experiences I have today, which you can only get in a fast-paced and growing company like RGF.
My Future Plan and What I Want to Do
It has been a year since I became a manager and throughout that time, I have been blessed with rewarding experiences and amazing teammates, which I never could have even imagined back when I was still starting in recruitment.
It is certainly a challenging job, but I feel fulfilled in a different way from before especially whenever I see new graduates grow day by day.
The Sales and Marketing Division is composed of 40 people, and I find that there is certainly a lot of room for growth.
As recruiting is a fun and worthwhile job, I enjoy contributing to the company's development so that each one of us could be proactive and successful. In the long run, I would like to enhance our brand value by strengthening the connections between RGF PR Japan and RGF's other regional branches.
We have a lot of confidential job openings with excellent foreign companies and Japanese global companies! Our recruitment consultants will introduce you to excellent jobs that match your requirements.
Working at a global company has many advantages, not only for those who want to work globally and those who want to make use of their language skills, but also for people who strive to Unleash their Potential seek their own potential and have a healthy work-life balance.
RGF Professional Recruitment Japan supports the recruitment hiring activities of many of the top domestic and foreign capital companies in Japan. Various excellent companies including foreign and Japanese global companies located in Japan. Therefore, as a result, we can introduce the best career options for each person.to suite all types of career profile.
If you want to work in a global environment or globally, want to work in a place where you can perform more, or want toto a higher level and expand your career options in the future, please contact us. Our experienced consultants will do their best to support your career growth.