Posted On 2019-11-22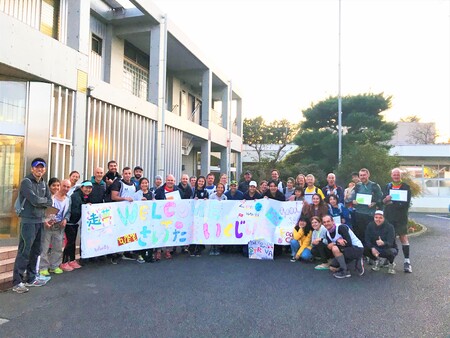 Last weekend was the 3rd annual KIWL Go-Go charity run, and my second year in a row running.
This year, the charity run raised money for YouMeWe, a local non-profit organization that helps children living in institutionalized homes grow up to become fully capable & financially independent adults. Their long-term goal is to install a computer in every care home in Japan, and this year we raised enough money to gift four brand new MacBooks to the children of a care home in Saitama prefecture.
We had four representatives from RGF Professional Recruitment Japan: George Lees (Senior Consultant, HR B2C), Manley-Rudolph Barnard (Consultant, Contract IT); Daniel Lynch (Principle Consultant, Contract IT), and of course me (Consultant, Sales & Marketing for Media).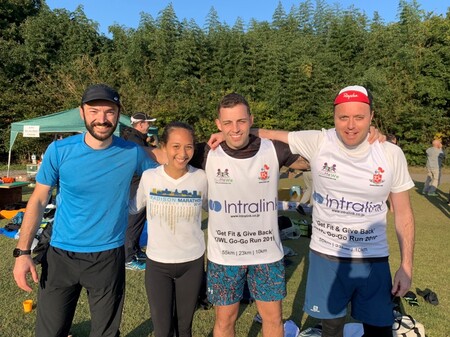 This year was a bit of a different race for me, as I am also currently training for a full marathon (the Saitama Marathon on December 8th). My training plan called for a 32-km run this weekend, so my plan was to combine the half marathon + 10 extra km to complete the run.
This meant a 3km warm-up before the race, 22 km at marathon race pace (9:30 minutes/mile), and finishing up with a 7-km cooldown.
It was a crystal clear, sunny morning when I showed up to the starting point, Minami-Furuya station, at 10:15 along with a whole crew of fellow KIWL runners. We had 45 minutes to spare until the start.
I was pleased to see a bigger crowd this year—there were about 20 of us running the half marathon, as opposed to the 8 we had last year.
Around 10:35 I decided to go out for the 3 km warm-up, planning to get back just in time for the start time. I wasn't really sure where to go as I was completely unfamiliar with the neighborhood, so I just started running in a random direction.
We took a few group photos before taking off at 11 AM sharp.
We ran through the outskirts of town for the first 3 kilometers or so, making our way to the river where the majority of the course would be.
George promptly took off, leading the pack. I would never see him until the finish line; he held the lead all the way to the finish.
I, on the other hand, ran toward the back of the pack—with 29 km still ahead of me, I knew that if I started out too fast I would burn out eventually.
Once we got to the river, there was a checkpoint where we could get snacks & water.
I decided to skip it since I had water on me and didn't need to refuel with food just yet.
I caught up with most of the group at this point, as they had decided to stop at the checkpoint.
It was a game of tag for the remainder of the race—other runners would catch up to me, I would catch up to them, and so forth.
Before I knew it I was at the 16 km mark. Just 5 km to go!
Scratch that. 12 for me, 5 for everyone else…
About 2 km from the finish line, I ran into a fellow runner who told me that he had missed the turn at the bridge, went too far and decided to swim across the river instead of simply going back to the bridge.
We ran together the rest of the way, and he encouraged me to sprint to the finish line with him. I was exhausted and hesitant to do so, knowing that I would have to immediately go back out on to the course, but I tried my best to muster whatever energy I had in me to dash forward to the finish line.
Once I was through, I barely said hi to the other finishers before I was back out. I knew that if I let myself rest for even a minute, it would make it that much harder to finish my run.
Those last 8 km were brutal. I kept looking at my watch, and every kilometer felt like an eternity. I was hot, tired, dehydrated, and starving. What kept my spirits up was seeing the other runners who were on their way to the finish line. We encouraged each other to keep going, and eventually, I got those pesky final kilometers completed.
The best part about a long run is the moment you finish it. You can finally sit, stretch, and best of all, eat.
I snacked on soup made by the volunteers, a nutrition bar, and some snacks I had brought from home while we waited for the rest of the group to finish.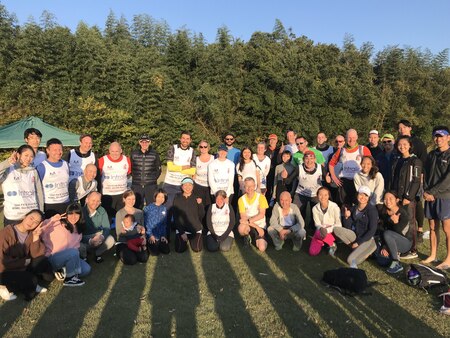 Most of the ultra-runners were done at that point too, and they were chatting and eating like running 55 km was nothing. I am constantly in awe of people who can run for so long and still be able to function after.
Once everyone had crossed the finish line, we had a quick closing ceremony.
Our very own George Lees was the overall winner of the half marathon! Well done, George.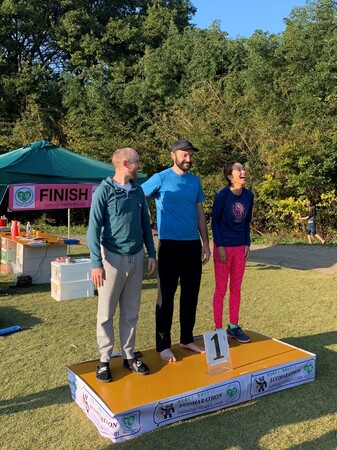 The children from the local home started trickling in around 3 pm, and I saw some familiar faces from the year before. It was lovely to see them again!
We headed toward the children's care home, about 15 minutes away. They welcomed us with a beautiful banner they had created themselves. I was so touched!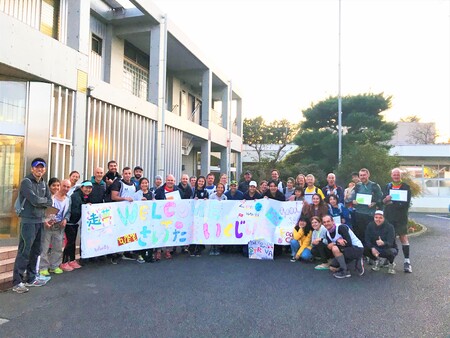 The four laptops that we had raised money for were already set up at the home, and it was really cool to see tangibly the result of our efforts.
The children gifted us with thank you cards and certificates of appreciation, which was very sweet.
After some games and play, it was time for us to head out as it was already getting dark.
We piled onto the shuttle bus to take us to the onsen, which was a lovely way to relax and unwind after a long day of running around Saitama.
We finished off the night with a couple of pints of beer and a good, hearty dinner at the onsen.
It was a Saturday well spent, and I cannot wait to do it again next year.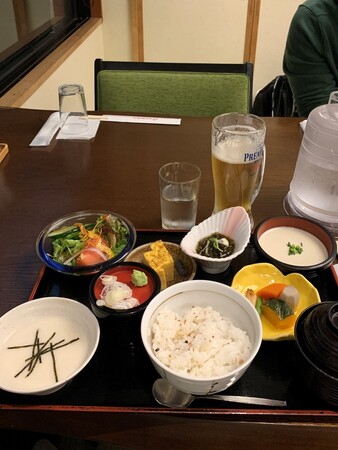 If you would like to get involved with KIWL, please check out their website here. They do running, cycling, motorcycling, walking, Futsal, golf, and social events so there is something for everyone.
We have a lot of confidential job openings with excellent foreign companies and Japanese global companies! Our recruitment consultants will introduce you to excellent jobs that match your requirements.
Working at a global company has many advantages, not only for those who want to work globally and those who want to make use of their language skills, but also for people who strive to Unleash their Potential seek their own potential and have a healthy work-life balance.
RGF Professional Recruitment Japan supports the recruitment hiring activities of many of the top domestic and foreign capital companies in Japan. Various excellent companies including foreign and Japanese global companies located in Japan. Therefore, as a result, we can introduce the best career options for each person.to suite all types of career profile.
If you want to work in a global environment or globally, want to work in a place where you can perform more, or want toto a higher level and expand your career options in the future, please contact us. Our experienced consultants will do their best to support your career growth.