Posted On 2020-06-26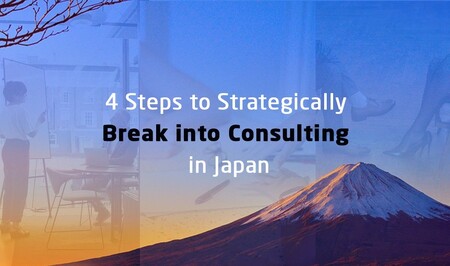 In a world of cut-throat competition, the consulting industry plays an important role in growing businesses to help them accomplish objectives and goals, through expert opinions, strategies, recommendations, and professional advice.
For the case of Japan, as social structures are changing in the country, companies also need to adapt to these changes, driving the need for consulting support. According to Source Global Research, Japan's consulting market witnessed strong growth of 9.3% in 2018, with most consulting leaders giving glowing reviews on the situation, along with optimistic prospects throughout 2020.
As organizations are using the help of consultants more than ever, every year, millions of people decide they want to pursue a career in consulting. But with so many candidates eyeing on a limited number of vacancies, it can appear to be quite a challenge.
Why is breaking into consulting a good career step?
Breaking into consulting could be a great career step as it is a fairly lucrative industry, with opportunities available in various firm sizes. As a consultant, you will be handling a wide range of cases while reserving a considerable degree of freedom in designing your approach to the case. The career prospects, along with incentives, are undeniably appealing for those that are considering consulting as their next career change.
The fine details of how to switch into consulting will somewhat depend on what career you are switching from. Nonetheless, our Associate Director Maiko Tsuji has broken down 4 steps for you to successfully get into the field of consulting.
Step 1: Understand the landscape of the consulting industry
Consulting firms are diverse, ranging from generalist consultants offering a wide range of services, to specialist consultants who only serve certain business areas, such as strategy or IT. Some firms recruit all year-round, while some may have particular hiring periods that close in November or December. Every firm is unique, but there is some broad commonality among them, and it would be useful to get across that to help you choose and articulate your preferences.
The Japanese business world, however, has its own characteristics. One such characteristic is trust. In order to successfully break into consulting in Japan, a key consideration is the emphasis on trusted long-term working relationships. Trust is an essential business aspect – something both Japanese and foreign consulting firms work hard to establish.
Step 2: Figure out the niche that leads to your entry point
The next step to that consulting job offer is determining your niche since the work stretches across a variety of areas, including management, strategy, IT, finance, marketing, HR and supply-chain management. You should position yourself as an expert in a service or industry where you have the most interest, experience and credentials in. Even though one common credential is having a full-time MBA from a top business school, it is not compulsory. For those who are switching into consulting without an MBA, you should have gained at least 3 years of experience from your employment with consulting-related activities, such as project management, performance measurement, data analysis and corporate planning.
Beyond that, you can also be more nuanced and align yourself with the geographical familiarity and strategic relationships that you may be able to bring to the table. In particular, if your previous work experience was located in Japan, you should think about the competencies you've gained relating to the Japan market, and emphasize on that aspect of your expertise.
It's also beneficial for you to talk to a recruiter and consult with them if your skillset matches the position you're aiming for. Try not to limit your thinking about what constitutes specialized knowledge and practical experience because chances are, you might be overlooking opportunities thinking you're not a good fit, but recruiters can help you confirm whether you have what it takes to step into consulting. They know what particular skillsets their clients are looking for and will be able to determine your suitability for a position.
Step 3: Make your application stand out
Source: Pexels, Andrea Piacquadio
Once you have satisfied all the specific qualifications required to apply to a consulting firm, the third step is to show your consulting skillset.
Your resume should be able to represent you as someone with an analytic mindset and effective problem-solving skills. The consulting industry is fast-paced and it requires you to stay sharp and always open to learning. Your profile should also demonstrate your ability to put ideas into action to generate positive results. In addition to functional expertise, entrepreneurial mindset and cooperative attitude are the skills that will catch the eyes of employers.
Simply stating that you did a job or held a position does not guarantee that you have the skills usually associated with it. You need to prove your skills by referencing real achievements you have made, which clearly demonstrate these abilities.
Step 4: Don't underestimate the interview process
When it comes to consulting, you are going to need to nail the case interviews to land a position.
These case interviews will require you to:
Demonstrate an understanding of different types of business cases and how to differentiate these types
Understand the process of breaking down complex cases into less complicated components
Apply your problem solving skills using suitable frameworks (for example, issue trees)
Interviews are a practice-makes-perfect type of process. You will need to both learn how to tackle case studies and then practice as much as possible. Try to avoid dragging your answers. Giving a concise answer will help show your ability to think logically, which is a key technique to be a consultant.
At foreign consulting firms in Japan, there is no distinction between a Japanese who can speak English well and a foreigner who can speak Japanese well. However, since many of their clients are Japanese companies, interviews are likely to be conducted in Japanese.
It's not impossible!
Breaking into consulting may take some work! If a career in consulting is what excites you, don't give up if you get knocked back a few times. Because once you have identified a few suitable positions, by following the 4 steps above, the process will seem a lot clearer and you'll get there eventually.
If you'd like to know more about the consulting industry, or how you could make use of your previous work experience to step into this booming industry, feel free to reach out to Maiko Tsuji, Manager of our Consulting Team.
We have a lot of confidential job openings with excellent foreign companies and Japanese global companies! Our recruitment consultants will introduce you to excellent jobs that match your requirements.
Working at a global company has many advantages, not only for those who want to work globally and those who want to make use of their language skills, but also for people who strive to Unleash their Potential seek their own potential and have a healthy work-life balance.
RGF Professional Recruitment Japan supports the recruitment hiring activities of many of the top domestic and foreign capital companies in Japan. Various excellent companies including foreign and Japanese global companies located in Japan. Therefore, as a result, we can introduce the best career options for each person.to suite all types of career profile.
If you want to work in a global environment or globally, want to work in a place where you can perform more, or want toto a higher level and expand your career options in the future, please contact us. Our experienced consultants will do their best to support your career growth.