Posted On 2020-10-26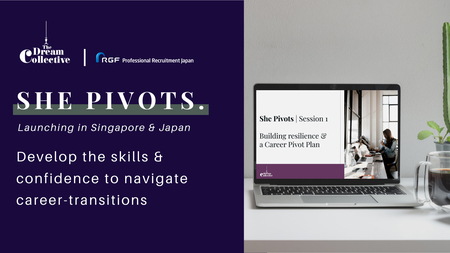 The current global health situation has impacted employment all over the world with some sectors more affected than the rest, including certain industries wherein women are overrepresented. In an effort to support highly skilled female professionals affected by the crisis, The Dream Collective has launched She Pivots, a free online workshop that aims to help women re-skill and up-skill to overcome these unprecedented challenges.
The initiative covers four key parts facilitated by Sarah Liu, Founder and Managing Director, and Brooke Taylor, Head of Programs and Business Excellence, of The Dream Collective:
1.) Building resilience & a career pivot plan
2.) Identifying strengths & telling your professional story
3.) Building your professional network digitally
4.) Launching your job search with your action roadmap
The program also includes detailed worksheets within each module, allowing all the participants to gain as much insightful information about themselves in order to transition effectively into a new job opportunity.
RGF Professional Recruitment Japan is honored to be part of this global initiative as a career partner. We understand the difficulties faced by job seekers, especially those affected by this current crisis. After the completion of the program, we encourage She Pivots alumni in Japan to apply to the numerous job vacancies on our website. Our dedicated recruitment consultants will partner with you every step of the way to help get you through this challenging time. Together, we can help you unleash your potential and help you pivot successfully.
To enroll in the program for free, click here:

We have a lot of confidential job openings with excellent foreign companies and Japanese global companies! Our recruitment consultants will introduce you to excellent jobs that match your requirements.
Working at a global company has many advantages, not only for those who want to work globally and those who want to make use of their language skills, but also for people who strive to Unleash their Potential seek their own potential and have a healthy work-life balance.
RGF Professional Recruitment Japan supports the recruitment hiring activities of many of the top domestic and foreign capital companies in Japan. Various excellent companies including foreign and Japanese global companies located in Japan. Therefore, as a result, we can introduce the best career options for each person.to suite all types of career profile.
If you want to work in a global environment or globally, want to work in a place where you can perform more, or want toto a higher level and expand your career options in the future, please contact us. Our experienced consultants will do their best to support your career growth.