Posted On 2020-11-20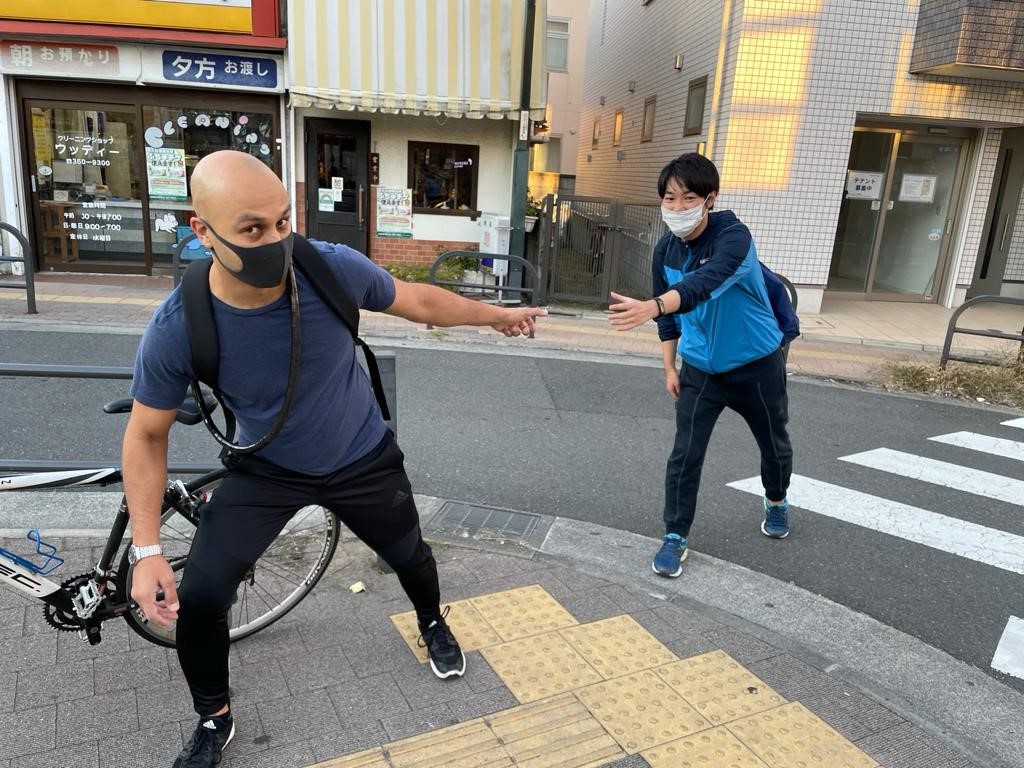 Recruitment is an endurance sport, and apparently, so is outlasting this pandemic. All competitive businesses find a way to thrive in adversity, but let's face it, rolling with the pandemic punches has made this year a unique challenge for our industry.
So, in true RGF fashion, we decided to channel our spirit of endurance into a safe and fun 2-Day Ekiden event – our very own long-distance multistage relay race! With 30 participants we collectively walked, ran, and cycled from Atsugi to Enoshima, through Kanagawa and across the greater Tokyo area, all the way up to Saitama, down to Chiba, and then back to our home office in Osaki for a total of over 320km.
The rules of the event were simple, but the execution was anything but. The logistics of coordinating a route for thirty pandemic-friendly "baton" transfers that passed through our respective home stations took our event coordinators, Benjamin Cordier and George Lees, about a month to organize. But once the schedule and meet up points were in place, we were off to the races.
It started bright and early on Saturday, November 14th with perfect conditions and not a cloud in the sky. Hirohito Azuma kicked it off by waking up before 5:00am in Atsugi to bike down to Enoshima to pass the virtual baton to Asumi Yoshino.
From there the first days participants snaked their way north, soaking up every drop of daylight while racking up the kilometers. Josh Parks who was in the middle of the pack on the first day mentioned, "I used to be a collegiate track & field athlete, so I wanted to put my conditioning to the test after two years of not competing. I am definitely not in the shape I used to be for running, so it was a good challenge."
The first day wrapped up in the evening with Maki Ichinomiya sending Nazuna Hayashi to the day-one finish line. One of the final runners of the first day, Kana Terashima, said, "It was very nice weather and I felt like the event was not only good for my health but also for deepening the bonds between RGF members as well!"
Yuuri Matsumoto agreed that it was a good bonding opportunity. She said, "I first joined RGF right when lockdowns and work-from-home started, so I hadn't had a chance to get to know other colleagues. I really enjoyed the Ekiden because I was able to meet co-workers who I had never talked to before."
The trend of early risers continued on the second day with Hitomi Fujitsuka. "I woke up at 3:30am and started to run at 4:00am," she said. "It was the earliest run I have ever done. It was so dark, so I used a flashlight while running."
Much like the first day, the second day also featured perfect exercise weather. One by one each virtual baton was passed and each kilometer was counted. Brian Martin admits that running through the city wasn't always easy. "I tend to run the same routes within the city, so it was nice to try out new areas," he said. "I did get lost a bit and made a number of wrong turns, but was able to get to the destination."
It meant a lot to the participants to get out and enjoy some fun with colleagues. RGF Professional Recruitment Japan has always been known for its close-knit company culture and high morale, so having the Ekiden especially during this holiday season really helped keep our traditional office festivities alive.
Naoya Kondo said, "Since we cannot hold large indoor events such as our annual Halloween or Christmas parties this year, a social distance activity like the Ekiden was so fun! Also, it was good for exercise and good for feeling like we were all one team.
The Ekiden concluded with George Lees, Simon Elsom and Daniel Lynch cycling the final stretch from Chiba back into Osaki for a well-deserved finish line pint with Benjamin Cordier.
"During this more remote of years we wanted to do another fun and distanced event that would bring us together," said Cordier. "Watching the relay unfold on my phone throughout the weekend over the 320kms was cool, and I'm already plotting our next such event for 2021."
Cheers to next year!
We have a lot of confidential job openings with excellent foreign companies and Japanese global companies! Our recruitment consultants will introduce you to excellent jobs that match your requirements.
Working at a global company has many advantages, not only for those who want to work globally and those who want to make use of their language skills, but also for people who strive to Unleash their Potential seek their own potential and have a healthy work-life balance.
RGF Professional Recruitment Japan supports the recruitment hiring activities of many of the top domestic and foreign capital companies in Japan. Various excellent companies including foreign and Japanese global companies located in Japan. Therefore, as a result, we can introduce the best career options for each person.to suite all types of career profile.
If you want to work in a global environment or globally, want to work in a place where you can perform more, or want toto a higher level and expand your career options in the future, please contact us. Our experienced consultants will do their best to support your career growth.