Posted On 2018-05-28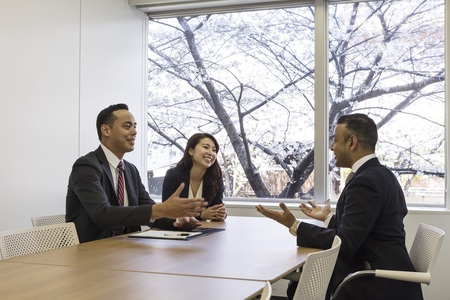 Perhaps you are now considering your first career after studying and partying hard for 4 years at university, or perhaps you have been working in your current role for several years and are now considering a switch, a change of pace in your career. Either way, it is certain you are asking yourself a vital question at this turning point in your life – what is important to you in your career?
If you are bored of talking to your computer all day, if you feel undervalued or that your effort isn't being shown in your bank account, if you feel that you want to have more variety or more flexibility in your work - then recruitment could be the right career for you.
If you have never considered a career in recruitment, here are four key reasons why you should.
1. Your own business, your own brand
Essentially, you are your own boss. You manage all of your accounts, your relationships, and your reputation with client companies and job seekers. You have total control over who you work with and how you manage your day-to-day schedule. On the flip side, you still get to work in a team-oriented environment in which colleagues and managers provide solutions and advice to you whenever you are in need (particularly in a recruitment company which values team work).
2. Fast-track career path
For those who are ambitious to climb up the corporate ladder, recruitment definitely ticks all the boxes! It isn't about how long you have been working in the company, your age or your gender. It is all about how driven and hard-working you are as well as how successful you are in your role. There is definitely a clear structure put in place to be promoted to a senior level, so if you surpass those hurdles, you could expect to be managing a small team of which you are responsible for strategy and revenue within 3-5 years - even if you started at an entry-level position.
3. Rewards oriented
It's one of those industries in which your successes are clearly visible and have a direct impact on your salary. Frankly speaking, the better you are, the higher your earning potential. (Dare I say, the sky is the limit?)
4. Relationship focused
One of the most gratifying parts of this job is the rewarding feeling of closing a deal you've worked hard on for three solid months (or sometimes longer!), and, at the same time, meeting both job seeker and client company requirements while developing long-term relationships. After all, what is more significant than a life-changing opportunity such as finding a new job, or partnering with a company to reach their hiring objectives?
To summarize
A career in this industry is not all butterflies and rainbows and it's important not to paint it in this way. It is a challenging job which is generally known to have a high turnover.
What is the reason for this? Fundamentally, it is a sales position in which you face a lot rejection, and a lot of external competition from other agencies (and sometimes, for certain agencies, internal competition as well.) It is a high-pressure and target-driven job, so you need to be tenacious, resilient to rejection and ambitious to succeed in order to do well.
Think you have what it takes?
As the bilingual arm of Japanese recruitment giant Recruit Group, RGF Professional Recruitment is a highly respected recruitment agency that provides opportunities to bilingual professionals and global companies. We have openings for those interested in working with us in this lucrative and dynamic industry. Please submit your CV by clicking on the below or contact Sarah Onishi at sarah.onishi@rgf-professional.com for a confidential chat today!
We have a lot of confidential job openings with excellent foreign companies and Japanese global companies! Our recruitment consultants will introduce you to excellent jobs that match your requirements.
Working at a global company has many advantages, not only for those who want to work globally and those who want to make use of their language skills, but also for people who strive to Unleash their Potential seek their own potential and have a healthy work-life balance.
RGF Professional Recruitment Japan supports the recruitment hiring activities of many of the top domestic and foreign capital companies in Japan. Various excellent companies including foreign and Japanese global companies located in Japan. Therefore, as a result, we can introduce the best career options for each person.to suite all types of career profile.
If you want to work in a global environment or globally, want to work in a place where you can perform more, or want toto a higher level and expand your career options in the future, please contact us. Our experienced consultants will do their best to support your career growth.