Posted On 2019-04-25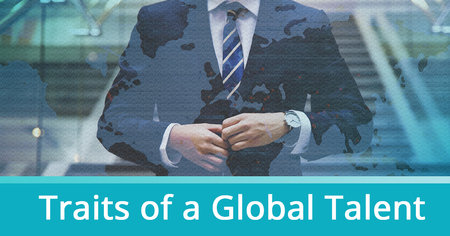 RGF Professional Recruitment Japan was fortunate to have had the chance to speak with Mikako Suzuki, President of AT Globe Corporation and author of the book "やっぱり外資系! がいい人の必勝転職AtoZ". She has impressively interviewed over 10,000 candidates throughout her career and now strives to bridge Japan and the world by helping Japanese employees transform into more global talents.
In the 1st part of our blog series, she shares her thoughts on what it takes to become a global professional and some valuable career advice for experienced professionals.
1. Global Talent must communicate logically in English
Mikako Suzuki was born in New York but was raised in Japan. She grew up speaking one language and it was Japanese. When she turned 21, she decided to visit her father in Dusseldorf, Germany. This completely changed her life.
"One time my father was hosting a garden party and it was attended by around 50 people. I was the only person who couldn't speak English. Everybody spoke English, which made me so amazed," she said.

"There were even four Polish people who escaped their country and they could speak five languages! I wondered why I couldn't speak English – why was I the only one who couldn't communicate with others. That was the beginning of my journey. So as soon as I came back to Japan, I studied English intensively."
This experience led her to improving her English proficiency. She wanted to be able to communicate well with other nationalities. After using the language actively while she was working for foreign capital firms for 25 years, she then realized how big of a role English played in developing global talents. In fact, now she believes that communicating logically and effectively in English is a key success factor for global talents.
"When I was working for foreign capital firms, I used a combination of English and Japanese. Whenever I needed to speak with my boss, my foreign colleagues, or employees from headquarters, I had to communicate with them in English. Because of this, it's important to improve your logical thinking in that language. Otherwise, you will never be able to express your ideas properly and you might even be misunderstood by others."
RGF agrees and in fact, holds high regard for bilingualism and biculturalism. In an increasingly globalizing world, this becomes indispensable when looking for impressive global talents.
2. Global Talent need to enjoy diversity
Ms. Suzuki mentioned that if you're aiming to work for foreign capital firms, expect that cultural and ideological diversity will be a part of your day-to-day.
These days, a growing number of foreigners have established their careers in Japan. In fact, although not a foreign capital firm, RGF Professional Recruitment Japan currently boasts 34 nationalities working together to provide better job opportunities for professionals in Japan.
Mikako Suzuki adds, "Back when I was an employee, there was no single company that had only Japanese workers."
Japan is increasingly becoming more global and for you to succeed in this environment, she mentioned that "Flexibility comes with diversity. If you are flexible enough to understand other people's cultures, adapt to your surroundings, and absorb other people's different yet great ideas, you will thrive not just in Japan but also internationally."
3. Global Talent need to assertive
Culturally, foreigners tend to seem more aggressive compared to most Japanese people. However, it is essential to learn how to be bold and assertive when working for foreign capital firms.
"If you want your opinions and thoughts to be heard, be bold. Don't be afraid to state your mind. If you want to succeed in the global arena, assertiveness is certainly something you should have or at least, develop. Having the power to state your thoughts, exerting your own opinion, and exercising your right to say yes or no without any influence from others, will all be very helpful if you want to drive your career further and become a global professional."
For her, this is perhaps the most important trait that you should reinforce especially since you would want your colleagues to work with you on equal footing.
RGF PR Japan's Managing Director also shares the same opinion as her. In fact, assertiveness and boldness are qualities valued by RGF. Hoping to even strengthen the careers of our Consultants, we encourage them to come out of their shells and exemplify these values so they themselves could also excel globally.
Career advice for experienced professionals
In her book "やっぱり外資系! がいい人の必勝転職AtoZ", Mikako Suzuki elaborates the steps you need to take before, during, and after changing jobs, particularly to foreign capital firms. She asserts that before finally deciding to quit your current job, you need to ask yourself why you want to change your job and embody the correct disposition.
"There are so many reasons why people change their jobs. But if you're trying to change your job because you want to escape the current reality without facing and trying to solve the issues at hand, a similar thing will happen again at your next employer. So you'd better analyze the source of the issue and tackle it as soon as you can. When you've done that, only then should you change your job. Yet overall, think about your growth – that should always be your priority."
If you do decide to change jobs to a foreign capital firm or a Japanese company, expanding your network would help accelerate the process.
According to Mikako Suzuki, the longer a Japanese employee has worked for a certain company, the more limited their social network becomes.
She states that when one person gets used to working for one company for a few years, they tend to keep their close relationships and acquaintances within that same company.
"I would advise people in their mid-career to expand their network beyond their company walls and company connections. By doing this, they would be able to widen their opportunities as they meet more and more professionals in various sectors."
Besides this, she also strongly suggested that establishing a good relationship with recruiters would help solidify one's career.
"I actually built a good relationship with good recruiters and I would highly advise professionals seeking to become successful in their career to do the same thing. Good recruiters can judge your market value in a fair manner."

"If you want to be successful or when you're unsure about changing jobs, you need to know your market value. I'm good friends with one recruiter and he's very straightforward about my strengths and weaknesses. Because of him, I was able to work on my weaknesses and build on my strengths when I applied for a job. He helped me secure two jobs that I really wanted. I really do appreciate everything he's done for me."