Posted On 2019-04-17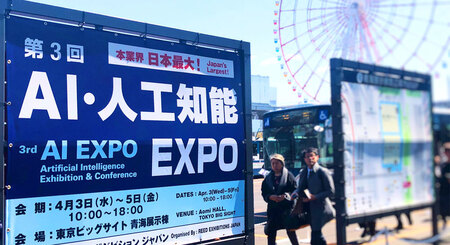 My name is Ishanaz Bahar and I have been interning at RGF Professional Recruitment Japan for two months. Our internship program enabled us to rotate through different teams each week, allowing us a wholesome experience of the company.
As I sentimentally approach the end of my internship, I can confidently tell all potential interns that they will enjoy it and will immediately miss this place.
I was assigned to the Digital Team on my last week. As mentioned in the previous article, the Digital Team was recently subdivided into three more specialized teams: Frontend, Backend, and AI/Robotics/Data.
Shadowing the AI/Robotics/Data team, I was given the opportunity to attend the Artificial Intelligence Exhibition & Conference at Tokyo Big Sight.
The exhibition showcased around a hundred companies related to cutting-edge AI, machine learning, big data, and network technology.
In line with my expectation that there would be machines with cutting-edge learning abilities, the very first booth we encountered was SenseTime's, which presented gates and lockers that utilized face recognition technology.
We were able to see some robots, too. I was particularly interested in the furry dumpling-like robot on the left, named Nemoph by Palsbots, which helps children sleep by singing lullabies and telling stories.
The cat-eared communication robot on the right by Nuwa Robotics was also something that caught my attention. It can display different interactive applications for stores to use.
But what intrigued me the most was the lack of dramatic humanoid automatons, or AI hardware. Instead, we came across an abundance of AI business solutions.
I realized that these days, professionals are now asking the question "How" instead of "What" as more and more companies focus on integrating AI into their business solutions.
To be very specific, chat bots, like those offered by Service U, are gaining popularity among business consultants aiming to improve their customer service processes. They provide a user friendly service that allows anyone to construct their chat bot narrative using a layout that looks like a storyboard.
Another company that fascinated me was AnyTech. They created Deep Liquid, an AI Image Processor targeting to resolve issues encountered by water treatment plants, beverage companies, the agricultural industry, and even aquariums.
Conventional liquid testing for liquid purity involves a costly procedure that requires specialized chemicals, equipment, as well as highly trained personnel.
It would be risky for divers to investigate the safety levels of these treatment plants whenever a problem occurs. The AI in Deep Liquid adopts the safety standards of the company and assesses liquid purity based on its physical properties.
So what does all of this mean for the recruitment business? It means that more and more businesses will head towards utilizing such AI business solutions.
With more AI usage, there will be more hiring needs for AI or machine learning related job positions, such as researchers, developers, and people to maintain AI solutions. For recruiters, that means more clients, more diverse job positions, and a new pool of candidates to engage with.
As an intern and full-time Economics student, I felt honored to have witnessed first-hand a wonderful firm like RGF, seize these new market conditions through their AI/Robotics/Data team development.
Even as I leave this company and dive back into the world of academics, I very much look forward to seeing RGF grow.
I am truly grateful for all the people who have welcomed us interns and have spoiled us with valuable experiences such as this AI Expo, and much more.
I will be sure to use RGF as a benchmark of what a good workplace should look like. Thank you.
We have a lot of confidential job openings with excellent foreign companies and Japanese global companies! Our recruitment consultants will introduce you to excellent jobs that match your requirements.
Working at a global company has many advantages, not only for those who want to work globally and those who want to make use of their language skills, but also for people who strive to Unleash their Potential seek their own potential and have a healthy work-life balance.
RGF Professional Recruitment Japan supports the recruitment hiring activities of many of the top domestic and foreign capital companies in Japan. Various excellent companies including foreign and Japanese global companies located in Japan. Therefore, as a result, we can introduce the best career options for each person.to suite all types of career profile.
If you want to work in a global environment or globally, want to work in a place where you can perform more, or want toto a higher level and expand your career options in the future, please contact us. Our experienced consultants will do their best to support your career growth.