Posted On 2019-04-11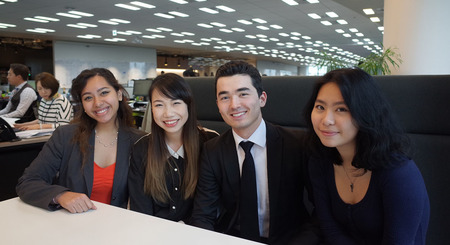 As my 2-month internship at RGF Professional Recruitment Japan is coming to an end, I start thinking more about the time I have had here so far. Interning with me were three other students from different universities across Japan, with whom I really bonded.
For this article, we want to share a bit about what makes this company so special to us and what we have learned from this experience.
Work hard no matter what you are doing
"Always do your best even if your task is small and seemingly unimportant. You cannot expect to be given great duties that are vital to the company during your first few weeks as an intern. But you need to understand that even though you are still at the start of the career ladder, you are needed and your tasks are appreciated.
RGF PR JP really showed me that my work as an intern was valued and contributing to the company. I also learned that doing this helps build good work ethic and that the little things you learn along the way will likely come in handy later."
– 4th year student from Ritsumeikan University
Self-pacing keeps you going
"Once you start working, it is not the same compared to when you are in school. With classes or school projects, you put your all into it and you are off the hook when the project is over. Working every day is different.
In order to consistently produce results, you have to keep your stamina up. This internship has taught me how essential it is for me to pace myself and minimize the down moments while I am working to keep going in the long run."
– 3rd year student from Waseda University
I learned to be more comfortable with criticism
"As an intern, you get a lot of feedback on the work you put out. I learned to be critical to myself and to others. I started looking at my work based on other people's perspective, not just my own, and became more open to be criticized. I also learned to give out criticism.
When you are an intern, a lot of the time, you may think you are inferior to everyone else and therefore, do not reserve the right to speak up.
However, if it is a constructive comment that you believe will help the system, you should say it. I am glad that everyone here has always made me feel like I am allowed to speak my mind, and that my personal opinion is valued."
– 2nd year student from Ritsumeikan Asia-Pacific University
More self-realization than I had ever expected
"Before this internship, I always thought I was more on the academic side of things. I had never imagined myself being in the corporate world as a business person, dealing with negotiations.
The internship has given me an opportunity to do things I have never tried before and truly explore my own potential and capabilities.
Everyone here is doing the same job but with very different means to do it. Seeing them in action has showed me that I should do my job in a way that works for me."
– 4th year student from Ritsumeikan University
Some of us walked into this internship expecting nothing, some of us had certain expectations. However, we all believe our actual experience exceeded them all. Thank you for the lessons and memories, RGF Professional Recruitment Japan!
Spring 2019 Interns
We have a lot of confidential job openings with excellent foreign companies and Japanese global companies! Our recruitment consultants will introduce you to excellent jobs that match your requirements.
Working at a global company has many advantages, not only for those who want to work globally and those who want to make use of their language skills, but also for people who strive to Unleash their Potential seek their own potential and have a healthy work-life balance.
RGF Professional Recruitment Japan supports the recruitment hiring activities of many of the top domestic and foreign capital companies in Japan. Various excellent companies including foreign and Japanese global companies located in Japan. Therefore, as a result, we can introduce the best career options for each person.to suite all types of career profile.
If you want to work in a global environment or globally, want to work in a place where you can perform more, or want toto a higher level and expand your career options in the future, please contact us. Our experienced consultants will do their best to support your career growth.