Posted On 2019-05-29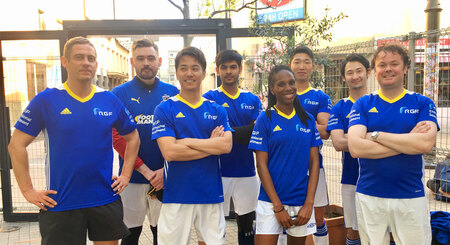 The KIWL (Knights In White Lycra) Futsal Cup aims to raise funds to enable the introduction of Frame Football to Japan, which helps people with cerebral palsy to realize their dreams of playing the beautiful game.
In support of KIWL's and NPO Esperanza's cause, RGF Professional Recruitment Japan FC joined the KIWL Futsal Cup on April 20th 2019.
Fresh from our warm weather training camp in Guam and with a fully-fit squad primed for action, the team was brimming with confidence.
The only possible concern was whether or not the previous Ballon D'oreo winner yet injury-prone Jonathon Naylor would be a starting member of the team as his deft touch and creative spark is surely what tipped RGF to be the odds-on champions.
Unfortunately for RGF Ultras, a tight calf led to local hero, Naylor, sitting glumly on the bench as he watched the first game against the British Embassy FC.
As the referee blew his whistle to start the game, disaster struck – clearly visible for those watching live on NHK.
Kohei Sano, who has a foot like a traction engine, shot with such power directly from kickoff, that an opposing player who tried to block the shot, was promptly stretchered down the tunnel with a suspected concussion.
As a mark of respect for the fallen Embassy warrior, RGF PR JP kindly offered the weaker opposition a 0-1 victory. The team was confident in winning their remaining games and progressing comfortably to the knockout stages.
After a short break, the RGF contingent was therefore ready for their next game. This time around, against a veteran team, UBS. As Sano waltzed through three defenders and powered a rocket into the top corner, a Blue and White victory looked inevitable.
As wave after wave of attack were somehow repelled by post, crossbar, and luck, it seemed as if a 1-0 victory would suffice. That is, until a lucky breakaway led to a shocking equalizer and a deafening silence that spread out across the crowd.
With their first point on the board and knowing that two wins from their two remaining games would be enough to win the group, RGF seemed satisfied with their 1-1 thrashing of UBS.
The next game, however, was against a team that some considered as an outside bet for the title. The tension in the air was palpable as victory was necessary for both teams to stay alive. Yet an aura of calm quickly spread through the watching fans as the lineup was announced.
Back from the treatment table and looking fitter than ever, Naylor was starting this time. As the whistle blew and heavy tackles were exchanged on both sides, the Susan Boyle look-a-like grabbed the game by the scruff of its neck, picking up the ball in his own half, and weaved between two defenders. He launched a double step-over and flip-flap to beat a third, before casually dinking the keeper on his left foot to send the crowd into raptures.
Often likened to both Messi and Maradonna due to his low center of gravity, magic ball control, and flowing locks, our forward gave his trademark wink to the crowd upon slowly trotting back to the center circle to see the game out. Final score: 3-0 RGF.
Now that the Northern Pele was back in their ranks, we were brimming with confidence. RGF sauntered to a 4-1 victory over BMES as Naylor tapped one in from an Uzochi Okoronkwo assist and further goals were added by Benjamin Cordier through a spectacular long range strike from Shumpei Yoshikawa and the ever mercurial Kohei Sano.
A place in the knockout stages was assured for the Blue and White heroes, with victory seeming nothing more than a mere formality.
To the dismay of the thousands of well-behaved watching supporters, the actions of a small group of opposing fans unfortunately led to a slight kickoff delay. Streamers and flares were released from the top tier of the stadium and it all rained down onto the pitch below. RGF Professional FC, performing sprint drills as part of our pre-match warm-up, were left uninjured yet riled up. A Naylor double salvo quickly followed within the opening 90 seconds of the match - the first of which held such beauty that it led grown men to weep openly in their seats.
As the elegance of the Sistine Chapel reminds us of Michelangelo and the Mona Lisa reminds us of da Vinci, so too will the Adidas Futsal Park Kawasaki Court 2. It will now and always be synonymous with 'that' Jonathon Naylor moment.
A rasping Kohei Sano volley was somehow palmed out towards the halfway line by a stretching goalkeeper only for Naylor to drop a shoulder, lose his man, step into the rising ball, hit it first time on the outside of his right foot and caress it into the top corner with a touch as delicate as a late April cherry blossom.
He followed this by nutmegging the keeper to put the Blues into a 2-0 lead and subbing himself off to a standing ovation from both sets of fans. Two further goals were then added for a comfortable 4-0 victory and a place in the semi-finals.
A mouthwatering matchup against a small consulting firm had the Ultras salivating at the prospect of an easy win and one hand on the trophy. But as RGF's loyal workhorse Kohei Sano soon found out, it was not to be. As Sano leapt like a salmon on a trampoline, bulleting a header into the top corner and wheeling away in celebration of taking the lead, RGF hearts were broken as the referee disallowed the goal for reasons that even VAR has not been able to explain. As decision after decision was given against the favorites, an unfortunate 2-1 loss ultimately led to an early plane ticket home for the boys in Blue and riots up and down the streets of RGF.
Although, the tournament was played in great spirits with all teams thoroughly enjoying the day interacting with NPO Esperanza members, it is a shame for it to end this way for Jonathon Naylor. It may well be his final big tournament run out but with a strong, youthful team now accustomed to the rigors of tournament football, an RGF championship victory is surely just a matter of time.
We have a lot of confidential job openings with excellent foreign companies and Japanese global companies! Our recruitment consultants will introduce you to excellent jobs that match your requirements.
Working at a global company has many advantages, not only for those who want to work globally and those who want to make use of their language skills, but also for people who strive to Unleash their Potential seek their own potential and have a healthy work-life balance.
RGF Professional Recruitment Japan supports the recruitment hiring activities of many of the top domestic and foreign capital companies in Japan. Various excellent companies including foreign and Japanese global companies located in Japan. Therefore, as a result, we can introduce the best career options for each person.to suite all types of career profile.
If you want to work in a global environment or globally, want to work in a place where you can perform more, or want toto a higher level and expand your career options in the future, please contact us. Our experienced consultants will do their best to support your career growth.