Posted On 2019-06-03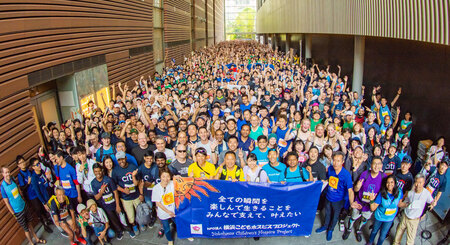 The Yamathon is a charity marathon where teams follow the route of the Yamanote line and take selfies at each station as proof of completion. This year, the chosen charity was Yokohama Children's Hospice Project.
Manned by enthusiastic volunteers who have grown the number of participants into the thousands, this event has been running for a few years now.
RGF Professional Recruitment Japan fielded 10 teams for Yamathon 2019.
My team was ready and training hard until a couple of days before the event when disaster struck – 3 injuries! The "Back Office Bandits" were out!
I asked around the other teams to see if I could join them and I was warmly welcomed by Ben Cordier's team, the RGF Tamagawa Runners.
Happy to be the 4th member of the team, I made my way to the Tokia Building, where everyone was ready to cross the starting line.
Upon arrival, I was amazed by the positivity and enthusiasm of the organizers and the general buzz in the building.
Once the sign up was completed, we took a group photo and then we were ready to go!
We set off at a decent pace and breezed through the first few stations. I suddenly found myself in a part of Tokyo that I didn't know and was surprised to see three Yamathon participants dressed in traditional German dresses! Mind you, it was very sunny and 25 degrees out!
We carried on through Ueno Park and eventually, onto the halfway point. We all felt great especially after finding out that we were the first to the halfway mark!
Soon after, a team member sprained his ankle yet he tried his best to soldier on. Unfortunately, he had to drop out but I am sure he will be back next year.
The remaining three of us forged on with excellent support from my teammate's wife and son.
The last 10kms was a slog but we stuck together and ran as a team.
Throughout the course, we saw lots of Tokyo that I hadn't seen before and got some great motivation from other competitors heading the opposite way.
We rolled in with a total time of 5:48:06. We were the 5th team to finish for the full course – not bad at all! While for the half Yamathon, RGF took the whole stage: 1st, 2nd, 3rd!
This is a great event! Besides its great cause, this event was fun, well organized, and perfect for team building. It was well organized, fun, great for team building, and for a good cause.
I am really looking forward to next year's Yamathon and RGF Professional Recruitment Japan placing first for the full course!
We have a lot of confidential job openings with excellent foreign companies and Japanese global companies! Our recruitment consultants will introduce you to excellent jobs that match your requirements.
Working at a global company has many advantages, not only for those who want to work globally and those who want to make use of their language skills, but also for people who strive to Unleash their Potential seek their own potential and have a healthy work-life balance.
RGF Professional Recruitment Japan supports the recruitment hiring activities of many of the top domestic and foreign capital companies in Japan. Various excellent companies including foreign and Japanese global companies located in Japan. Therefore, as a result, we can introduce the best career options for each person.to suite all types of career profile.
If you want to work in a global environment or globally, want to work in a place where you can perform more, or want toto a higher level and expand your career options in the future, please contact us. Our experienced consultants will do their best to support your career growth.