Posted On 2019-12-18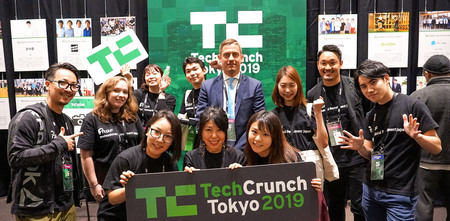 Hi! I'm Mari from RGF Professional Recruitment Japan. I joined the digital team of RGF PR this year and now I'm mainly in charge of backend engineering roles. Did you guys know that TechCrunch Tokyo 2019 was held on November 14th and 15th at Shibuya Hikarie? RGF's digital team is very proud to have sponsored this event! I just recently started working for RGF Professional Recruitment but despite that, I still got a chance to participate in the event. It was my first time in TechCrunch Tokyo and it was truly a very exciting and informative experience.
What is TechCrunch Tokyo?
TechCrunch, a tech media company established in Silicon Valley, is an online platform that provides important news about start-ups, new technologies, or IT industries.
Held annually for nine years now, TechCrunch Tokyo is a huge event showcasing start-ups and their respective innovations.
What was it like on the day?
More than 2,000 people attended the two-day event.
We started preparing our booth around 8 am so that everything would be ready by 9 am, the opening time.
Alongside us were other start-ups and sponsors who were also preparing to present their products and services.
The venue was divided into 3 different areas: booths area, meet-up space, and the event hall.
A lot of start-ups, including newly established companies and well-known companies, talked about their business' histories and services at the booths area.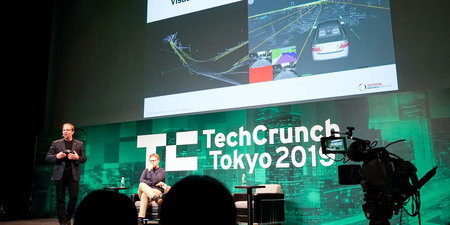 At the meet-up space you will find the participants who made an appointment through TechCrunch's exclusive meet-up platform, "Event Hub".
There, participants were given the opportunity to exchange information and discuss various themes.
The highly expected "Start-ups Battle" was held in the event hall, which is also where the other participants and sponsors conducted their presentations.
Among the many applicants for the Start-ups Battle, only 20 passed the document screening.
On the 1st day, these 20 start-ups presented their respective pitches. Only six of them moved on to the final round held on the 2nd day.
Congratulations to RevComm for winning the Grand Prize! This start-up company offers 'MiiTel', an IP telephone system equipped with AI.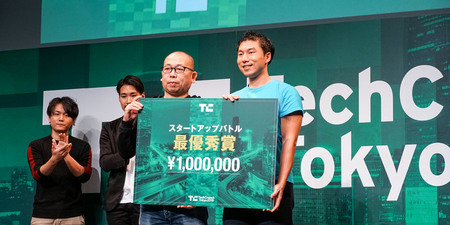 My impression as a member of the digital team
By participating in TechCrunch Tokyo 2019, the digital team was able to meet a lot of individuals who are thinking of changing their jobs as well as companies that are considering to hire engineers.
Many of these people we've met were new faces and it was a great opportunity to expand our network.
Besides this, I was also able to learn more about the stories of start-up companies, which in exchange also had the same effect for my company.
As a sponsor of the event, we were able to let more people know about the RGF brand and inform them that we also cover recruitment solutions for start-ups, which, surprisingly, most companies were unaware of.
Personal impression
Personally, I was able to meet a lot of people during the event. There were more entrepreneurs than I imagined and I was very motivated while listening to their stories.
I definitely learned a lot from them and gained more insight on the employment trends for engineers.
About the Sponsor's Awards
This year, RGF Professional Recruitment Japan participated in TechCrunch Tokyo as a Gold Sponsor. Due to this sponsorship, we had a chance to give a Sponsor's Award to a company that joined the Start-ups Battle.
We selected SE4, Inc. as the winner! Congratulations to them for their amazing pitch!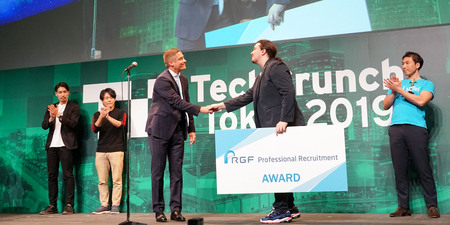 Although they started the business in Japan, they've been actively expanding on a global scale.
I think we share the same vision, which aims to change the world through the robotics business. We think that the demand for this type of tech is definitely increasing so we decided to give them the award.
Personally, I also thought RevComm, the grand prize winner, was very impressive. I think that incorporating AI into the analysis of voice calls could be very helpful to improve a company's sales.
Summary
Although it was only a two-day event, it was rich in content and I was able to experience a lot of things.
We also got the chance to talk to many people, finding new business partners to develop our business and acquiring fresh market information. Being a sponsor company was definitely a very good experience.
I hope we can participate in next year's TechCrunch – hopefully as a sponsor, too!
We have a lot of confidential job openings with excellent foreign companies and Japanese global companies! Our recruitment consultants will introduce you to excellent jobs that match your requirements.
Working at a global company has many advantages, not only for those who want to work globally and those who want to make use of their language skills, but also for people who strive to Unleash their Potential seek their own potential and have a healthy work-life balance.
RGF Professional Recruitment Japan supports the recruitment hiring activities of many of the top domestic and foreign capital companies in Japan. Various excellent companies including foreign and Japanese global companies located in Japan. Therefore, as a result, we can introduce the best career options for each person.to suite all types of career profile.
If you want to work in a global environment or globally, want to work in a place where you can perform more, or want toto a higher level and expand your career options in the future, please contact us. Our experienced consultants will do their best to support your career growth.