Updated On 2022-08-24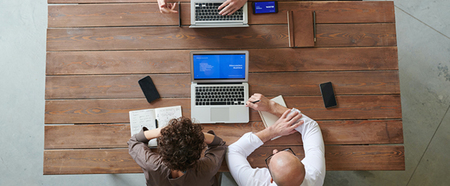 Competency-based interviews (also called behavioral interviews) are a form of questioning that allows interviewers to elicit specific and real life examples from a shortlisted candidate like you. Since the candidate will be giving concrete examples of how they behaved, acted, or performed a task, the interviewers can then properly assess their abilities and experiences more holistically and without bias.
They are more objective compared to traditional or unstructured interviews, which merely gather information, not examples of past performance or actions. Yet they are more subjective in terms of your answers as it removes the potential of answering using generic responses like "I work hard and I always meet my targets."
A lot of multinational companies use this type of interview but it has increasingly become popular even in domestic Japanese companies.
Examples of Competency-based Questions
1. Traditional interview question: "What can you offer to our company?"
You will most likely answer in the hypothetical
You will most likely miss certain elements that the company wants to hear because the question is very vague.
Competency-based question: "How have you contributed to the success of your company in the past?"
You will most likely answer using real and past examples, allowing you to fully demonstrate your ability and past performance, which is key when assessing your potential as a candidate.
2. Traditional interview question: "What is your management style?"
You will most likely answer using your ideal management style, which may or may not prove your actual management style.
You may answer more generically and might not provide the specific answer the company is looking for.
Competency-based question: "Tell me about a time when you have previously influenced and encouraged your team to attain targets?"
Since the question is clear and more specific, you will know exactly what to say and back it up with examples of how you actually did something.
How do you prepare to answer competency-based questions?
Competency-based interviews are well thought of. Oftentimes, companies would list down a set of skills, values, and competencies that are essential to effectively do the job. Of course, every role is different and so, in order to prepare for this type of interview:
Step 1: Imagine you're the interviewer
Think about the role you're applying for and imagine what skills, competencies, and values (SCVs) you think the company would need. These could be soft skills like leadership, creativity, integrity, resilience, decisiveness, delegation, conflict management, etc. These could also be certain company values, which you can easily find through the company's website. Finally, of course, these could be hard skills required to do the job.
Put yourself in the shoes of the interviewer and imagine what kinds of questions they will probably ask you. This is also the perfect opportunity to reset your interview mindset - remember that a job interview is about getting the job, not a chat with a friend. In the video below, Liam Hegarty, our Senior Manager, gives a great explanation about why it's important to have the right mindset and point of view when interviewing.
Step 2: Connect and match
Go through your resume and match these SCVs with your previous roles. By actually looking at your resume, you are reminded of all the tasks you've done in the past, which may or may not be relevant to the SCVs. If you don't have a visual reminder, you might overlook important tasks or actions, which could very well be the key deciding factor for an official offer.
Step 3: Identify SCV Milestones
One mistake that interviewees do during their interview is not coming prepared. When asked a competency-based question, some candidates get caught off guard because they don't know exactly what example to recount. Some candidates will be able to think of an appropriate example but under pressure, it is quite difficult to remember and pull specific pieces of information that happened in the past – let alone arrange the story in a way that's comprehensible to your interviewer.
This is why it's important to prepare ahead of time. Most of you already have the right answers and the data/example to back-up those answers – it's just a matter of identifying which fact you need to present and arranging it in an easily digestible structure so that your interviewer can easily understand every aspect of your response.
To give more structure to your answer, for every SCV you've thought of, try to make sure that you have the answers to the following table, which utilizes the STAR Method:
Situation

Task

Action

Result

What was the situation?
What was the context?
Where were you working?
What was your job title?
What was happening?
What was the problem?
What was the challenge?

What exactly did you do?
What role did you play to execute the project?
What projects were you responsible for?
What tasks did you delegate?
What were you in charge of?
What was your contribution to the team?

How did you do it? What steps were involved?
How did you delegate the task to your team?
How did you supervise your team to accomplish the project?
How did you help your team?

What was the outcome of your action? How did it affect your company
What percentage of your KPI did you achieve?
What numerical result did you achieve?
What other unmeasurable yet visible results did you achieve?
Note that your interviewer's set of SCVs might be different from what you've thought of but by successfully identifying milestones in your professional career and by knowing how to arrange it in an organized and eloquent manner, you will be able to navigate a competency-based interview more easily.
We have a lot of confidential job openings with excellent foreign companies and Japanese global companies! Our recruitment consultants will introduce you to excellent jobs that match your requirements.
Working at a global company has many advantages, not only for those who want to work globally and those who want to make use of their language skills, but also for people who strive to Unleash their Potential seek their own potential and have a healthy work-life balance.
RGF Professional Recruitment Japan supports the recruitment hiring activities of many of the top domestic and foreign capital companies in Japan. Various excellent companies including foreign and Japanese global companies located in Japan. Therefore, as a result, we can introduce the best career options for each person.to suite all types of career profile.
If you want to work in a global environment or globally, want to work in a place where you can perform more, or want toto a higher level and expand your career options in the future, please contact us. Our experienced consultants will do their best to support your career growth.