Posted On 2019-01-10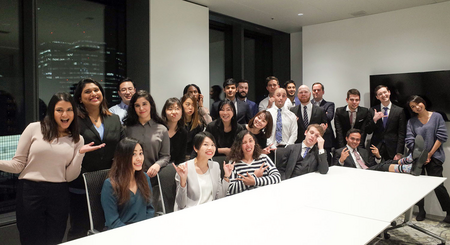 It's always tough to come back to work after a long winter break (particularly for me who spent 2 weeks back home in Australia, lying on the beach every day in the 38 degree sun).
That being said, our successful 2018 at RGF Professional Recruitment Japan meant that we were coming back to a lot of exciting promotions (27, to be exact), and introducing 30 fantastic new starters to the business. Actually, the excitement and hype in the office after being on holiday was genuine, and motivations at an all-time high.
Our monthly kick-off for Q1 2019 included photos of our new joiners and photos of those being promoted ranging from funny to embarrassing. Each new joiner made their 10-second elevator pitch and promotions were celebrated with a heartfelt thanks to the team and inspirational words.
The growth at RGF Professional has been consistent and, dare I say, very ambitious. In 2018, we went from being an 80-person company in January to 125 by December. As of January 2019, we are now a 155-person company. Not only that, but we achieved our biggest record month in December. This means we hit our 2018 company target, and officially means that we will be going on our annual company trip this 2019!
The 60 people we hired within the year was no easy feat. We spent months and months interviewing quite literally, 1000's of people to narrow down the search. But one thing stayed consistent in our hiring. That is, "Hire character. Train skill."
This resonates deeply when it comes to our hiring process. We choose our employees based on certain key competencies, but ultimately its character, passion and drive that makes the deciding factor when hiring our consultants.How we've been able to maintain a healthy, low turnover rate and rapid success within our business can be pinned down to this crucial element.
2018's mission was, "The Tokyo recruitment market should feel our presence". This year, our mission is, "To be a dominant player in the Tokyo recruitment market".
We've come a long way from the once boutique-sized company we were in 2015, and with the right people in place, we are excited to kick-start 2019 and to make a strong, significant impact to the bilingual recruitment market in Tokyo.