Posted On 2019-03-15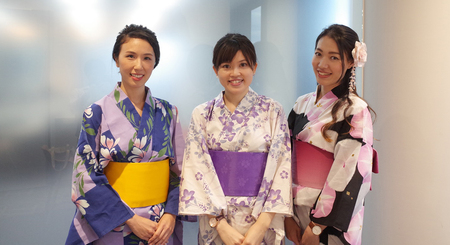 In the spirit of International Women's Day on March 8th, we asked 4 of our female employees and our Managing Director to share their stories, and their point of view on our organization as a working environment for women. Here is what our people said about how RGF Professional Recruitment Japan empowers women.
Work for a company that treats fairly
The recruitment industry is one of the few industries that is gender-free. In that sense, it is pretty well-balanced and meritocratic. Of course, it is good to have a team balance where it is not so male-dominated but as a whole, the industry focuses on character, drive and passion more than anything else. As a company, we want to become the best place to work, a place that is diverse in every aspect with everyone being treated fairly regardless. And since the nature of the job is already non-discriminated, it is not too difficult to keep the environment this way.
"When you work in an environment where everyone is treated equally, you are motivated to work hard because you understand that your work will be appreciated and rewarded."
Work for a company that cares
We offer massive flexibility for our working mothers. We also hold company events where everyone can bring their families to. Working moms are sometimes the people who deliver the best results so we want to give them that flexibility.
Every month or so, we hold a discussion called "Lean in" in our office. This is where our female employees get together, share their thought and learn from others. Each time, we cover a different topic. We sometimes have guest speakers come in to talk about their journey in the corporate world as well. Usually, they are pretty high-level people, like managers and directors. "Lean in" is not a therapy session, but rather a place for everyone to openly speak their minds and empower one another.
Work for a company that encourages
At RGF PR Japan, we do not give special treatment to anyone because we believe it goes against what is considered empowerment. However, some Japanese female employees do not even believe in the fact that they could have a career as a manager. This is where the inequality comes in. We want to encourage everybody to understand that they are going to be judged based on their result. No matter who they are, they can be promoted if they perform well. It is important for us as a company to have both men and women in managerial positions. Lucky for us, we are seeing more and more female managers gaining more confidence and stepping up.
"When I think of gender equality in the workplace, I do not think of it as something we have to strive for. It's just normal and factual." – Matt Nicholls
"When I was promoted to Senior Manager, my team members increased from 5 to 15 people. It left me feeling a bit confused at first. But I never once felt like I was alone in this as everyone was constantly giving me support. I think I am quite lucky in that sense." – Yoshiko Kinoshita
"Women who work in this line of work are pretty strong. I think every single woman here in the office is." – Sarah Onishi
"I don't think anyone here has to think whether they'll have to make a choice between family and work. I am in full control of my job as long as I'm still putting out good results. If I have to talk about female empowerment, I think this is the reason why it is great for women to work here." – Prachi Desai
"When I took my time off to prepare for labor, I was still receiving money in my account from RGF PR. I was so confused and called the HR team to ask, only to find out that, for the 6 weeks before and 8 weeks after labor, we would still get our regular salary. Apparently, this policy has been established ever since the company was founded." – Ayumi Okubo



We have a lot of confidential job openings with excellent foreign companies and Japanese global companies! Our recruitment consultants will introduce you to excellent jobs that match your requirements.
Working at a global company has many advantages, not only for those who want to work globally and those who want to make use of their language skills, but also for people who strive to Unleash their Potential seek their own potential and have a healthy work-life balance.
RGF Professional Recruitment Japan supports the recruitment hiring activities of many of the top domestic and foreign capital companies in Japan. Various excellent companies including foreign and Japanese global companies located in Japan. Therefore, as a result, we can introduce the best career options for each person.to suite all types of career profile.
If you want to work in a global environment or globally, want to work in a place where you can perform more, or want toto a higher level and expand your career options in the future, please contact us. Our experienced consultants will do their best to support your career growth.