Posted On 2019-03-12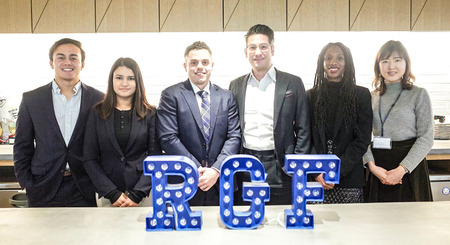 Japanese companies nowadays are following the trend of global expansion with many of them starting overseas operations or diversifying their domestic workforce. As a result, the working environment in Japan is becoming a lot more diverse, with workers from various backgrounds.
At RGF Professional Recruitment Japan, we are confident to say that we represent what is considered workforce diversity, and we make sure we are constantly making the best out of it. Our Senior Director, Alex Zoboli, who is managing 2 divisions of 10 teams, shares his experience of how he built his own global team.
Could you tell us about the team you're managing at RGF PR Japan?
I manage a team of 65 consultants with a wide range of pretty much everything. We have people from 22 years old to 53 years old, with more than 15 nationalities and very different levels of experience. Within the 10 teams that I'm managing, there are people who are new graduates, people with a couple years of experience, and people with 20 years of recruitment experience.
Your team grew from 10 to 65 members in just a few years. How did you feel about this?
I'm very happy and incredibly proud of what we managed to do in such a short period of time. It was definitely challenging in the beginning to sell the dream that we had for the company but I think we are having amazing momentum at the moment. RGF Professional Recruitment is indeed the place to be.
How do you make your global team work?
For us, we run our company based on fairness. We try to take into consideration everyone's differences, with an open mind, and treat everyone in a fair way. If you manage to surpass all the distinctions and regulate your actions with fairness as grass roots, the multiculturalism only comes in second.
When specifically talking about the recruitment industry, we put in a lot of effort into managing our people since everyone is very different. We also hire people from our direct competitors so it can be difficult to create an RGF way of working for people that used to work in a different company for many years. I think the most important thing to keep in mind is that we make all decisions based on recruitment methodology and leave the politics of managing a large business out of the way. In other words, we assess our people based on the recruitment culture and their results, not any other factors that do not translate into their work.
Does your team spend time with each other outside of the office?
We do! We are a bunch of very social people so we like to go out to nice restaurants, bars and events. I think it is essential in recruitment to work hard, achieve great things, and celebrate the fruits of our labor.
Key Takeaways:
When managing a global team, it is important that you comprehend the team's differences to the extent that, no matter what the dissimilarities are, you can respond to everything with fairness. By treating everyone with fairness, you are actually valuing the differences between these diverse individuals because you are not blinded by multiculturalism. No discrimination or favoritism.
A global team should be assessed based on their work, not by any of the politics outside.
We have a lot of confidential job openings with excellent foreign companies and Japanese global companies! Our recruitment consultants will introduce you to excellent jobs that match your requirements.
Working at a global company has many advantages, not only for those who want to work globally and those who want to make use of their language skills, but also for people who strive to Unleash their Potential seek their own potential and have a healthy work-life balance.
RGF Professional Recruitment Japan supports the recruitment hiring activities of many of the top domestic and foreign capital companies in Japan. Various excellent companies including foreign and Japanese global companies located in Japan. Therefore, as a result, we can introduce the best career options for each person.to suite all types of career profile.
If you want to work in a global environment or globally, want to work in a place where you can perform more, or want toto a higher level and expand your career options in the future, please contact us. Our experienced consultants will do their best to support your career growth.