Posted On 2021-02-16
Table of contents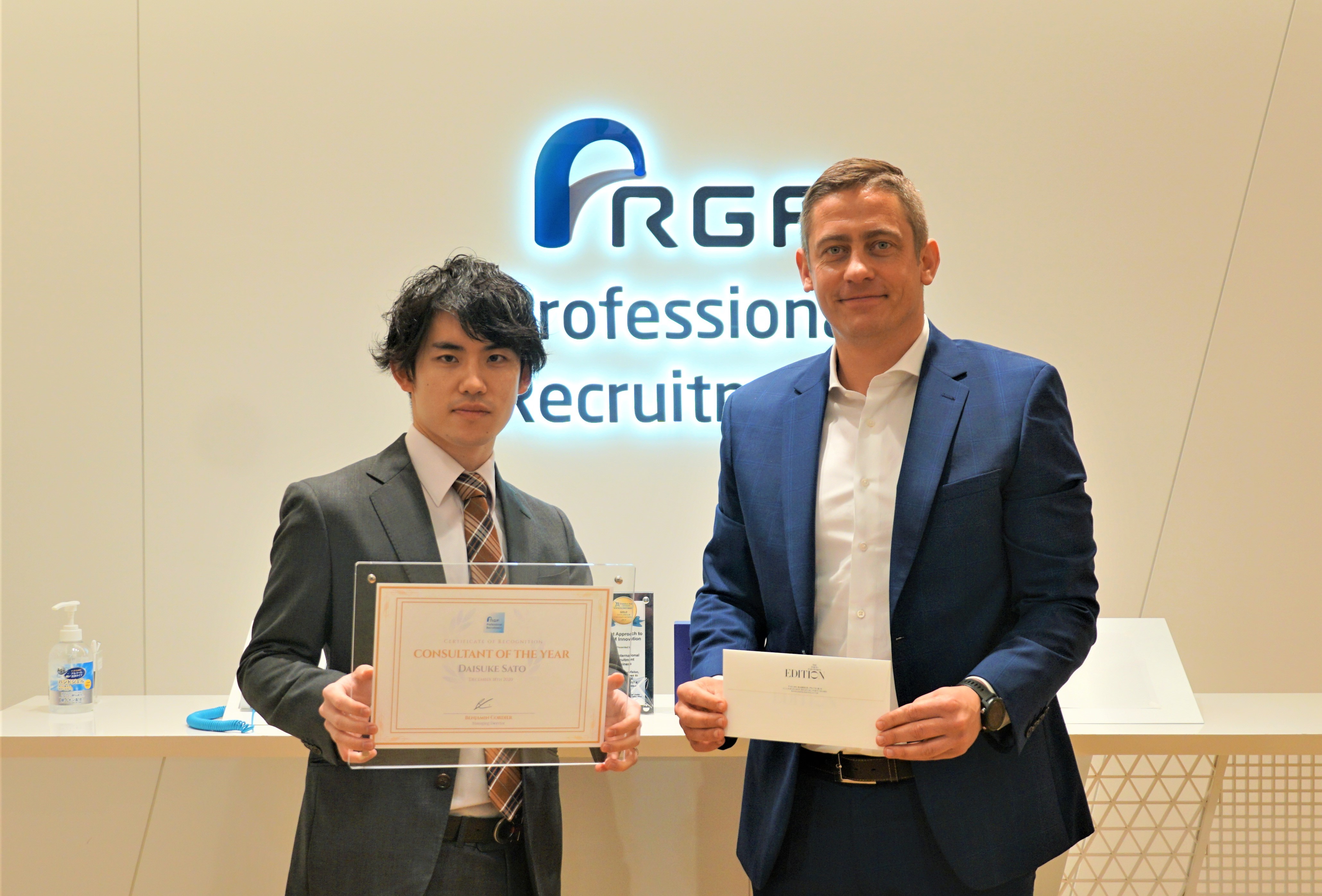 As we look toward a more promising 2021 and the road to recovery for businesses around the world, we cannot forget to look back on 2020, a remarkable year of resilience and perseverance.
Despite the challenges, 2020 was the year of building and maintaining trust with our clients and candidates, and as one of our top performing consultants who won Consultant of the Year award, Daisuke Sato has remarkably demonstrated this in his work, having successfully introduced numerous suitable candidates for his client companies in the areas of Robotics, AI, Data, Machine Learning, and IoT.
Daisuke works with a diverse portfolio of clients that include highly specialized companies covering a niche market as well as generalized companies that deliver solutions for a broad field of applications and customers. In this interview, we asked him about how he was able to continuously improve and provide excellent service to his clients and candidates.
Taking Control during the Unprecedented
How was your 2020?
Everyone is probably all too familiar with what went down last year and how it's turned our world upside down. However, honestly speaking, out of my three years at RGF PR Japan, this was truly the most rewarding year.
The last quarter of 2020 was quite a distinctive period in my career so far. From September until the rest of the year, I placed more job seekers at my client companies than the rest of the year. I truly think this was because by this time, I'd gained a much better understanding of what the clients were looking for when hiring. From the moment I submitted the candidate's resume to reaching a placement, my success rate definitely skyrocketed during this last quarter of the year.
Understanding Exactly What the Client Looks for in a Candidate
How did you manage to gain a deeper understanding of what your clients wanted when they were looking to hire new employees?
I actually started the year with a few mismatches. In recruitment, just like everything else, setbacks such as rejections are considered normal, but developing resilience is what helps you carry on. I started doing a lot of analysis on my unsuccessful placements to find out why they didn't work out.
When your way of doing things is not showing results, there needs to be adjustments. Before, I was thinking about the skills clients mentioned they wanted in a candidate. But gradually over time, I focused more on understanding why these skills would be a great asset to the company's operation. "Why would they want people with these skills in the first place?" That was the question I began to ask myself, in order to identify the key factors for my clients to hire someone.
To gain a better understanding about the positions, I also asked questions about the things not mentioned in the job description. For instance, I often asked about the people that are currently working at these companies, and how these individuals fit into the overall structure. The information indicated on the job description can be overwhelming sometimes, with bullets after bullets of required skills and preferred skills. To place the most fitting candidates, I focused on asking my clients about what were the very key skills for them to pass a person to the next round, and then the round after, all the way until the desired offer.
When it comes to communication with job seekers, how do you usually explain the company to your candidates?
Everyone can read the job description and get a general understanding about the job, so I focus more on providing them the information they can't find on the description or the company's homepage. I put myself in their shoes to think about what would be their questions after taking a look at the website, and ask these questions during my client meeting with the company.
As a recruiter, my job is to make suitable matches between job-seeking candidates and employers. This starts from the very vision and values of the company. From there, it's also my duty to understand how the company plans to make these ideals come to life, and find the most fitting professional who has the ability to put this to work. This is something I make sure to convey to my candidates – their place in the company and the kind of contribution they can make.
How do you view the relationships you have with your clients and candidates?
It almost sounds like a given, but the one thought that is always on top of my head is the fact that, as a recruiter, I'm providing a service to them. To ensure that the service I'm providing is worthwhile, I focus on delivering correct and concise information to my clients and candidates in a timely manner, be it through emails or phone calls.
In 2020, I'm glad that the service I provided had stayed consistent, despite all the changes in place. Online meetings never actually hindered anything, but instead, took away the distractions and helped me focus on my agenda better. I made sure that my clients and candidates know that I was only one message away, and was always available to support them.
Providing Consistent and Quality Service as a Recruiter
What are the factors that helped contribute to your success in recruitment?
What has definitely helped me in my job as a recruitment consultant is having sufficient knowledge of the industry I cover. I believe it's crucial that when a recruiter is explaining a job to a candidate, he knows exactly what he's talking about. This is something I'm always working to improve.
When it comes to working with my client, I want to reach a level of understanding that will allow me to propose why a certain candidate can become a great asset to the company. Compared to two years ago when I first joined RGF, my knowledge of the industry is now a lot wider and deeper, and I can confidently say it has contributed greatly to my job as a recruiter.
A good recruiter who is consistent in his service also needs to understand his own pace and be able to find his own motivation. I think having a goal that excites you to do your job as a recruiter is the very first start. If you start our right, you'll have a much better chance of succeeding. My personal goal has been different every year ever since I joined RGF, and it's helped me build momentum for me to constantly improve my service for clients and candidates.
Thank you Daisuke, and we look forward to hearing more about what you'll be accomplishing in 2021!



Related Content: