Posted On 2018-05-02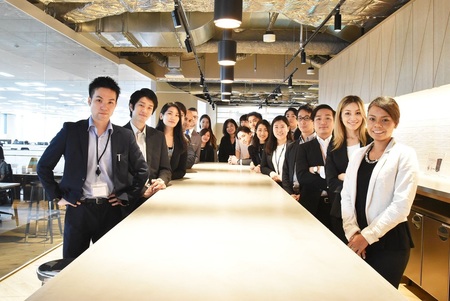 Here at RGF, we have had a very exciting start to Q2, April 2018! Not only have we welcomed 22 fresh faces to the RGF Professional Family, but we have also just moved into our much anticipated, brand new office in Osaki!
Introduction Training
It has been a hectic month in this beautiful office, and we've kept our new joiners very busy with our intensive and comprehensive induction training which spans across 6 weeks. Our training program combines the skills from our Consultants, our Managing Director all the way to our specialist Learning & Development Director who are all dedicated to conducting our tailored, practical and hands-on training sessions.
Matt Nicholls, our MD in action!
Sarah Yamagata, our L&D Director encouraging the new starters to participate actively
The best part of our training program is that it is designed to cover all aspects of the recruitment process from "How to Name Collect" to "Contract Negotiations", "Business Development" and for those who have never worked in a Japanese environment, "Japanese Business Manner Training". It is a much needed, steep and challenging learning curve for those without experience.
We Never Stop Learning
Needless to say, learning and development is an ongoing process at RGF that is not only applicable for new starters but also for those Senior Consultants and Management team members to continuously develop and improve themselves.
Some of our Management team and Senior Consultants learning from Rob Mosley, an external Senior Training and Development Director
We take learning and development seriously here and we ensure that all our employees have a solid career start (and everything in between) to set them up for success from day one!
We have a lot of confidential job openings with excellent foreign companies and Japanese global companies! Our recruitment consultants will introduce you to excellent jobs that match your requirements.
Working at a global company has many advantages, not only for those who want to work globally and those who want to make use of their language skills, but also for people who strive to Unleash their Potential seek their own potential and have a healthy work-life balance.
RGF Professional Recruitment Japan supports the recruitment hiring activities of many of the top domestic and foreign capital companies in Japan. Various excellent companies including foreign and Japanese global companies located in Japan. Therefore, as a result, we can introduce the best career options for each person.to suite all types of career profile.
If you want to work in a global environment or globally, want to work in a place where you can perform more, or want toto a higher level and expand your career options in the future, please contact us. Our experienced consultants will do their best to support your career growth.