Posted On 2018-07-13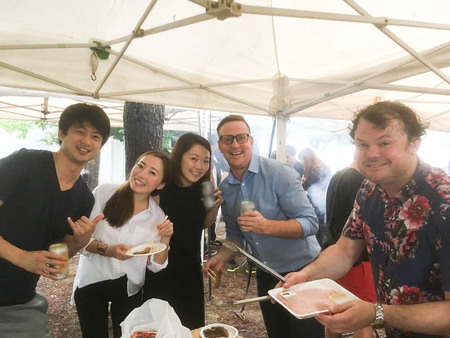 Last week we began our Q3 with a fantastic summer BBQ kickoff party…. in the rain!
Despite the rain, we all had a blast cooking, eating and drinking under the safe comfort of the rain-proof tents in Shirokaze Park, Odaiba with all 120 employees plus family, babies and partners.
At RGF Professional, we celebrate quarterly as a company to show appreciation to all consultants, management and back office for their hard work and dedication to achieving success as a company. The yearly company parties consist of our Hanami Party in April, Summer BBQ in July, Halloween Party in October and Christmas Party in December.
This Q3, we started our morning with our monthly kick-off meeting, announcing 4 promotions from senior consultant to manager, and 2 promotions from associate consultant to consultant – much to be celebrated!
With drinks in hand, we all made our way towards Odaiba for our muddy, rainy BBQ party!
Under tents we had several barbecues, prepared by our very own chefs (a.k.a. RGF consultants/managers) who cooked up a storm of delicious meat, yakisoba and veggies. Towards the end of the party, we had Suikawari, literally meaning "watermelon cracking", a traditional Japanese game similar to that of piñata, that involves splitting a watermelon with a stick while blindfolded (mind you, whilst mildly inebriated).
Our quarterly parties are not only super fun, but it's also a great way to get to know each other across teams and divisions, and to create new bonds and friendships within our company. It's something that brings each of us closer to each other, and this creates greater synergy when working together professionally, too.
Looking forward to beating our previous targets in Q3.
Bring it on!!!