Posted On 2018-11-30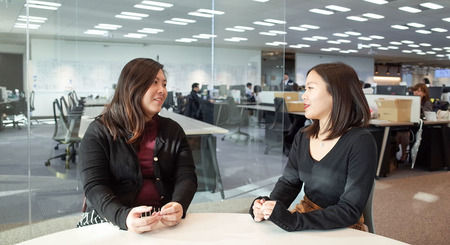 What are the things that come to mind when you think about a career in recruiting? It could be the satisfaction that comes from helping clients fill a seemingly un-fillable position, or the joy in helping individuals advance their ambitions by matching them to their dream jobs.
Or, it could simply be the sense of achievement - the adrenaline rush - that comes from closing deal after deal.
Without a doubt, the world of recruiting is a dynamic, fast-paced one. There are a myriad of fundamental things that need to be done to successfully make a placement.
Building rapport with clients and understanding their hiring needs are of course imperative, and so is sourcing, screening and sending them the right candidates.
Needless to say, adequately preparing candidates for interviews and eventually negotiating terms when they get an offer are also part of the job.
The process is not rocket science, but it is the differing nature of every job we work on that makes recruiting challenging and personally enriching.
To the uninitiated, recruiting might seem like a lonesome job, one that favours working in silos. With so many things to accomplish, it might even come across as a little overwhelming.
It was only when I embarked on the path of recruiting here at RGF that I realised the importance of teamwork and how it is something that can be easily undermined and overlooked.
Here at RGF, we don't practice "candidate ownership", meaning that everyone has equal opportunity to place all candidates registered in the RGF database.
What does this mean for clients and candidates?
This translates into a wider pool of candidates (with unique working experiences!) we can introduce to our clients, and potentially more job opportunities for our candidates. Win-win? Definitely.
I work in the culturally diverse Supply Chain team with six others, and it is kudos to their constant support that I am able to perform my job more effectively.
They say two heads are better than one, what more six?
This collaborative approach that my team embraces certainly goes a long way in giving me fresh perspectives on not just the candidates we discuss daily, but also on how I can continually develop and further hone my skills as a recruiter.
This collaborative approach extends to other teams at RGF as well.
Often, my colleagues from other teams introduce me to job leads and invite me to meetings with clients that could be good for the Supply Chain team.
They also share information on clients and/or candidates I might not be privy to, and that has helped me in better understanding my clients' needs as well as matching candidates to jobs and preparing them for interviews.
I find it immensely satisfying knowing I can play a part in helping my teammates and fellow colleagues attain great new roles and find ideal candidates.
And I am happy to know that everyone else here shares the same sentiment.
It is this sense of camaraderie, willingness to help and synergy here at RGF that makes recruiting all the more fun, fulfilling and most importantly, effective.
Want to experience the beautiful teamwork here at RGF? Come talk to any of us and join us today!
■If you are interested to work for us. please submit your CV here!
■Author
・Siew Wee Seet Toh - Consultant at RGF Professional Recruitment Japan, specialized in Supply Chain management
・Elizabeth Sim - Consultant at RGF Professional Recruitment Japan, specialized in Sales & Marketing for Consumer Goods
We have a lot of confidential job openings with excellent foreign companies and Japanese global companies! Our recruitment consultants will introduce you to excellent jobs that match your requirements.
Working at a global company has many advantages, not only for those who want to work globally and those who want to make use of their language skills, but also for people who strive to Unleash their Potential seek their own potential and have a healthy work-life balance.
RGF Professional Recruitment Japan supports the recruitment hiring activities of many of the top domestic and foreign capital companies in Japan. Various excellent companies including foreign and Japanese global companies located in Japan. Therefore, as a result, we can introduce the best career options for each person.to suite all types of career profile.
If you want to work in a global environment or globally, want to work in a place where you can perform more, or want toto a higher level and expand your career options in the future, please contact us. Our experienced consultants will do their best to support your career growth.