Posted On 2019-01-25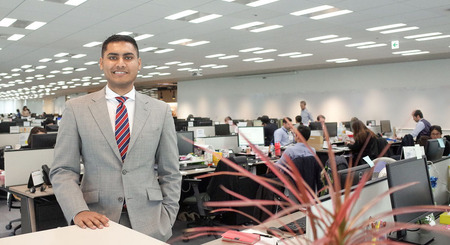 There are variety of people working here at RGF Professional Recruitment Japan. One of the most incredible things is that we have 31 nationalities in one office as of January 23, 2019.
We believe that our effort can be a good case study for companies aiming to be a global company.
This time we interviewed Tony, one of our youngest managers why he chose Recruitment, RGF and Japan.
Prior to Joining RGF Professional Recruitment Japan
Before joining RGF I was working with one of the largest UK based foreign professional recruitment consultancies for a couple of years. I was part of a startup desk focusing on recruiting Sales and Marketing professionals in the software and cloud technology space. Prior to that I completed my college education in Japan majoring in Strategic Management.
I have always been interested in community building and networking. While in the 4th year of my college, together with my team I organized Japan's 1st international business case competition where 16 universities from 10 different countries and 20 companies joined. Out of those 20 companies I was offered to work for 7 of them and I decided to get into recruitment industry.
Why? Almost all the business leaders have one common worry which is, "who should we hire for the business" and "where can we find them?" Being in a position where I will be communicating with business leaders to solve their problem was very exciting. Also the performance based incentive system and career progression were major factor in that decision making.
What do you do at RGF Professional Recruitment Japan?
Currently I am in charge of developing a new business unit in RGF Professional Recruitment Japan which will address the hiring needs of Sales and Marketing professionals in Cloud computing and IoT technology companies in Japan.
About RGF Professional Recruitment Japan
I believe RGF is the best professional recruitment consultancy in Japan and Asia. Being part of Recruit holdings gives us a competitive edge over all our competitors. RGF is certainly in the best position to provide the desired career path for candidates who are looking for a new challenge due to our diversified client portfolio. On the other hand, we are able to provide an Omni-channel recruitment platform for our clients where we have access to not only the 20% of the workforce available on the job boards but the rest of the 80% who are not in the job boards but exclusive to us due to our powerful branding and unique talent sourcing technique.
Future plan
For now, my goal is to lead my team to become the number 1 choice for IT talents as their career consultant and number 1 choice for the IT companies as their hiring partner. In the long run I aim to expand Recruit's business line in Japan or RGF brand overseas.
Personally, as a weekend project, I want to learn how to speak Spanish and dance Salsa even though geographically I am not in the best place to do so.
We have a lot of confidential job openings with excellent foreign companies and Japanese global companies! Our recruitment consultants will introduce you to excellent jobs that match your requirements.
Working at a global company has many advantages, not only for those who want to work globally and those who want to make use of their language skills, but also for people who strive to Unleash their Potential seek their own potential and have a healthy work-life balance.
RGF Professional Recruitment Japan supports the recruitment hiring activities of many of the top domestic and foreign capital companies in Japan. Various excellent companies including foreign and Japanese global companies located in Japan. Therefore, as a result, we can introduce the best career options for each person.to suite all types of career profile.
If you want to work in a global environment or globally, want to work in a place where you can perform more, or want toto a higher level and expand your career options in the future, please contact us. Our experienced consultants will do their best to support your career growth.