Posted On 2019-02-07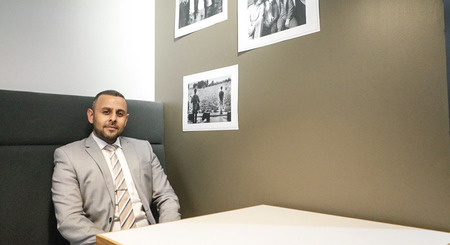 We are a very diverse company with more than 30 nationalities working in the office, we would like to share our consultant's story.
This time Dee, one of the top billers last quarter gave us his story.
Prior to Joining RGF Professional Recruitment Japan
Prior to joining RGF Professional Recruitment, I was previously working for a British recruitment company here in Japan, The company is one of the largest recruitment companies in the UK.
I had multiple areas of focus within recruitment which started out in the Healthcare industry before the help launch their Finance & Accounting division here in Japan. Since then, I joined RGF professional Recruitment and have specialized in Human Resources.
What do you do at RGF Professional Recruitment Japan?
I am a recruitment consultant specialized in Human Resources. As RGF has grown I have recently moved my area of coverage to HR B2B. My portfolio of clients range from Financial Services, Manufacturing, Healthcare, IT, Semi-conductor, Automotive, Advertising, Marketing and more.
I cover all levels of opportunities within my specialized areas, starting with entry level positions through to the highest positions within HR. I concentrate on specialized areas of HR as well, covering recruitment, Learning & Development, Compensation & Benefits, Mobility, Shared Services etc.
Being a part of HR recruitment allows me to work with many different types of people on both the candidates and the client's side of business. In addition it allows me to specialize in my focused areas.
About RGF Professional Recruitment Japan
Having worked for a smaller recruitment company in Japan, I realized that I wanted to achieve 'bigger things' in my career and RGF provided the perfect platform for me to achieve this. RGF, being a part of the Recruit group family has great presence in Japan allowing us to work with some of the most recognized companies in the world.
RGF, being a bilingual / International Arm of Recruit is a great advantage. The atmosphere and working conditions here at RGF are unmatched with a variety of cultures working within one space. At RGF you will find a great mix of talented consultants working together, aiming to achieve individual career goals as well as smashing company targets.
Since joining RGF in January 2017, when we had around 38 consultants, I have had a great opportunity to be a part of the incredible growth which has seen us grow to near 150 consultants and become market leaders in multiple function and industries.
Future Plan
I am originally from London, UK and have been living in Japan since June 2015 and have a strong passion for people management within recruitment. RGF will continue to provide the perfect platform for me to achieve my goals as it is the fastest growing recruitment company in Japan. I hope to be able to manage a team within HR in the near future.
I have achieved many goals since arriving in Japan nearly four years ago. 2019 will be the greatest thus far. Work wise, I aim to be promoted within Q1. In my personal life, my wife and I have purchased land and will build a new home which is a very exciting project to be involved in.
We have a lot of confidential job openings with excellent foreign companies and Japanese global companies! Our recruitment consultants will introduce you to excellent jobs that match your requirements.
Working at a global company has many advantages, not only for those who want to work globally and those who want to make use of their language skills, but also for people who strive to Unleash their Potential seek their own potential and have a healthy work-life balance.
RGF Professional Recruitment Japan supports the recruitment hiring activities of many of the top domestic and foreign capital companies in Japan. Various excellent companies including foreign and Japanese global companies located in Japan. Therefore, as a result, we can introduce the best career options for each person.to suite all types of career profile.
If you want to work in a global environment or globally, want to work in a place where you can perform more, or want toto a higher level and expand your career options in the future, please contact us. Our experienced consultants will do their best to support your career growth.