Posted On 2019-05-21
Table of contents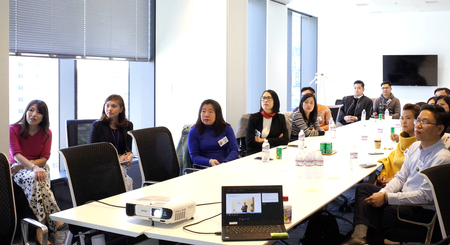 RGF International Recruitment is a leader in executive search and recruiting services in Asia. With 45 offices in 26 cities across 11 countries and markets, we aim to "Unleash Potential" of individuals and companies by providing consistently effective HR solutions. In order to do this, we are constantly cultivating our Learning and Development programs. RGF's L&D Manager in the Asia-Pacific region, Ryan Maniago, shares the vision we have for our Learning and Development strategy.
What is Learning and Development?
Learning and Development is a subgroup of Human Resources. Its objective is to improve both individual and company performance by improving an employee's skills and knowledge in a particular field.
The Importance of L&D
L&D is an important aspect of an organization's talent management strategy. Its primary function is to align an employee's goals and performance with the organization's overall vision and goals.
A Step-by-Step L&D Strategy
1. Understand Company Goals and Problems – "Where is the company headed for?"
To ensure that the L&D Strategy is aligned with the company's Business Strategies, professionals responsible for L&D must first identify and understand the organization's Goals and determine the Problems and Challenges it faces.
2. Identify Gaps and Needs – "Where is the company now?"
In order to achieve the targeted business objectives and overcome all the business challenges, L&D must also pinpoint the gaps in skills and knowledge that can be addressed through seminars and trainings.
3. Define the Strategy – "How do we get there?"
Based on the understanding of the company's Goals, Problems, and Needs, L&D can then formulate its L&D Strategy by:
Setting S.M.A.R.T objectives
Outlining the programs to be prioritized and the initiatives that will deliver results
Identifying specific measurable metrics for success
Key Criteria for a Successful L&D Strategy
Strategy means nothing without (a) the mandate and support from business owners and stakeholders; (b) resources; and (c) individuals who can execute them diligently and consistently.
Localization within Standardization
While a certain degree of standardization helps in rolling out L&D programs and initiatives at the regional level, the fact that we have so many different offices is both a challenge and an opportunity for L&D.The opportunity here is that we can leverage the great diversity within the group to maximize what we call "thought diversity", which is an essential ingredient to build a truly "learning organization."The challenge, of course, is how to standardize and localize to make learning more effective and practical.
Recent L&D Trends
Like any other function, L&D is ripe for disruption.The emergence of cutting-edge learning technology means that we need to keep pace with rapid developments or get left behind.Another key trend is the move towards a more SO-LO-MO (social-local-mobile), micro-learning (learn a little, practice a lot), and 70-20-10 approach to learning among organizations.L&D is embracing all these with a pilot LMS (Learning Management System) project well underway.
Growth is something that can bring a company power to accomplish new feats and navigate new challenges every single day. To ensure this constant learning curve, working professionals need to understand the importance of Learning and Development. It is no doubt a cyclical and constant process. As organizations are continuously growing and evolving while being challenged by the ever-changing marketplace, employees need to be trained in order to keep up with the system!



We have a lot of confidential job openings with excellent foreign companies and Japanese global companies! Our recruitment consultants will introduce you to excellent jobs that match your requirements.
Working at a global company has many advantages, not only for those who want to work globally and those who want to make use of their language skills, but also for people who strive to Unleash their Potential seek their own potential and have a healthy work-life balance.
RGF Professional Recruitment Japan supports the recruitment hiring activities of many of the top domestic and foreign capital companies in Japan. Various excellent companies including foreign and Japanese global companies located in Japan. Therefore, as a result, we can introduce the best career options for each person.to suite all types of career profile.
If you want to work in a global environment or globally, want to work in a place where you can perform more, or want toto a higher level and expand your career options in the future, please contact us. Our experienced consultants will do their best to support your career growth.