Posted On 2019-08-27
Table of contents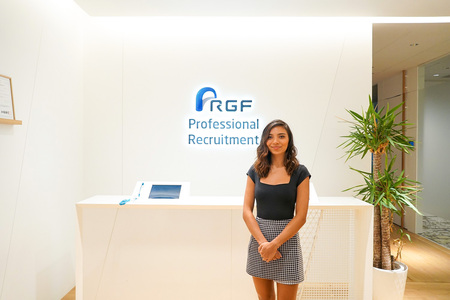 Before joining RGF Professional Recruitment Japan
Hailing from Perth, Western Australia, I started my career in Japan right after graduating from University in Australia. Given that I am half Japanese and born in Hyogo prefecture, it seemed like a natural choice for me to come back to Japan in order to reconnect to my old roots and experience the day-to-day and working lifestyle here in Japan.
I worked on the JET Programme for 2 years before joining RGF Professional Recruitment Japan in September 2015.
At the time, without any recruitment or corporate work experience. I quickly learned the ropes and worked as a consultant for 2 years on the HR and GA team, mainly focusing on the retail and luxury industries.
In mid-2017, I was headhunted by a luxury resort hotel to work as their internal recruiter. I felt this would be a great career path for me to learn the other side of recruitment and broaden my knowledge of HR.
After several months of working there, I found myself persuaded to come back to the recruitment industry to join RGF PR again as their first internal recruiter in November 2017.
My current job
It's been almost 2 years now since coming back to RGF PR to start up the Talent Acquisition team.
My team now consists of 2 people including myself, and we are in charge of both recruiting new and experienced consultants into our business, as well as conducting the training program for new graduates and the induction training for all new employees.
Our Talent Acquisition team at RGF PR have two core missions. The first is to increase employer branding, identifying and attracting the best talent to our company by showcasing RGF PR as the most attractive and ambitious recruitment agency in Tokyo to work for.
The second is to retain and develop the talent we have by creating the best training program, as well as creating a foundation for a great working environment.
Since creating this team, we have established a new graduate hiring and training program, a new one-month intensive internship program, as well as hiring over 100 people - both inexperienced and experienced – into RGF PR.
We have bigger ambitions to not only continue the growth of our company, but also to retain the talent we have and continue down the path of creating a working environment which recruiters from competing firms revere and admire.
About RGF Professional Recruitment Japan
When I re-joined RGF PR in November 2017, we were around 60 people. As of July 1st 2019, we currently have 170 employees in our business. In the current bilingual recruitment market, RGF Professional is known to be one of the dominant market players – a long way we have come from being the mere, boutique-sized 20-person business we were back in 2015.
Not only have we hired diversely, with over 35 different nationalities across the office, but we are aiming to continue having a flexible, mature and fun environment which celebrates a diverse and equal working culture – a place where people come to hustle and work hard, but also to have fun and enjoy every day in the office, working with a team of truly ambitious and dedicated individuals.

What makes RGF PR unique?
The best thing about RGF PR? Our consultants and management team are equally passionate about contributing to their own future, building a name for themselves in the market and working up the corporate ladder as they are of building this company together and contributing to the growth and success of this business.
We combine our individual efforts with our team efforts, sharing our ambitions and goals with one another to create our business as it stands today.
This is what truly makes RGF PR so unique and so special to us all.
Why do you recommend RGF PR to new graduate students?
There are so many essential business skills you learn in recruitment. In fact, I would say recruitment is the best place to learn how to be a great business person, especially for those who have an entrepreneurial spirit.
You learn about how to be confident in communicating with all levels of people, including executive-level business leaders of the biggest multinational companies in the world. You will learn how to be goal-oriented in your approach to work in order to meet your deadlines and targets. You will learn how to negotiate and close deals by listening, evaluating variables, identifying key drivers and overcoming objections to find a happy medium. And finally, you will learn to have persistence and self-discipline.
We can identify all of these skills as an essential part of sales, and I do believe that having a knack for sales will give you an edge in any line in work you decide to pursue in the long-term.
After all, the skills I've mentioned are all skills that every employer desire in their employees, and skills that every business leader or entrepreneur must have.
We have a lot of confidential job openings with excellent foreign companies and Japanese global companies! Our recruitment consultants will introduce you to excellent jobs that match your requirements.
Working at a global company has many advantages, not only for those who want to work globally and those who want to make use of their language skills, but also for people who strive to Unleash their Potential seek their own potential and have a healthy work-life balance.
RGF Professional Recruitment Japan supports the recruitment hiring activities of many of the top domestic and foreign capital companies in Japan. Various excellent companies including foreign and Japanese global companies located in Japan. Therefore, as a result, we can introduce the best career options for each person.to suite all types of career profile.
If you want to work in a global environment or globally, want to work in a place where you can perform more, or want toto a higher level and expand your career options in the future, please contact us. Our experienced consultants will do their best to support your career growth.